Why Bolaven's Pho is the Best Hangover Cure
A hug from Grandpa's special recipe will stitch you back together after a hard night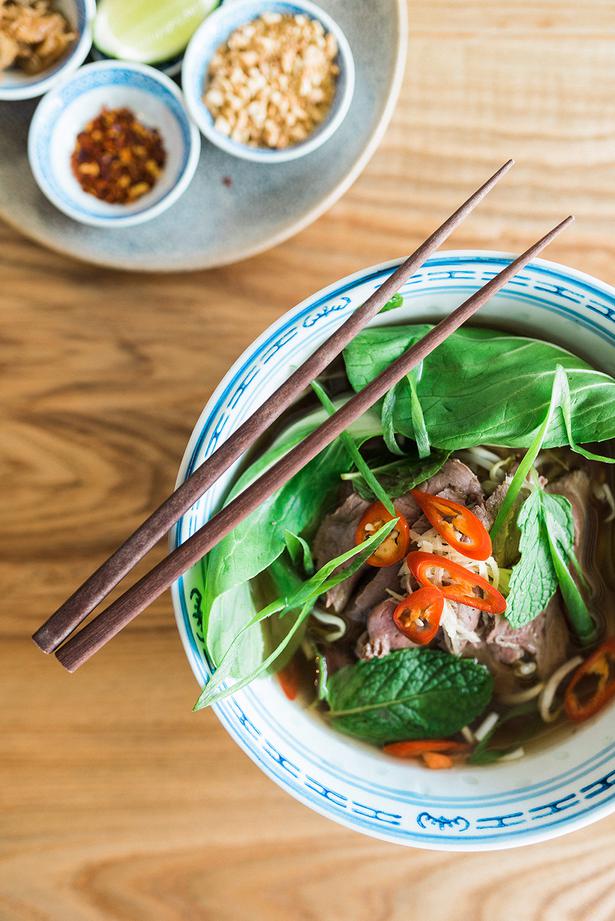 Wednesday Nov. 4, 2015
Like a sharp wake-up call, Bolaven's main attraction, Grandpa's Pho noodle soup, is one of those dishes that almost instantaneously remedy the aftermath of a big night out. The heart-warming soup is a soothing concoction containing restorative herbs such as ginger to relieve nausea, dizziness and stomach distress with a healthy dose of chilli and coriander in the mix. Bolaven owner Sip Mounlath had no hesitation adding the family dish to the cafe and restaurant's Laos-inspired menu.
"Grandpa's Pho is special to me because it keeps the memory of my Grandpa alive," she explains, "He was a doctor in Laos and was forced to flee his homeland during the communist takeover. At the refugee camp he found himself making and selling pho to provide for his family (he had eight kids). This is his recipe and it feels like a hug from him every time I eat it."
Like all soul food, Grandpa's Pho is made by the Bolaven team using fresh ingredients with respect to the original recipe. "When we make it at home we set up a whole table full of condiments: sriracha, peanuts, chillies, herbs, pickled cabbage and various Asian sauces. Everyone adds different condiments to their bowls based on their tastes and then we all go around and try everyone else's bowl so that we can tell them our palate and seasoning skills are better.
"At Bolaven we make our own stock and use premium eye fillet beef to make our pho. We do not use MSG. Pho for breakfast finished with a long black and some lemongrass and coconut cake will 'stitch you back together' after a hard night."
Great news for the office too: Bolaven will be offering catering and a pho delivery service to workplaces during the festive season.
Bolaven, 597 Mt Eden Rd, ph (09) 631 7520. Breakfast 8am-3pm Tuesday-Sunday. Dinner 6pm-10pm Wednesday-Saturday. Closed Mondays.
Share this:
More Food & Drink / Favourite Cafes