Best Laid Tables
Collaborations between Royal Doulton and design heroes blends a fine 200-year pedigree with contemporary vision – on a plate
SPONSORED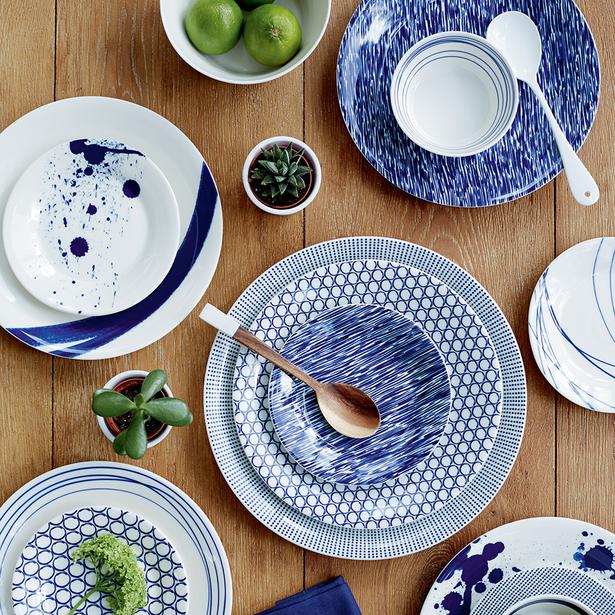 Wednesday Sept. 2, 2015

The fashion world is mad for collaborations right now. So too, is Royal Doulton. 
But it's not just a flash-in-the-pan for the iconic British brand which is currently celebrating its 200 years. As far back as 1871, Royal Doulton employed design students from the local school of art in its famous Lambeth Studio. 
Since 1815, Royal Doulton has pushed the boundaries of design, staying ahead of trends to create products with a perfect balance of design and function. To mark its bicentenary, they proudly introduced the Royal Doulton 200 Year Collection; a true celebration of its 200 years, containing six new collections that bring together influences from urban street art to historical British events.
Combining modernity with tradition, the collections take their influence from street art to historical events, with every piece grounded in the rich Royal Doulton heritage. The Street Art Collections include artist Pure Evil's limited edition Pure Evil  bunny figures and Hemingway Design's colourful collection of ceramics.
Eponymous British design greats Edward Barber and Jay Osgerby boast an impressive portfolio, most famously having designed the torch for the 2012 London Olympics. Barber & Osgerby chose to celebrate the 200th anniversary of Royal Doulton by designing a statement vase, taking inspiration from Royal Doulton's earliest history as manufacturers of stoneware salt-glazed clay pipes. The vase, which will only be available in a limited edition of 2015, will be made in bold matt black stoneware with a black glazed interior.
That's just for starters. Barber & Osgerby also collaborated with Royal Doulton to create an eclectic collection using juxtaposing materials and forms that have been chosen to coordinate in a modern, harmonious way. The range also features wooden platters and bowls as well as cutlery to create a visually arresting palette.
"We imagine people will use the range in an ad hoc way and enjoy combining it with existing pieces. This concept moves away from the conventional idea of buying a set of matching tableware," they explain.
Reimagining Royal Doulton's archive is also the aim of the aptly named Royal Doulton 1815-2015. The collection reworks some of the extensive archive of vases, jugs and other tableware using hand-thrown shapes and dipped glazes. What's more, a sculptural piece based on the famous 'Pushkin' cat shape first launched in 1955 will be stamped with '1815-2015' and only available this year. 
This way of working really does "capture the past, present and future of the Royal Doulton brand," says Royal Doulton's head of design Dik Delaney.
But if it's something that connects with our place in the world, the Pacific Tableware range could have been made just for us.  It takes its "influence from the sea and surrounding landscape" and features the timeless, fresh combination of crisp white and deep blue.
Contemporary white bowls, mugs, plates and serving platters featuring accent patterns of blue splashes, lines, dots, brush strokes, and circles have been designed to complement one another. This versatile design exemplifies the Kiwi's love of relaxed, sociable environments. Imagine how much these will up the ante on a long, informal Sunday lunch and high summer barbecue.
That's the thing about Royal Doulton; although it has a fine British pedigree, it is thoroughly modern in its outlook and, by combining the two, is the best way forward for the design savvy.
Hacks for a modern table:
- Don't stress if you don't have enough of the same dinner plates for serving – it's more on trend to use mismatched plates, or the same plate in different colours.
- Texture can be your secret weapon. Utilising different materials in similar colours, will lift any table setting and, subsequently, the room.
- It pays to buy the best quality you can as these pieces are often heirlooms-in-waiting, especially if, as is the case with Royal Doulton, the designer is well-known and the manufacturer, has market integrity. Just look at Antiques Roadshow if you want proof.
- Give interiors spaces time to evolve organically. You don't have to buy everything right now. Rather, interesting decorative vases and figurines acquired over time give interiors authenticity and individuality.
- Don't be precious with tableware and keep it for best. You'll get so much more pleasure if you use it every day.
- Use objects in different contexts. Drink water from crystal wine glasses and wine from stemless water glasses. The unexpected always adds to the experience.
- Using beautifully designed water jugs, aesthetically pleasing plates and bold serving platters is enough of a design statement. Feel free to do away clutter on a table and leave off the extraneous centerpieces and table runners. 
Share this:
More Food & Drink / The Latest