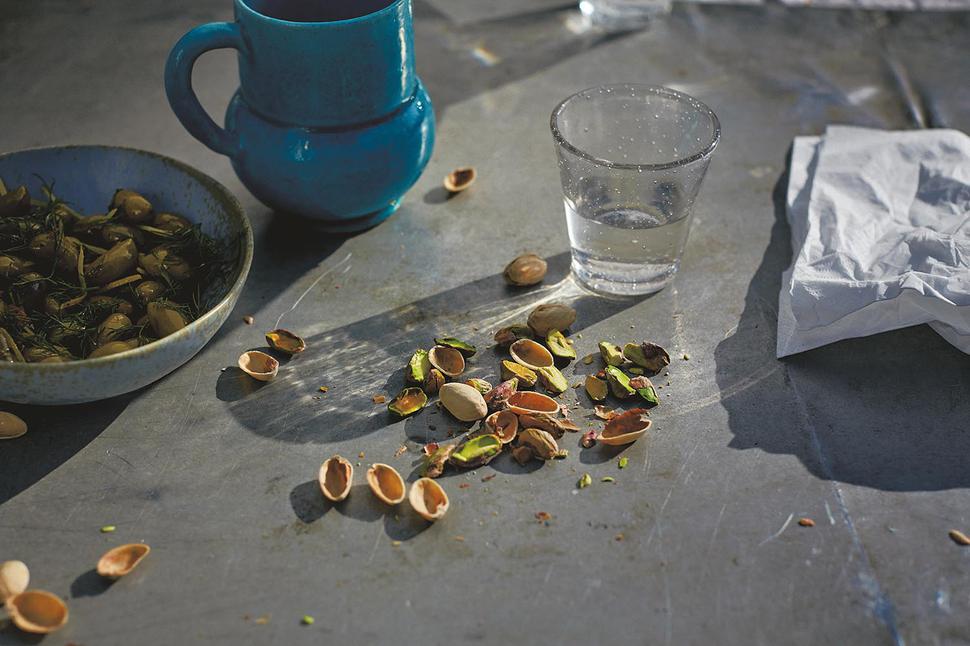 The Seductive Flavours of Istanbul's Cuisine
Top food writer Diana Henry revisits a holiday in Turkey to create a mezze menu to transport you to a sultry evening beside the Bosphorus
Tuesday April 10, 2018
We're dragging our luggage across the lobby when the hotel owner spots my 7-year-old. As we sign the register, he rings the little brass bell that sits on the reception desk and Turkish delight — a sugar-dusted pyramid of it in a stemmed dish — arrives.
My son's eyes are so wide with wonder, he might as well have stumbled into the snows of Narnia. This is the kind of warmth you find in Istanbul. It's a big city — the population has grown from two million to fourteen million in the last 25 years — but constant acts of kindness make it feel like a village. Spiced apple tea and pastries are delivered to our room and we sit on the tiny terrace, a stone's throw from the Blue Mosque, devouring baklava and blue skies.
Istanbul, for me, is summed up by the colour blue. I've only been there under summer skies, never in winter; the only item I bought on my first visit was a blue shawl — the colour of the Iznik tiles that decorate so many of Istanbul's interiors — for covering my head when visiting mosques. And then there's the Bosphorus, the blue water dividing and joining the two sides of the city, European and Asian, its two worlds.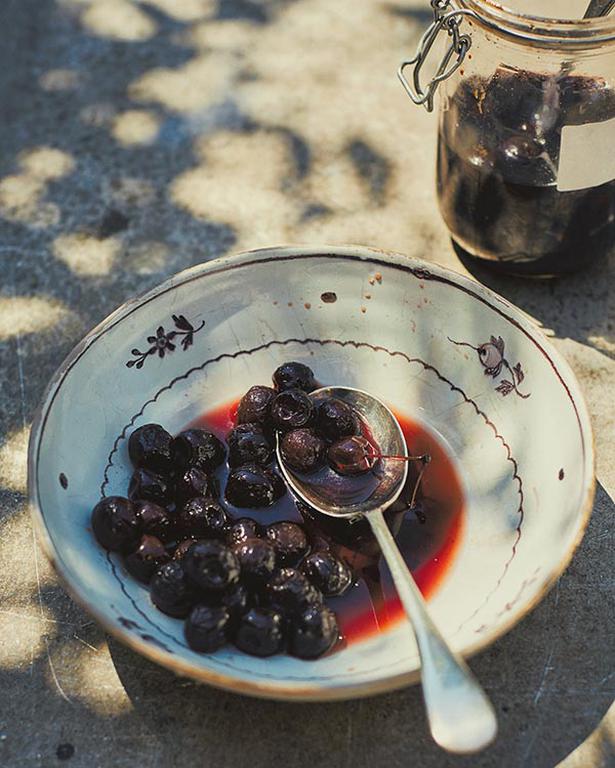 These sweet pickled cherries are a great side dish to serve with a Turkish-inspired meal of lamb, yoghurt and goat's cheese. Picture / Supplied
Blue is an optimistic colour, it means horizons and space, skies and seas. I feel, in Istanbul, that I can stretch out my arms and touch the rest of the world. The city is at the edge of everything, and the world also comes to it.
Sit in a rickety teahouse by the Bosphorus and you can see it, boats and ferries and tankers from Norway and Italy and Cambodia — even warships from Russia — churning up the water, while smaller vessels bravely steer a course among them (ship counting and serious ship-spotting are Istanbul pastimes).
The food here is at the meeting point of lots of cultures, too. On the surface it seems simple; most meals start with vegetables, cucumbers as juicy and taut as apples, firm, chilled radishes, lengths of scarlet pepper. The counterpoints to these are tart or salty, the snow-white cheese beyaz peynir, clouds of pale, creamy-pink tarama, bowls of thick yoghurt. The tarama is a dish shared with the Balkans and Greece.
READ: Restaurant Review: Feriza's, Wynyard Quarter
But look beyond these; acuka, a puree of red peppers, walnuts, garlic, tomato and chilli, is Syrian in origin; the chicken coated with a creamy walnut and garlic sauce is from Circassia; manti, little dumplings stuffed with spiced lamb and smothered in yoghurt, are thought to have come to Turkey along the Silk Road from Central Asia. There are influences from all over the former Ottoman Empire: the Middle East, the Balkans, the Caucasus and parts of North Africa.
You think you know, or have at least read about, all the preparations for aubergines and lamb, and then you visit Ciya Sofrasi in Kadikoy, probably the best and most-loved restaurant on the Asian shore, and one that has been described as "a garden of lost cultures and forgotten tastes".
READ: Mapping the Flavours of Moroccan Cuisine
Here the owner, Musa Dagdeviren, is trying to document, restore and maintain Turkish dishes that could otherwise get left behind; you don't recognise many of them, neither the cold mezze on one side of the restaurant, nor the contents of the bubbling pots on the other (and my Istanbullu friends tell me it's often the same for them).
Much of the food is in shades of deep purple or green: lamb with plums, melting aubergines slick with pomegranate molasses, pilaf with mulberries, fat, glossy, stuffed vine leaves. You choose your mezze and pay for the plate by weight, take it to your table and try to work out which flavours — cumin, sumac, or pul biber — are playing across each other. There are some ingredients, though — milk thistle, hyssop — that you probably won't guess correctly.
Food is taken very seriously in Istanbul, but not because it's cool. Offering people good food is a tenet of faith (it's a command of the Prophet) even among those who hold none.
Its importance was signalled from the earliest days of the Ottoman Empire. When Sultan Mehmet II conquered Constantinople in the 15th century he built the Topkapi Palace with a huge four-domed kitchen. More domes and sections were added until the kitchens, at their peak (when feeding guests and visiting diplomats), housed nearly 1400 cooks.
It was a furnace of culinary creativity: new dishes were developed, Byzantine recipes were adopted and updated, and ingredients from every part of the empire were used. Imagine the discussions, the excitement when chillies arrived, or unfamiliar varieties of grape. Cooking was respected, considered an art; poets and musicians composed poems and sang songs about it and every wealthy household in the city tried to keep up with the standards set in the Topkapi.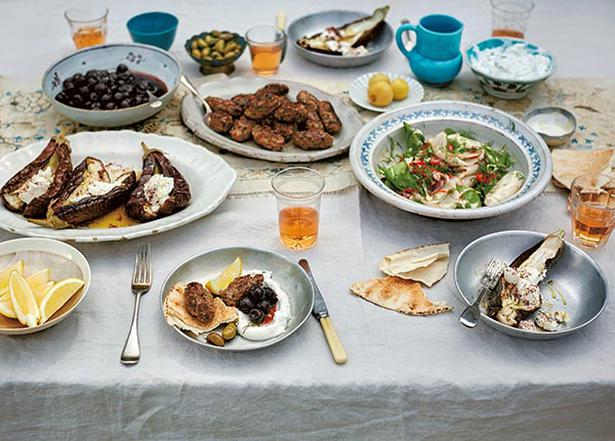 A mezze platter of roast aubergines with goats cheese, lamb koftas, griddled squid with chill, dill and tahini dressing, taken from her latest cookbook, How To Eat a Peach. Picture / Supplied
DIANA HENRY'S MEZZE MENU
Find the recipes for a delectable mezze menu from How To Eat A Peach
Roast split aubergines with goat's cheese
Lamb kofta
Griddled squid with chilli, dill & tahini dressing
Sweet picked cherries
Turkish coffee icecream
The palace kitchens were separated into specialist sections — pastry, milk puddings, halvah, drinks, even pickles — and when Turkey became a secular Republic in 1923 the cooks lost their jobs. Many of them went abroad, but the idea of specialisms continued.
In markets today you can see picklers and preservers, their green figs and pink-tinged florets of cauliflower glowing behind glass, and the muhallebicisi, or milk-pudding makers, have small, simple restaurants (though most now sell pastries and other snacks as well as milk puddings). In these you can have muhallebi, soft, just-set squares of milk pudding made with rice flour; tavukgogsu, an ancient dish of poached chicken breast pounded with milk, rice flour, sugar and cinnamon, and asure, a wheat pudding made with nuts and dried fruits.
READ: Beautiful Cookbooks to Gift
These dishes are often fragrant with mastic, a translucent resin that tastes slightly of pine and cedar, or flower waters. What is so seductive about the food in Istanbul is the blending — an accident of history — of simple nomadic dishes and staples with the remnants of the more sophisticated palace cuisine. It's rich and layered and there's a place to eat every kind of food at all different times of the day.
There are rooftop cocktail bars with glittering views; kebapci, where you can spend half an hour trying to choose which of 25 kebabs you're going to order; or street food stalls that lure you with the charred oiliness of mackerel and the slightly sweet smell of simit, sesame-flecked bracelets of bread.
Turks love a big breakfast: vegetables, cheese, figs and watermelon along with jams, yoghurt and honey, which is a mere precursor to mid-morning coffee.
Then there's lunch, taken in one of the many lokantas (simple taverns or canteens). As late afternoon approaches, I wonder if I'll have pastries and tea, or serbet (sweet cordials made from mint, sour cherries, quinces or lemons) or icecream… I check every icecream shop I see, looking for the unusual, mulberry or tahini, though I can always depend on a little tub of rose icecream flavoured with salep, dried and ground orchid root. Then it's mezze and raki before dinner.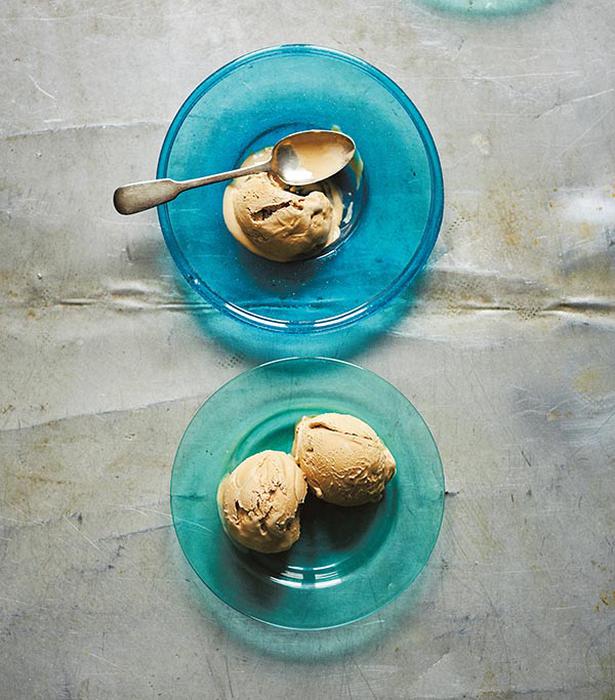 The Turkish coffee icecream is inspired by the thick coffee typically served in Istanbul. Picture / Supplied
The Turkish novelist Orhan Pamuk has written about huzun, the melancholy (which can be painful, but also enjoyable, because it is shared) that he and other Istanbullus feel. It might be engendered simply by rain on a window, or the sad weak light that gathers at the end of a winter afternoon.
But huzun is also a sense of loss, the result of being born into a city "buried under the ashes of a ruined empire". I do not feel this melancholy. It is not mine to feel. If I'm in Istanbul during Ramadan, when the area around the Blue Mosque is full of picnickers spreading out cloths on the ground and hungrily eating borek and lahmacun at midnight, I can't even see it. I just see generosity and beauty and joy.
I used to play a game, when I first started travelling in my late teens. I would ask myself, "Could you live here if you had to?" I was testing my independence. I have never stopped playing this game. The first time I rode the ferry from one side of the Bosphorus to the other, going to the Asian shore with the end-of-day commuters — talking loudly, eating peaches, reading — I watched the water become a great white spume behind the boat and asked myself this question.
I looked at the skyline with its domes and rocket-like minarets, its mix of old and modern, and thought, oh yes. But I want an apartment with a view, however small a fragment, of the blue Bosphorus, and a good cafe nearby where I can start every day with salty cheese and melon.
—  
• This is an edited extract from How To Eat a Peach by Diana Henry, $45, published by Mitchell Beazley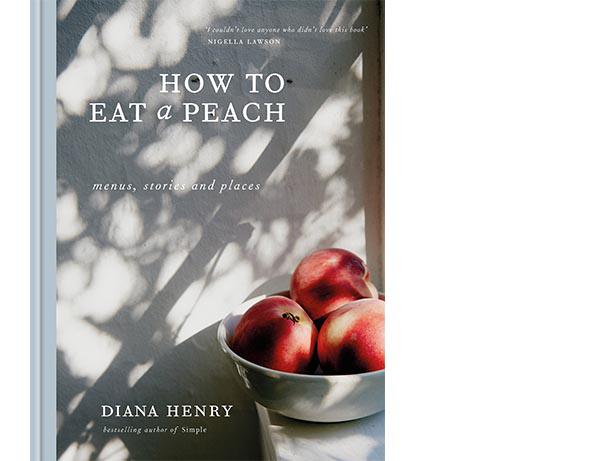 Share this: