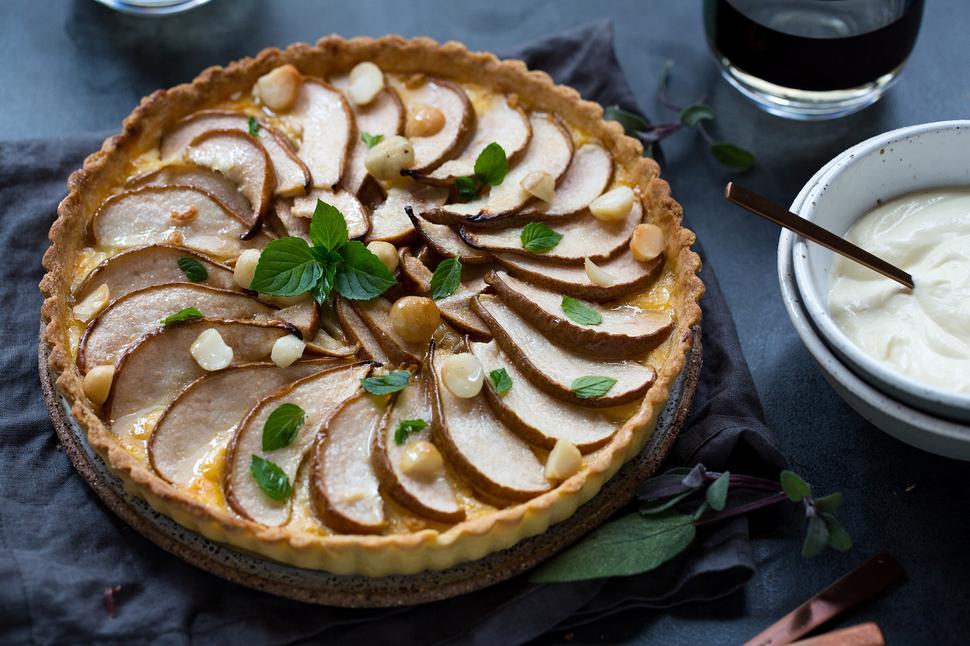 The Best Pear Recipes To Try This Autumn
Make the humble pear the hero of your next sweet or savoury dish with these delicious recipes
Tuesday March 26, 2019
Pear & Goat's Cheese Tart 
This pear tart served with a soft goat's cheese is a mouthwatering dessert. For something a little punchier, a blue cheese would be divine. This tart is not too sweet, so allow yourself a bigger slice with a generous dollop of cream.
Chelsea Winter's Fresh Ginger & Pear Loaf 
The recipe from Chelsea Winter's Eat cookbook sees soft, buttery pear loaf come alive with fragrant fresh ginger. Enjoy as is or serve warm with icecream for a divine dessert.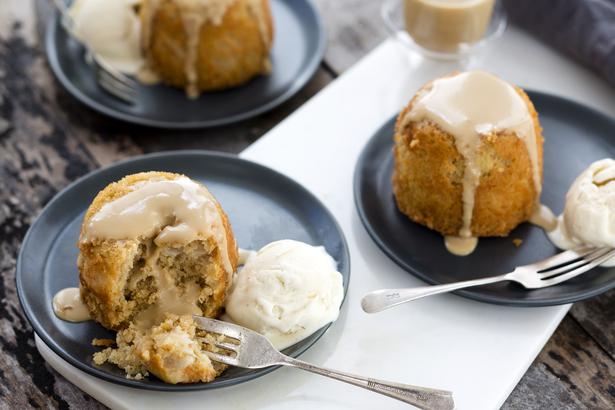 Little Pear & Ginger Puddings. Photo / Babiche Martens

Little Pear & Ginger Puddings
These little puds are so simple to make and taste phenomenal with a simple caramel cream sauce spooned over the top. Enjoy with a big scoop of vanilla icecream. 

Eleanor Ozich's Tasty Cinnamon Baked Pear Chips
Here's a simple recipe for gently spiced pear chips, enhanced by a sprinkle of sweet, musky cinnamon, and baked until crisp. Try them with a sharp, salty cheese such as blue vein, or a gentler, creamy cheese like double cream brie or camembert.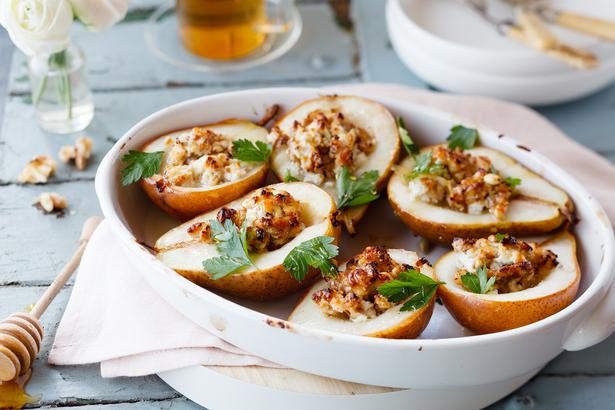 Stuffed Pears with Goat's Cheese, Walnut & Honey. Photo / Babiche Martens

Stuffed Pears with Goat's Cheese, Walnut & Honey
Pears and goat's cheese are a perfect match, and delicious with toasted walnuts and a drizzle of honey. This combo is great for brunch or dessert, warm or cold, and equally good stuffed into apples and baked.

Poppy Seed & Pistachio Honey Cake 
For a chic daytime dessert or celebratory occasion, this poppy seed cake is perfect. Add a little extra flash and splendour with some poached pears. Serve with strawberries when in season or for winter colour add some chopped guava halves or/and kiwifruit.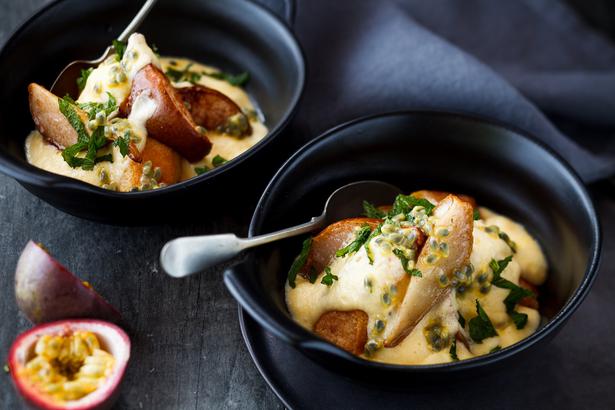 Pear Tiramisu With Passionfruit. Photo / Babiche Martens

Pear Tiramisu With Passionfruit
Gloriously smooth and decadent, this passionfruit and pear tiramisu is a perfect autumn dessert. The pear is roasted in cinnamon and lemon, then served with creamy mascarpone. Make ahead of time to allow for the flavours to fully develop.

Cabbage Salad With Pear & Chorizo
This slaw is the perfect way to make the most of what's in season. It's packed with plenty of flavour and takes just minutes to come together.
Ginger Caramel Pears With Creme Fraiche. Photo / Babiche Martens

Ginger Caramel Pears With Creme Fraiche
Pears are under-rated, they genuinely need a little publicity. Add them to your lunchbox instead of an apple or mandarin, or use them in a dessert like this one. Fry in caramel and fold through creme fraiche for a fuss-free sweet treat.

Pear & Blue Cheese Jalousie
This take on this classic French pastry sees sweet and savoury combine perfectly to create a wonderfully comforting pie. Serve warm with creme fraiche and a side salad for a delicious vegetarian meal.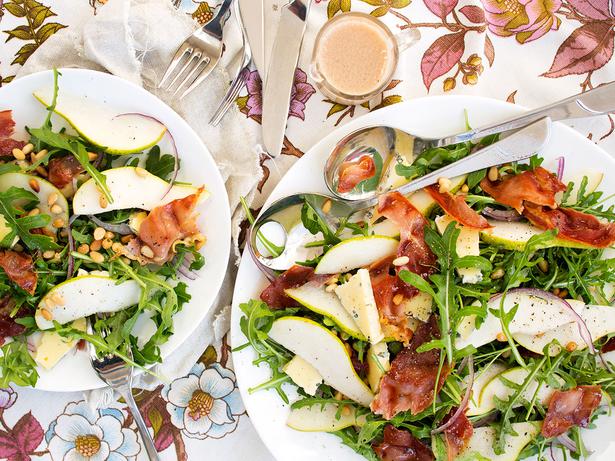 Pear Salad With Prosciutto & Pine Nuts
This simple salad packs a real flavour punch, with sweet pears, salty prosciutto and sharp blue cheese paired with peppery rocket and a no-fuss honey and lemon dressing. Finish with pine nuts for some crunch.
Poached Pears In Red Wine
How's this for a classy dessert? Red wine pairs with citrus and spices to create a simple yet satisfying dish. Top with mascarpone or whipped cream.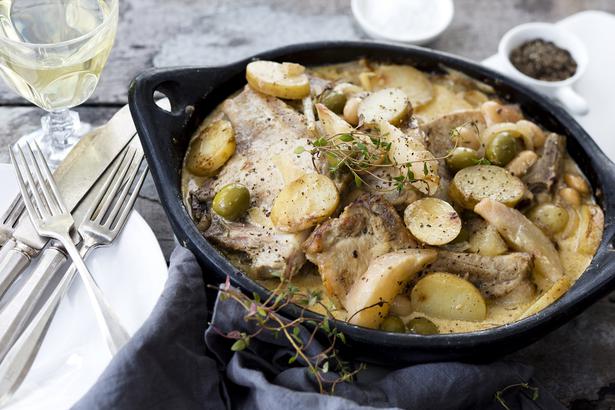 Pork Chops With Pears & Olives
This recipe creates a complete meal in one pan. The rustic flavours are sure to comfort on cooler nights, with pork chops, potatoes and butter beans providing plenty of substance. Enjoy as is for a gluten-free meal, or serve with crusty bread.
Pear, Bacon, Brussels Sprouts & Hazelnuts
Even the pickiest of eaters will be converted to a Brussels Sprout fan once they try this side dish. Crispy bacon, sweet pears and crunchy hazelnuts jazz up this traditionally disliked vegetable into something delicious.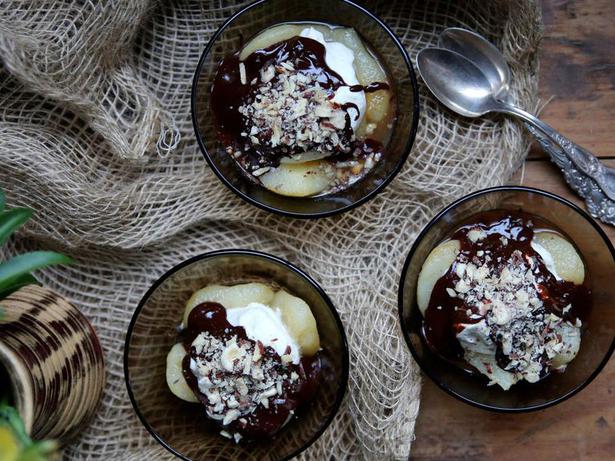 Ginger Pears With Dark Chocolate Sauce
This simple dessert can be whipped with a block of Whittaker's, a bottle of cream and canned pears, plus some pantry staples. Enjoy for a speedy dessert when you're craving something sweet.
Fried Pears With Hazelnut Praline
Scrambling for a last minute dessert? These simple fried pears are delicious served warm or cold, so you can easily prep beforehand and serve when your guests arrive. Homemade praline adds a posh touch and a wonderful touch of texture.
Earl Grey Tea & Brandy Poached Pears
Here, poached pears meet the hot toddy as the fruit is poached in a comforting, honey-sweetened Earl Grey tea spiked with brandy. That liquid is reduced to a luscious syrup, for an elegant, complexly flavourful dessert. The fruit with syrup needs to be refrigerated for at least 2 hours, and up to 2 days.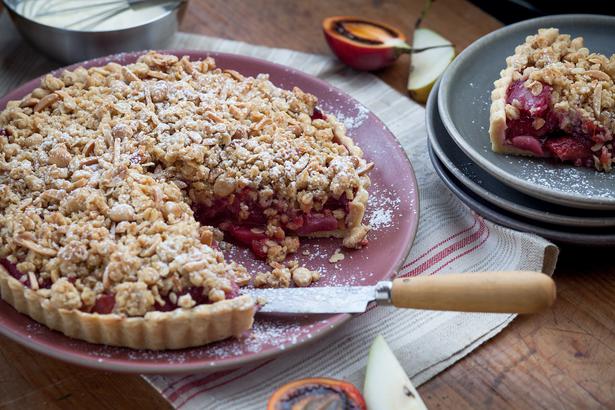 Tamarillo & Pear Crumble Tart
Like all good recipes, this one is ageless. Tamarillos combine with juicy pears to create a heart-warming family favourite. Encasing it in a pre-cooked pastry base adds crunch and a delicious nutty topping adds texture.
Petite Kitchen's Pear, Cardamom & Brazil Nut Cake
The best kind of cakes are those that are seasonal. Pear, cardamom and brazil nut are a few beautiful ingredients to try tinkering around with. It seems they have a natural affinity for each other and are quite lovely in this golden, textured cake recipe.
Roast Winter Fruit with Port & Spiced Mascarpone
Embrace the best of winter produce with this wonderful dish. Fruit is roasted until tender with orange zest and vanilla, then served with spiced, honey-spiked mascarpone.
Share this: