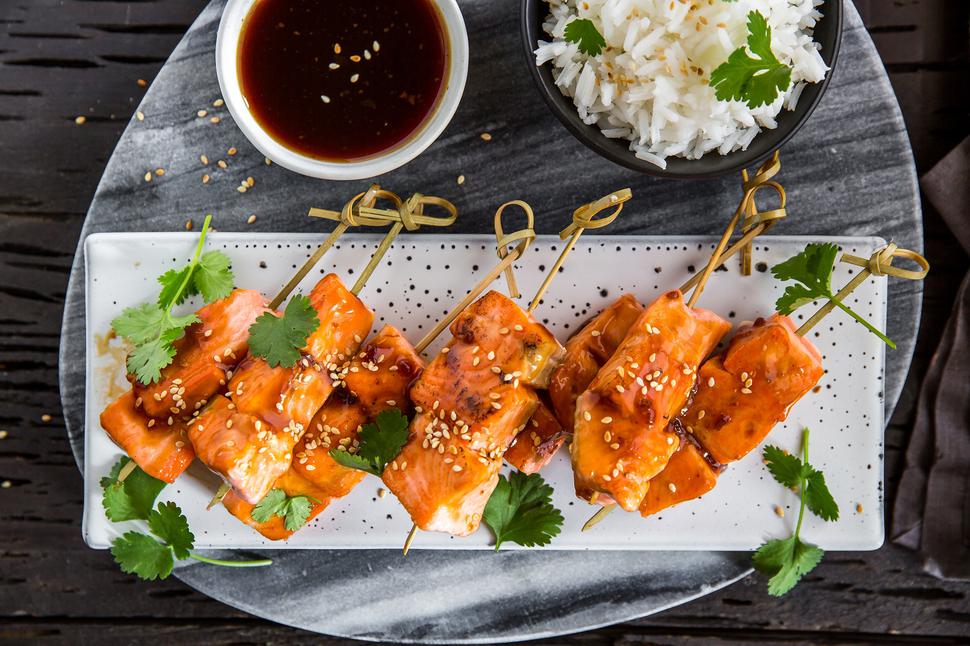 Simply Delicious Salmon Recipes To Try
Salmon fans, prepare to find your new favourite dish in this tasty round-up
Monday Oct. 22, 2018
Teriyaki Salmon Kebabs
This simple teriyaki sauce can be made ahead of time and kept in the fridge until needed. Brush onto fresh salmon skewers and grill until tender for a failproof bite. Try seving with hot rice and a side of greens or salad.
Fresh Asparagus Rolls with Salmon Pate
Perk up your favourite tea time bite with speedy salmon pate – it's the perfect way to give this old-fashioned favourite a posh makeover.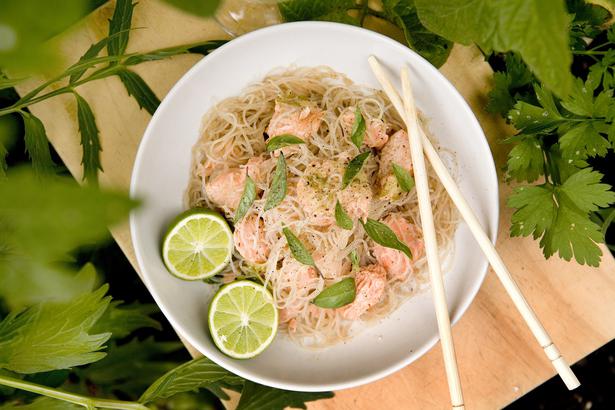 Wasabi, Ginger & Lime-Crusted Salmon
This simple dish packs in a lot of flavour while only requiring a few simple steps. Sweet, spicy and sour, this dish is delicious served over vermicelli noodles with a handful of fragrant herbs.
Raw Broccoli & Smoked Salmon Salad 
Try this recipe for brilliant raw broccoli salad tossed with smoked salmon, black olives, toasted seeds and a creamy avocado dressing. The trick is to add plenty of garlic and lemon for an incredible flavour kick.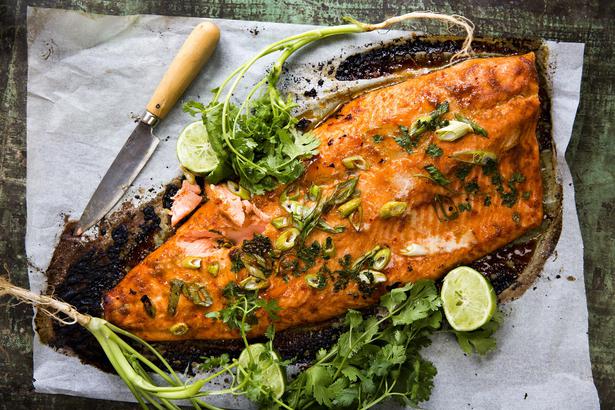 Curried Side Of Salmon
Next time you've got a crowd to keep happy, this exotic take on salmon will have you in good stead. With fragrant coriander, lime and punchy fish sauce, this red curry salmon is delicious served with crusty bread and salad.
Salmon and Coriander Salsa Parcels
Dinner doesn't get much easier than this – simply wrap salmon, greens and salsa in baking paper and let the oven do its work. Perfect for days when you want something healthy, without the effort.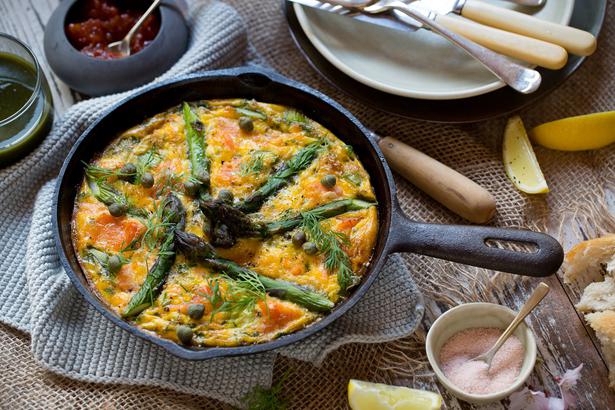 Asparagus & Salmon Bake
A match made in heaven is asparagus and salmon with a hint of dill. Serve this bake for brunch or lunch with your favourite chutney and a side salad. It is just as good hot or cold.
Herbed Lentil Salad With Salmon & Preserved Lemon
You'll love this punchy, bright tasting salad from Eleanor Ozich. It can easily be adapted depending on what you have on hand, for example, cucumber or ribbons of carrot can replace the cherry tomatoes, or perhaps you have some baby spinach or rocket to toss through.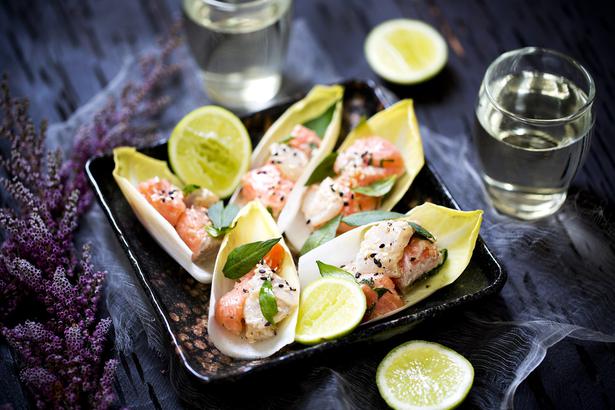 Pickled Salmon & Terakihi
Ceviche gets a fresh update in this recipe, which sees lime, ginger and sesame marinated fish served in crunchy chicory leaves. Enjoy with company and a crisp glass of white wine.
Salmon Cakes Recipe with Chickpeas & Broad Beans
For a tasty gluten-free bite, you can't go past these little salmon cakes. Serve with zingy broad bean salsa for a delicious lunch or light dinner.  
Salmon, Lemon & Caper Kumara Mash Pie
This comforting combination will go down a treat on chilly nights. Think of it as a slightly more sophisticated fish pie with the addition of fresh salmon cubes and kumara. 
Roasted Salmon With Red Pepper Sauce
Basil is red pepper's best friend. The two together, especially when paired with a little olive oil and garlic, is the absolute essence of the Mediterranean. In this summery dish, the deep sweetness of the roasted pepper sauce is exceptional drizzled over delicate roasted salmon.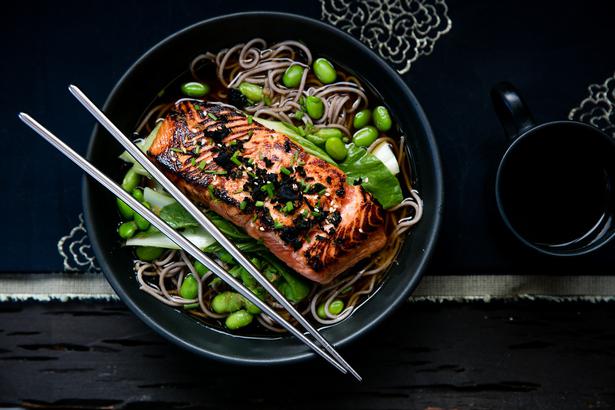 Salmon with Ginger & Soy
This salmon recipe is a favourite. It is so fresh, quick to prepare and looks gorgeous with soba noodles and vibrant green vegetables. Take care not to overcook these, a little crunch is essential.
Spinach & Salmon Bake
Breakfast, lunch or lazy man's dinner, this bake is almost too easy to put together, and wonderful served warm with a slice of fresh bread.
Share this:
More Food & Drink / Recipes