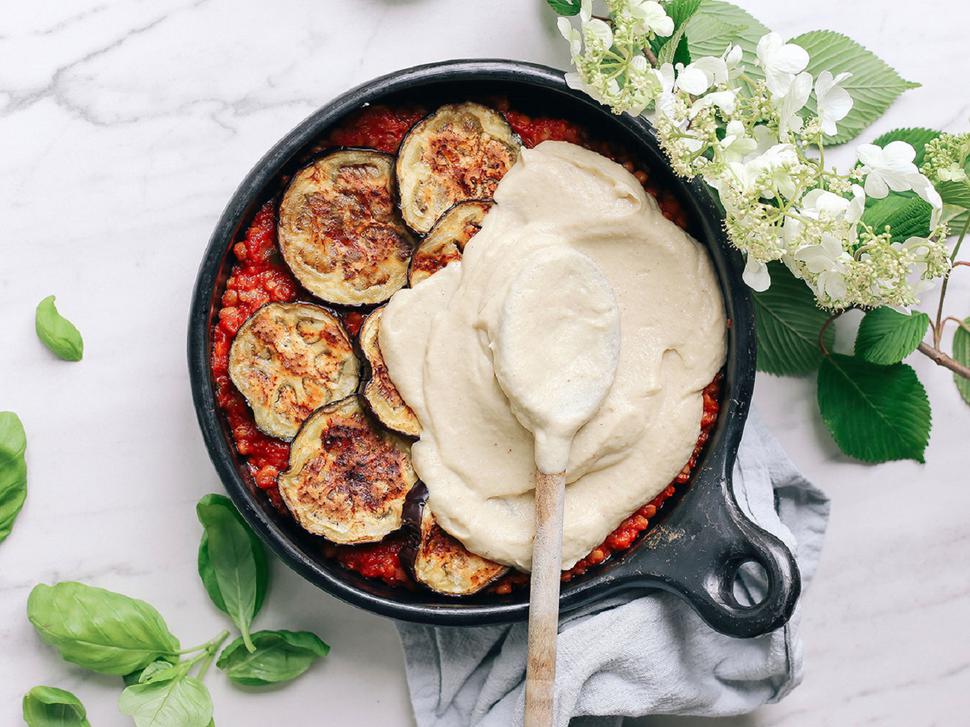 The Very Best Vegan Recipes To Try For Dinner Or Dessert
Herbivores and carnivores alike will love sampling these recipes, from healthy dinners to wickedly decadent delights
Monday Oct. 29, 2018
Vegan Moussaka With Creamy Cauliflower Sauce
A Greek classic gets a delicious vegan makeover thanks to this Eleanor Ozich recipe. It's luscious, melting and complex in flavour, with a silky white sauce made from a magical combination of cauliflower and cashews.
Dairy-Free Mango, Lime & Mint Thickshake
This tropical thickshake is the perfect way to brighten up your day with a creamy, not-so-naughty treat. Frozen banana and coconut milk are key to giving it a thick, icecreamy consistency.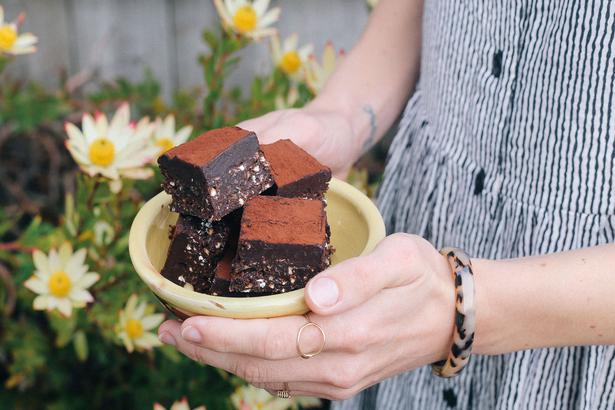 Raw Espresso Brownie With Salted Chocolate Ganache
These raw chocolate brownies are not for the faint of heart, they're decadent, dark and intense, and so delicious that one small piece will satisfy you perfectly. It's the salted dark chocolate ganache on top that makes them almost impossibly decadent.
Raw Ginger Kisses With Vanilla Maple Cream Filling
These sweet little raw ginger kisses are indulgently divine and made entirely with nourishing ingredients. You'll love the simple flavours here: vanilla, maple and coconut, with a subtle hint of spice. What's even better is how quick they are to make.
Easy Vegan Tahini & Nut Fudge
Surprisingly rich in taste is tahini, which makes a great base to this healthy, fudgy vegan slice. There's a little bit of sweetness from the dates, plus a few other bits whizzed up into a delicious snack.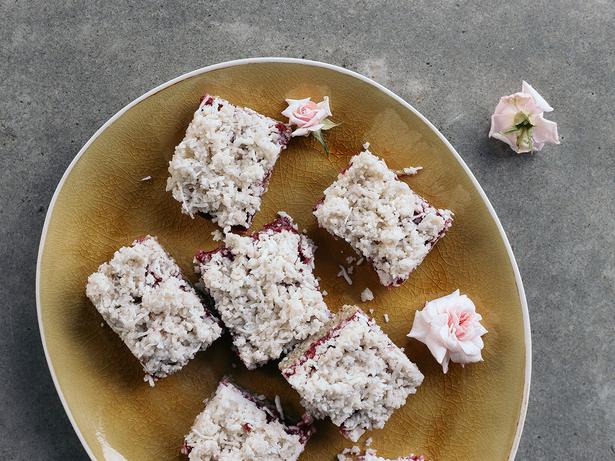 Vegan Louise Cake
A healthier take on the old-fashioned Kiwi classic, this Louise slice is made of the kind of stuff you feel good about eating. It's sweet and nutty biscuit base is smothered with chia raspberry jam that's pleasantly tart, and not overly sweet.
Vegan Chocolate Chunk Cookies
Who doesn't love a perfectly buttery chocolate chunk cookie, especially when it's vegan-friendly. Enjoy warm and gooey from the oven with your favourite nut milk.
The Caker's Vegan Coconut, Strawberry & Basil Cake
Try this summery cake for your next sweet occasion – it makes a wonderfully festive alternative to the classic Kiwi pav.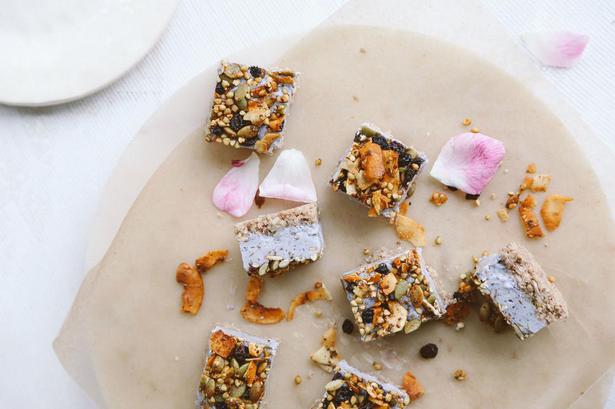 Raw Boysenberry Cheesecake Slice With Granola Crust
This slice will have you smitten with only one, delicious bite. Not only is it healthy and filled with nourishing ingredients, you'll find it's also incredibly fuss-free to make and can be whipped up in no time at all.
Gluten-Free Vegan Pad Thai Salad
Tick all those dietary boxes with this tasty take on a Thai favourite. Serve as a delicious side or main next time you're craving a cool, healthy bite in the warmer months.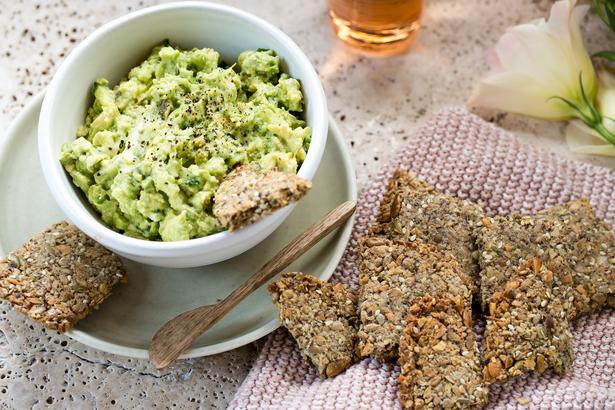 Seed & Nut Crackers With Avocado Dip
Snack time just got a whole lot more exciting. Moreish homemade seed and nut crackers pair perfectly with creamy avocado, lemon, coriander and chilli dip and your favourite refreshing drink.
Three-Rice Salad With Lentils and Roasted Vegetables
Ima Cuisine's Yael Shochat shares her popular three-rice salad recipe that's full of texture, spices and roast vegetables. Serve drizzled with tahini for a wholesome lunch or dinner.
Two-Ingredient Mango Sorbet
This luscious mango sorbet is as simple as can be, as it contains only two ingredients. Serve topped with berry compote or enjoy as is for a cooling treat.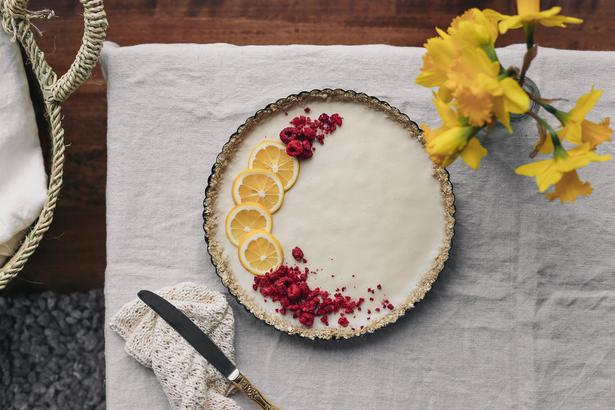 Vegan Lemon Tart With Oat Shortbread Crust
This bright and zesty tart is a must-try for citrus fans. Its silky, lemony filling is lightly sweet and encased in an oat and coconut oil shortbread crust. The best part? It comes together in less than ten minutes.
Rustic Vegan Apple & Fig Cake With Caramel Drizzle
This cake may sound decadent, but it's actually very light to eat – you can even enjoy it for breakfast with tangy coconut yoghurt and a drizzle of lush caramel.
Share this:
More Food & Drink / Recipes