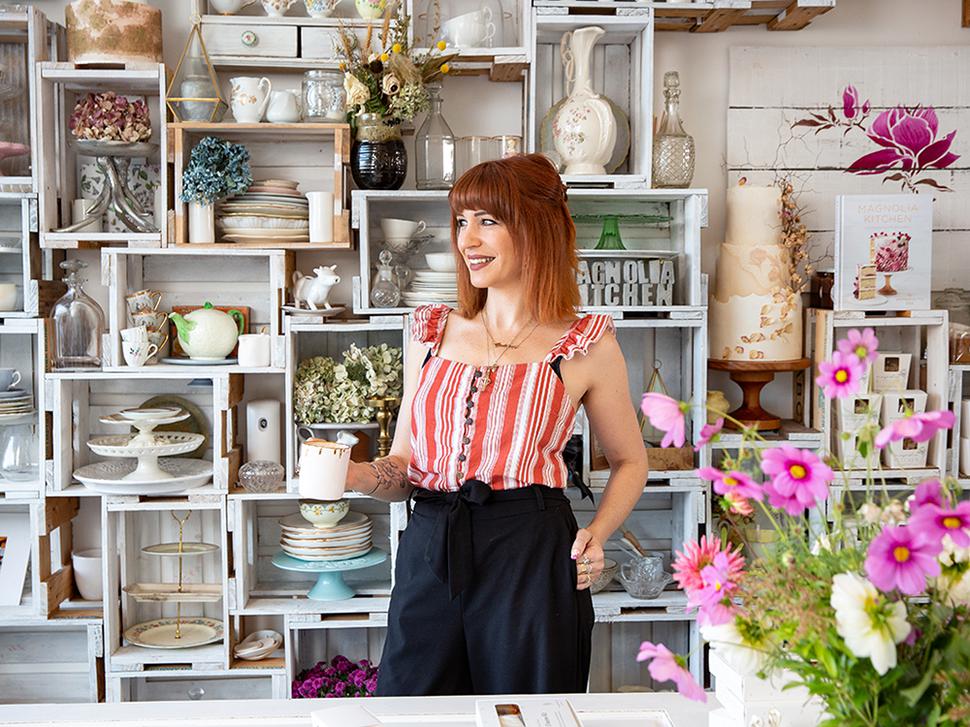 Bets Gee Of Magnolia Kitchen Shares Her Top Wedding Cake Tips
From sweet grazing tables to doughnuts — Bets Gee shares her top wedding dessert tips
Friday April 12, 2019
Bernadette Gee of Magnolia Kitchen describes making wedding cakes as her ultimate happy place. "I've hired extra bakers to help me, but I refuse to hand over any of my wedding cakes otherwise I would lose all joy," she says. "I really am a wedding cake diva, I don't like anyone touching it but me."
Bets has built a loyal following since starting Magnolia Kitchen from humble beginnings in 2011; her love of baking was born out of making birthday cakes as a teenage mum. She now runs a sweet cafe in Silverdale, a wholesale distribution business and online shop for retail products, and makes endless custom cake creations. 
READ: An Expert Guide To Wedding Cakes With Bluebells Cakery's Karla Goodwin
You can add author to that list as well, with the debut release of her first cookbook Magnolia Kitchen: Inspired Baking with Personality, in March letting fans enjoy her signature recipes, clever tips and decorating inspiration at home. 
Wedding season brings a welcome "insanity" to the business with a typical wedding cake taking three days to make and construct on site at the venue. Bets still remembers her first wedding cake, a three-tiered creation for a close friend, which was a huge accomplishment at the time.

"It was the first time I'd ever tiered a cake! There's so much I would change about it now but for my skill level at the time I think, how on earth did I pull that together?
"I'm still super-proud of it," she says.

READ: Secrets Of A Royal Wedding Dress Designer
A recent wedding cake favourite, although she tries not to pick — "it's like talking about a favourite child" — was inspired by an image of toe toe in the wind. "I used an almost dirty blush colour and the swishes of textured icing were reminiscent of the toe toe. The venue was just beautiful on a hill. It was a really windy day and everything — the sweeping cake design, the wind outside, and the views out to the sea — was perfect."
This season's wedding cake designs driven by 70's fashion and mustard tones. Photo / Bets Gee

What wedding cake trends are you noticing this season?
More classic and classy design styles. Burgundy has been huge last season, and I feel the next will be driven by the 70s fashion that's coming back in. What I'm seeing and hoping will be lots of mustard and rust colours with a hint of burgundy or navy blue to offset. Something completely different to the whites, and greens and blush — please go away blush.

How long does a typical wedding cake take to make?
I set aside three days and break it down to a process. The first day is spent baking and prepping the icing. The next day will be creating the structure the base icing of each tier. The third is construction and design.

READ: How To Make Your Own Version of Prince Harry & Meghan Markle's Royal Wedding Cake

What inspires your cake designs?
All my cake designs and techniques come from art, and a little bit of fashion. I love creating textures like abstract oil paintings that really pop off the cake, and washed out watercolour styles. I'm also obsessed with flowers – give me cakes and flowers any day and I will be happy.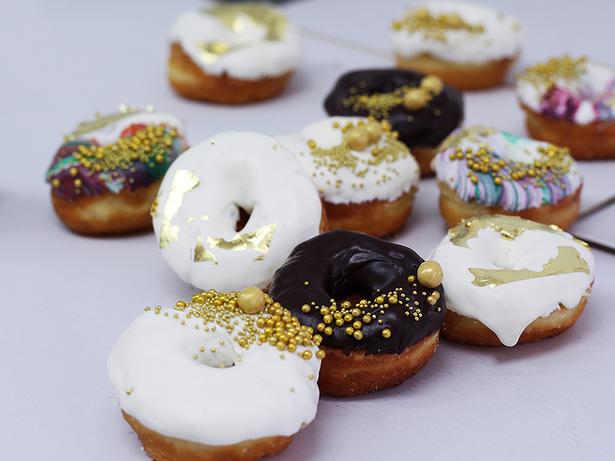 Branch out from cake with an alternative grazing-style donut dessert table. Photo / Bets Gee

What do you always consider for your wedding cakes? 
They all tend to have a sweeping design. I like to think of the couple and guests walking in and being stopped by seeing the cake design from afar. Then when you really move in close you notice more details from the bottom to the top like a journey.  It should be beautiful from both aspects, up close and afar, and of course when you put it in your mouth.

Are any couple after something non-traditional for dessert?
I've made macarons, mini cakes, and brownies for dessert tables. Most recently I made a donut table with around 130 decorated glazed donuts. A great concept for a less traditional wedding centred around mingling and tapas style feasting.

I also had a couple last year who ordered about eight different cakes from their favourite cake makers from around Auckland. I turned up and there were all my competitor's cakes — but I loved it! It was so cool to see them all on one table. They were obviously very enthusiastic about cake and when else but on your wedding day would that be completely acceptable.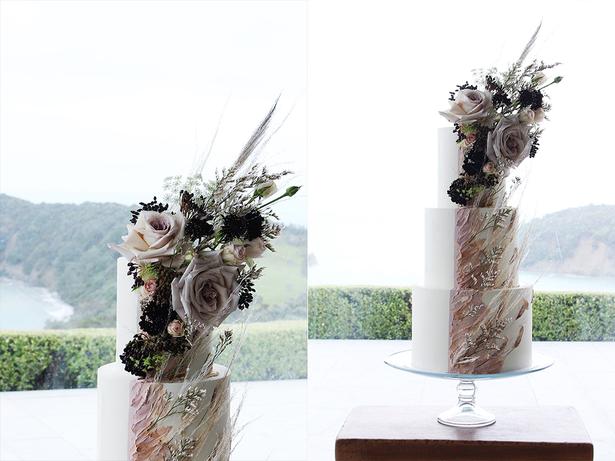 A sweeping toe toe in the wind inspired Bets for her favourite wedding cake of the season. Photo / Bets Gee

What is the biggest challenge for a wedding cake maker?
Everyone loves to get married in summer which is so inconvenient for a cake maker. The heat is the biggest factor to take into consideration and also travel. It's all about structural integrity If you don't have it you're going to have a cake wreck. During summer months I don't take any orders for buttercream cakes. I've learnt over the years it doesn't work. I do ganache instead which works perfectly for wedding cakes. It tastes amazing but you can control it with the ratio of chocolate to cream to set harder when it's really hot.

READ: An Expert Guide To Wedding Cakes With Bluebells Cakery's Karla Goodwin
Share this: