Bite-Sized Dessert Treats for the Festive Season
Our favourite recipes for indulgent and easy to eat treats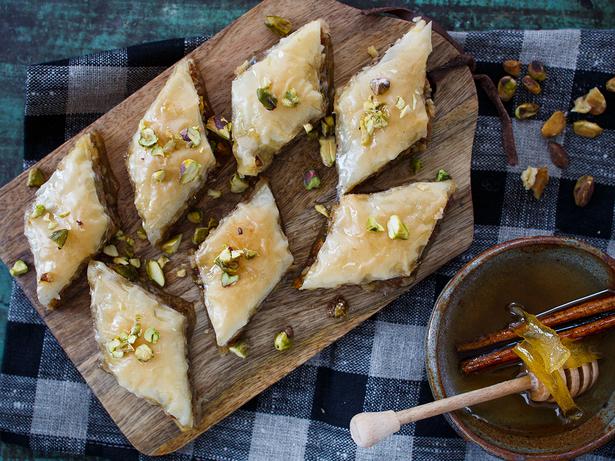 Monday Oct. 30, 2017
Baklava
Bite sized and delicious, this baklava is a rich, sweet dessert pastry made of layers of filo filled with chopped pistachios and walnuts, then sweetened and held together with honey.

Orange Spice Madeleines
Instantly recognisable with their lovely scalloped shell shape, these buttery little morsels are wonderfully crisp on the outside with a with a moist tender crumb. If you don't have madeleine tins, you could also make these in mini bite-sized cake moulds.
Chocolate, Cognac and Raspberry Truffles
These cognac truffles are the perfect little treat to have with a glass of bubbles. With raspberries coming in to season, now is the time to make these luxury chocolate confections.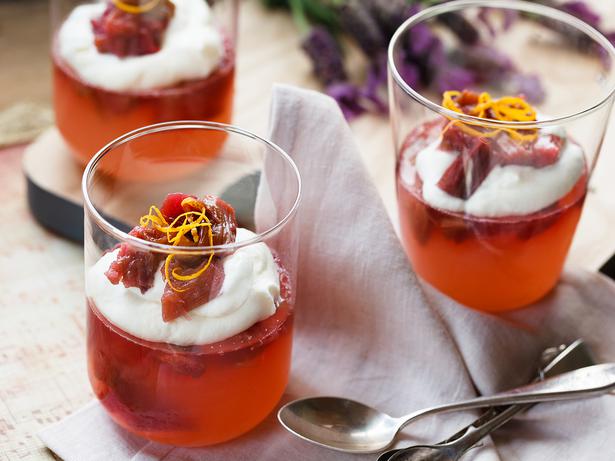 Rhubarb and Vodka Jellies
A light jelly with a hint of vodka – feel free to alter the liquid to half water, half vodka. A fun finish to a meal before you all head out to dance the night away.
Plum Jelly
This plum jelly is just a light dessert to keep the party rolling. The flavour of plums becomes more intense as they bubble away in the pot for this dessert plum jelly. When it comes to the jelly, be sure to check the sweetness – you may need to add a little extra sugar.
Chocolate Mousse Cups
Dense, yet delicate and smooth, it is the perfect way to end a meal. You could include pomegranate seeds for colour and crunch – don't forget a dollop of cream. Making individual chocolate cups ahead of time is perfect for portion control.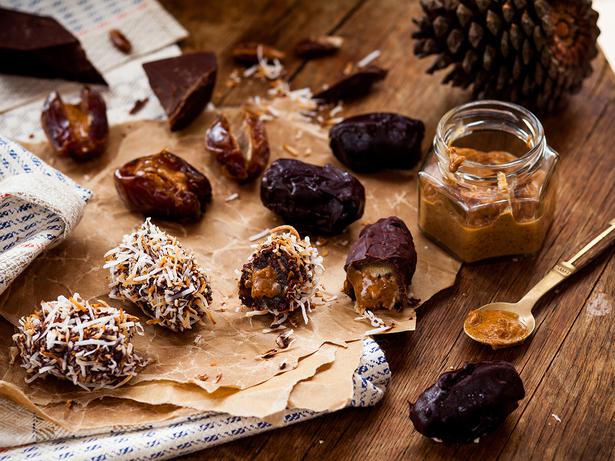 Almond Butter-Stuffed Dates
Homemade almond butter is my favourite, although other flavours and bought versions work just as well. These easy and sweet morsels make the perfect end to a meal and are a great for a snack during the day. It is essential to use fresh dates – the dry ones can be a bit chewy.
Mini Pavlovas Topped with Rhubarb
If you don't have rhubarb planted somewhere in the garden – it's time you did. It doesn't take up much space, grows all year round and is the perfect fruit to pick when the options are limited. It's great for stewing; simply add a little extra sugar if you find it too tart. Here it is teamed with a simple meringue recipe featuring just two ingredients: eggs and caster sugar.
Pine Nut Tartlets
Pine nuts have a unique flavour unlike any other nut, and make the perfect topping for these dainty almond tarts - serve them with a little glass of delicious limoncello or coffee.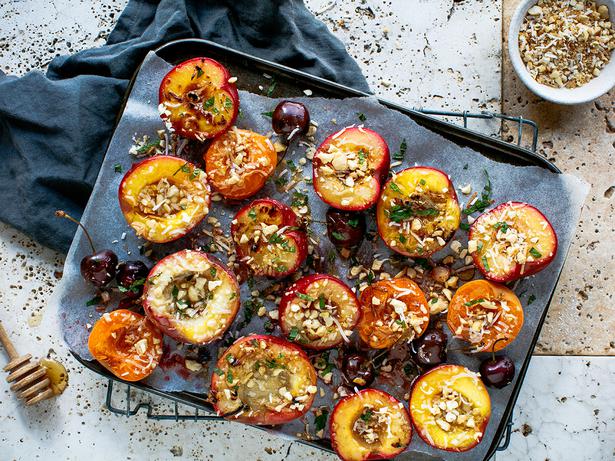 Grilled Fruit with Cashew and Coconut Crumb
If you are looking for something a little more fresh to hand around at your party, whip up this cashew crumb grilled fruit for a quick dessert
White Chocolate Panforte
This white chocolate panforte is deliciously decadent. It's a real treat – crunchy macadamia, with a hint of ginger and gooey white chocolate. You could make smaller serves to hand around for bite-sized nibbles and save some to wrap individually for gifts.
Lemony Creme Tarts
These fresh figs are guaranteed to look pretty on a plate, with their delicate purple skin and crimson-coloured centre. Stunning in appearance, this fruit has a sumptuous flesh that's softly sweet, and little crunchy seeds. Here, they star in this lovely dessert, paired with a lemony creme filling – like custard in texture, but slightly more tangy and scented with vanilla. The tart crust is a throw-together affair and requires no baking. Altogether, a very simple dessert, that I'm sure you'll love.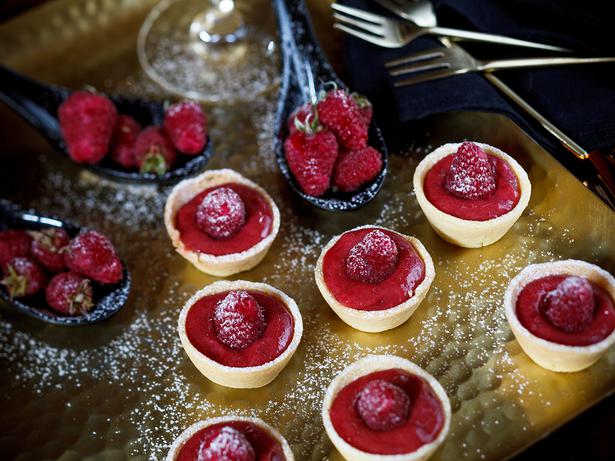 Raspberry Curd Tartlets
These colourful raspberry curd tartlets add to the festive vibe. The berries have shown an exceptional flavour so far this year and that should only get better as the weather warms up. Raspberry curd is perfect to have on standby in the fridge ready to fill tartlet cases shortly before your guests are due to arrive.
Churros
Try making your own churros – soft choux pastry, deep-fried and rolled in cinnamon before being dipped into warm chocolate sauce. What could be more delicious? You can prepare the churros ahead of the party and freeze, ready to drop straight into your deep fryer just before serving, or pipe the mix straight into the oil. This is a finger-licking fun dessert.
Neenish Tarts
With a sweetened condensed milk and lemon juice mixture these tarts couldn't be more tasty. Easy to eat without any mess and made beforehand, these are the perfect wee dessert to hand around at a cocktail party.
Blackberry and Star Anise Friand
These look splendid when iced – destined for top ranking on any tiered cake stand – but also work un-iced for grabbing on a whim. Blueberries or raspberries can be used instead of the blackberries. We use a regular muffin tin here, but all sorts of moulds work, including mini-muffin tins for handing around at bite-sized.
Share this:
More Food & Drink / Recipes