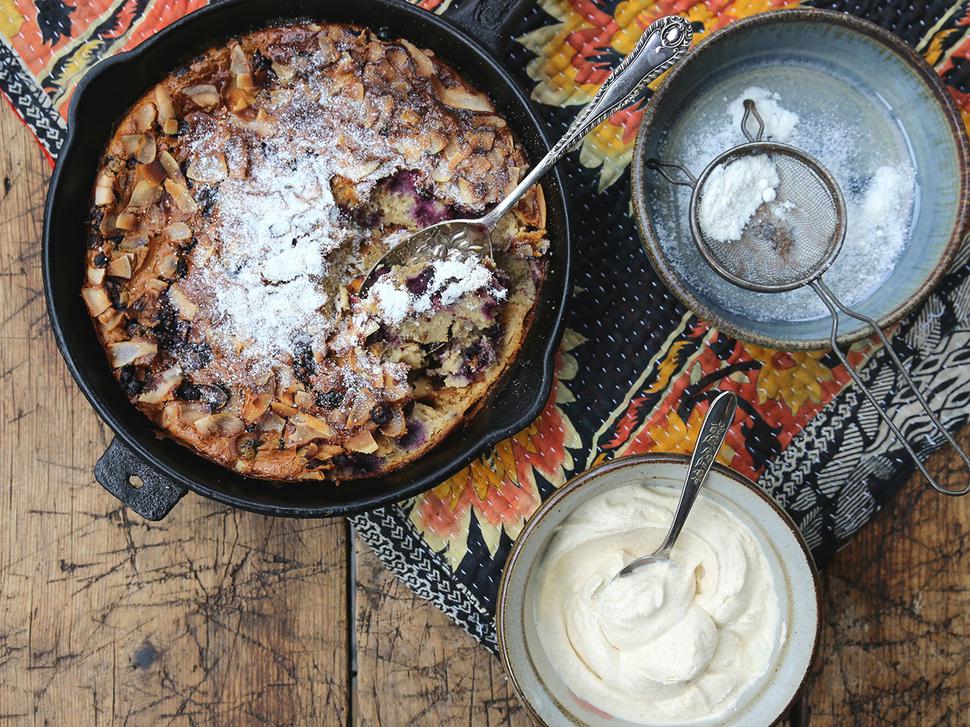 Blackcurrant Clafoutis Recipe with Cinnamon Cream
Try this delicious French dessert courtesy of Eleanor Ozich
Thursday Nov. 12, 2015
Clafoutis is a traditional French baked dessert, usually made with cherries, ground almonds, milk and eggs. In this version I have used blackcurrants as I love their subtle tart flavor. This dessert is delicately light in texture, warm and nurturing.

BLACKCURRANT CLAFOUTIS RECIPE WITH CINNAMON CREAM
• 3 free range eggs
• 1 ¼ cups buttermilk or milk of your choice
• ½ cup ground almonds
• ½ cup rapadura or coconut sugar
• 3 Tbsp rice or cornflour
• 1 Tbsp pure vanilla extract
• zest of 1 lemon
• a pinch of sea salt
Topping
• ¼ cup coconut flakes
• ½ cup blackcurrants, fresh or frozen
• 2 Tbsp coconut flour* optional
Cinnamon cream
• 1 cup cream
• 1 tsp cinnamon
• 1 tsp vanilla extract
1. Preheat the oven to 180 C, and grease an oven proof skillet or baking dish with coconut oil.
2. Add all ingredients for the clafoutis to a food processor. Process until smooth, and then pour in to the prepared baking dish.
3. Top with the coconut flakes and black currants.
4. Bake in the oven for 45 minutes, or until cooked through.
5. Leave to cool slightly, then sprinkle with coconut flour if using.
6. Combine the cream, cinnamon and vanilla, then whip using an egg beater until thick and luscious. Serve warm.
• For more from Eleanor Ozich see petite-kitchen.com 
Share this:
More Food & Drink / Recipes