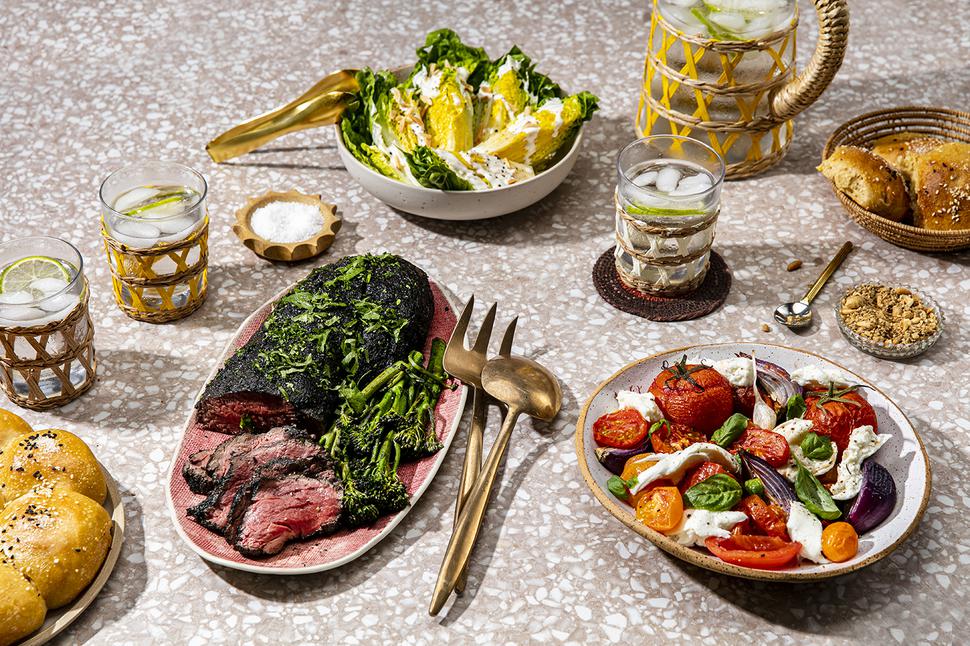 Blackened Barbecue Eye Fillet With Semi-Roasted Tomatoes & Cos Lettuce
Serve with a side dish of roasted tomatoes, and some fresh cos with a generous dollop of garlic aioli to complement the beef
Wednesday Feb. 16, 2022
This charcoal rub provides an extra element to the beef, creating a vision of brilliant black, as well as adding a unique flavour that'll leave a lasting impression on guests. 
BLACKENED BARBECUE EYE FILLET RECIPE
Serves 8

1kg piece beef fillet
1 Tbsp olive oil
Spice rub
1 tsp charcoal rub (I used Culley's)
4 cloves garlic, crushed
1 tsp cumin
1 tsp paprika
½ tsp salt and black pepper
1 bunch broccolini
Italian parsley, chopped, to serve
1. For the spice rub, combine the charcoal rub, garlic, cumin, paprika, salt and pepper in a small bowl. Rub the oil over the fillet, then rub in the spices. Let it rest for 30 minutes or until the beef is at room temperature, ready for cooking.
2. Heat a barbecue to a medium-high heat. Place the fillet on to cook for 25 minutes, turning once or twice, until cooked to your liking.
3. Add the broccolini to the barbecue for the last five minutes, turning until charred.
4. Serve the beef sliced, with the broccolini on the side. Sprinkle with parsley.
ON THE SIDE
Cos lettuce
Cut 2 cos lettuces in quarters, sprinkle with dukkah, drizzle with garlic aioli and top with slivered roasted almonds.
Semi-Roasted tomatoes and mozzarella
Slow roast 3 cups tomatoes, 6 garlic cloves and 1 chopped red onion with salt, pepper and a drizzle of olive oil. Tear over fresh mozzarella and sprinkle with basil leaves.
This recipe was originally published in volume six of Viva Magazine.
Share this: