Blini Recipe with Goat's Cheese and Honey
Blini are tasty morsels and can be made in advance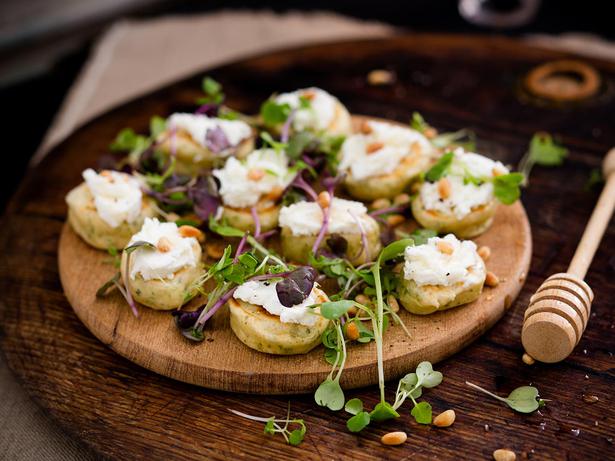 Friday June 13, 2014
I always start a dinner party with eye-catching canapes rather than a more formal entree. These are served with pre-dinner drinks as people arrive and catch up. Mini pikelets or blini are tasty morsels and can be made in the morning so you simply add your toppings before the first guests arrive. Goat's cheese and honey is a combination that just melts in the mouth, and although the beetroot-cured salmon looks a little bit fancy, when you read the recipe you will realise how easy it is - and it will wow your guests.
BLINI WITH GOAT'S CHEESE, HONEY AND MICRO GREENS
Makes 24
1 cup self-raising flour
1 tsp salt
1 egg
1 cup shredded rocket
½ cup milk
Oil spray for cooking
50g soft goat's cheese
¼ cup runny honey
¼ cup toasted pine nuts
½ cup micro greens
Salt and pepper, to taste
1. Into a kitchen processor place flour, salt, egg, rocket and milk. Whizz until combined. Set aside for 20 minutes.
2. Heat a frying pan to a medium heat. Spray with a little oil. Place teaspoons of mixture in pan and cook until just starting to bubble. Turn and cook for 2 minutes on other side.
3. Cook in batches until all mixture is used. Set aside to cool. You may have to adjust the heat of your pan if browning too quickly.
4. Just before serving, top blini with goat's cheese, drizzle with honey and sprinkle with pine nuts and micro greens. Season with salt and pepper.
Share this: