Lavender, Blueberry and Lemon Muffins Recipe
Try this moist muffin recipe from Eleanor Ozich of Petite Kitchen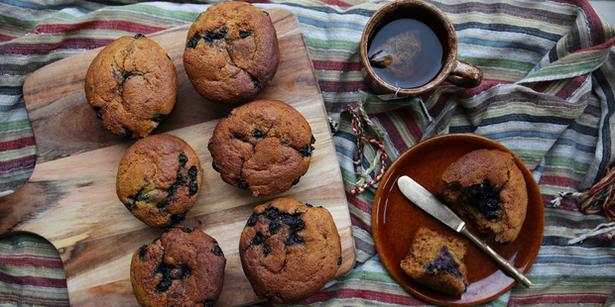 Thursday July 31, 2014
These gorgeously moist lavender and blueberry muffins are naturally free of gluten, dairy and refined sugar, and are sweetened with a touch of honey.
They are sprinkled with a little coconut sugar before baking to give a deliciously sweet and crunchy topping. Beautiful with a mug of herbal tea.

LAVENDER, BLUEBERRY AND LEMON MUFFINS
For the muffins
• ¾ cup coconut cream or natural yoghurt
• 3 free range eggs
• ½ cup coconut oil
• ¼ cup honey
• 1 cup rice or buckwheat flour
• 1 cup ground almonds
• 1 Tbsp lavender leaves, finely chopped
• Zest and juice of 1 lemon
• 1 tsp baking soda
• 1 Tbsp apple cider vinegar
For topping
• ¼ cup fresh or frozen blueberries
• ¼ cup coconut or muscovado sugar

1. Preheat oven to 160 C.
2. Add coconut cream, eggs and coconut oil to a food processor. Process until smooth.
3. Add remaining muffin ingredients and pulse until well combined.
4. Divide between 10 greased muffin tins and top with blueberries. Sprinkle with coconut sugar.
5. Bake for 20-25 minutes or until a skewer inserted in the centre comes out clean.

*Gluten free
*Dairy free
*Refined sugar free
Share this:
More Food & Drink / Recipes