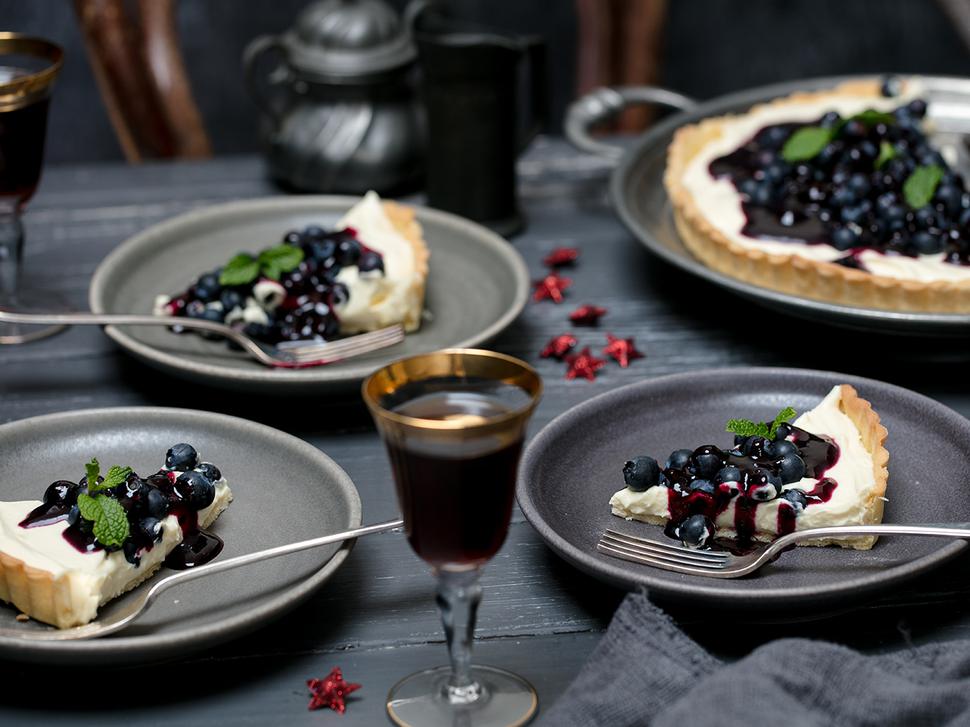 Blueberry & Mascarpone Tart
Lighten up on Christmas Day with this summery dessert
Wednesday Nov. 29, 2017
For colour, texture and flavour this beautiful tart is perfect. The opulent hue of the blueberries work wonderfully and the dish is not too sweet.
BLUEBERRY TART
Serves 8
Pastry
1 cup plain flour
100g cold butter, cut into cubes
2 Tbsp icing sugar
1 egg
1-2 Tbsp water, if needed

Sauce
1 cup blueberries
2 tsp lemon zest
¼ cup sugar
2 Tbsp water
2 Tbsp limoncello

Filling
200g mascarpone
400g creme fraiche
½ cup yoghurt
½ cup caster sugar
1 tsp lemon zest
1 tsp vanilla
To serve
2 cups blueberries
1. Preheat an oven to 180C.
2. To make the pastry, place the flour, butter and icing sugar into a processor and blitz until it resembles fine breadcrumbs. Add the egg and mix, adding a tablespoon of water if necessary for the dough to form. Roll on a lightly floured bench to fit a 22cm flan tin. Bake blind for 20 minutes until crisp and golden. Remove and cool.
3. Make the blueberry sauce next. Into a small pot place the blueberries, zest, sugar and water. Bring slowly to a simmer and cook for 10-15 minutes until the berries are completely soft. Press through a sieve and discard the skins. Allow the sauce to cool then add the limoncello.
4. For the filling, beat together the mascarpone, creme fraiche, yoghurt, sugar, zest and vanilla until smooth and creamy.
5. Thirty minutes before serving, fill the pastry case with the creamy mix, top with fresh blueberries and drizzle with sauce.
Share this:
More Food & Drink / Recipes