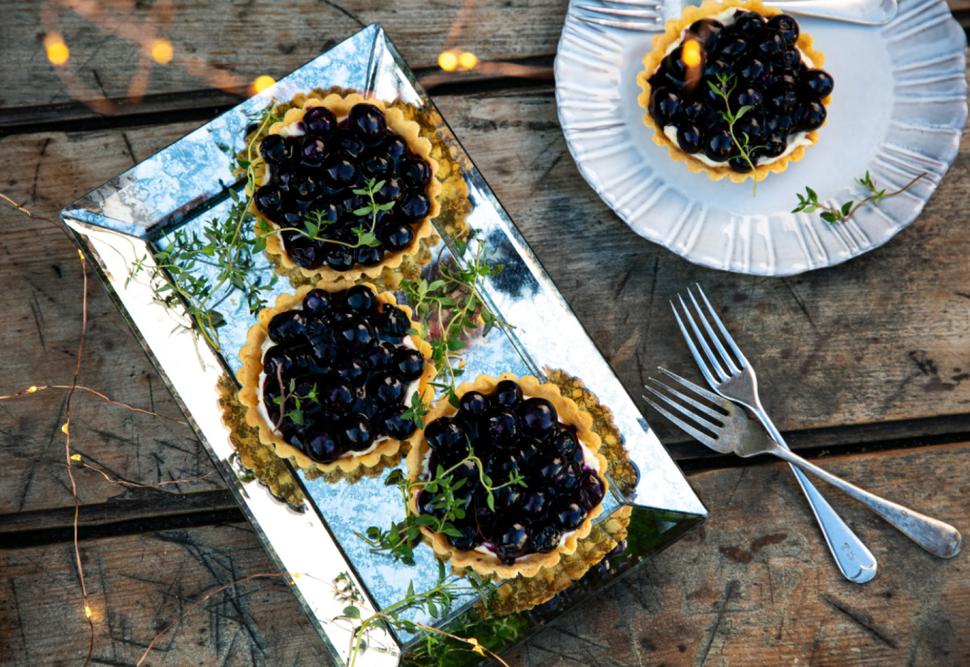 Blueberry & Thyme Tarts Recipe
Make berries a fixture this festive season with these decadent glossy tartlets
Sunday Nov. 29, 2020
These pretty tarts are perfect for Christmas Day. It is always better making pastry when the temperature is cool as it is easier to handle. This is a great job to do on a morning or in the late evening a couple of days beforehand. Once the bases are baked, store in an airtight container ready for lastminute filling.
BLUEBERRY AND THYME TARTS
Makes 8
Pastry
2 cups plain flour
¼ cup icing sugar
150g butter, cut into cubes
1 egg yolk
1 Tbsp cold water
Topping
2 cups blueberries
¼ cup Grand Marnier
2 Tbsp water
1 Tbsp chopped thyme leaves
1 tsp arrowroot mixed with 1 Tbsp water
Filling
150g cream cheese
200g creme fraiche
1 Tbsp orange zest
2 tsp finely chopped thyme leaves
Thyme leaves to garnish
1. Preheat oven to 180C.
2. Place flour, icing sugar and butter in a food processor and blitz until it resembles breadcrumbs. Add egg yolk and water, and combine to form a dough. Roll out and line 8 x 10cm tart tins. Refrigerate for 10 minutes before baking blind.
3. For the topping, place the blueberries, Grand Marnier, water and thyme in a small pot and bring to a simmer. Add the arrowroot and cook for 1 minute to thicken. Cool.
4. Beat the cream cheese, creme fraiche, zest and thyme leaves until smooth.
5. When ready to serve, fill the tart cases with filling and spoon over the blueberry mixture. Sprinkle over a few fresh leaves to garnish.
Get the look: Antique mirrored tray and Iris fluted side plate both from French Country Collections.
Share this:
More Food & Drink / Recipes