Bombe Alaska Recipe
We share a deliciously vintage recipe from Sam Mannering's cookbook, Food Worth Making.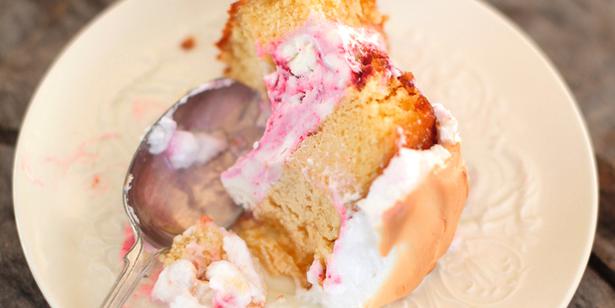 Monday Sept. 22, 2014
This is one of those ultimate retro dinner party treats. Unlike things in aspic, Bombe Alaska has stood the test of time. Don't be afraid of putting ice cream in the oven; the meringue acts as a sort of insulator and protects it from the heat. You may want to use several flavours of icecream for a bit of a thrill. 
BOMBE ALASKA
1 round cake (you can use the lemon loaf or Victoria sponge recipe from Food Worth Making)
About 500ml-1 litre icecream, the flavour of your choice
4 egg whites
220g sugar
Brandy, to flambe
1. Make the cake, using whichever recipe you like. Allow the cooked cake to cool completely.
2. Cut in half lengthways. Spread a layer of icecream thickly over the bottom half of the cake - you want a thickness of at least 3cm. Place the other half of the cake over the top, pressing it down firmly to sandwich the icecream in the middle. Place on a plate and put in the freezer for at least an hour so that it can firm up again.
3. Twenty minutes before you want to serve, preheat the oven to 220°C.
4. Remove the cake from the freezer and place on a lined baking tray.
5. In a large bowl, beat the egg whites with the sugar until glossy stiff peaks form. Spread evenly all over the cake, making sure that nothing is exposed. The meringue will act as insulation in the oven and will stop the icecream from melting. For a bit of visual effect, swirl the meringue around with a knife, or alternatively, get the beaten meringue mixture into a piping bag and pipe onto the cake. Just make sure you don't take too long with doing so - otherwise the icecream will begin to melt.
6. Once the cake is completely covered, get it into the oven and cook for about 10-15 minutes, until the meringue is slightly golden brown. Keep an eye on it!
7. Remove from the oven, transfer carefully to a plate and serve immediately. If you're feeling particularly dramatic, gently warm a cup of brandy, set it alight and pour over the top, just as you're about to serve.
Read more about Mannering's new cookbook here.

Food Worth Making, $50, is available at poshgiraffepublishing.co.nz and in selected bookshops.
Share this:
More Food & Drink / Recipes