SPONSORED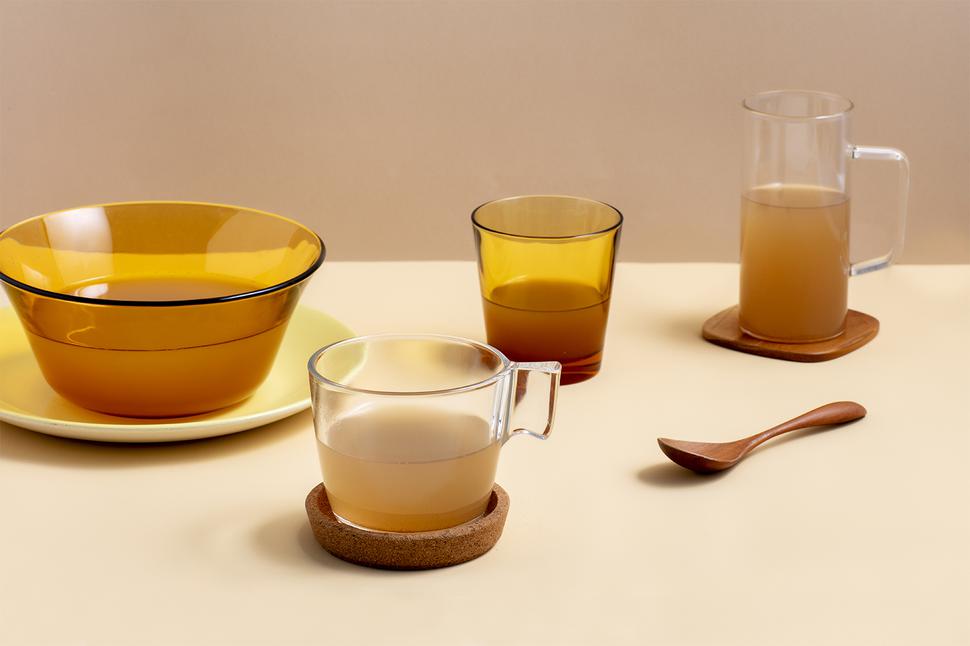 Bone Broth Is A Hot Topic
The beverage is enjoying a return to favour thanks to convenient new alternatives
Monday Aug. 30, 2021
It's a beverage that's been making a splash in the wellness arena, and the new tonics from local business Restore Bone Broth are the first of their kind in Aotearoa. Intrigued, and aware of broth's lengthy history, we tried out the drink that a fresh generation of health-conscious folk are warming up to.
Okay what is it exactly?
Harnessing by-products of the meat industry, as its name suggests bone broth is essentially a slow-cooked stock made from boiling animal bones in water — a nutritious concoction that humans have been brewing for centuries. The lengthy cooking time means that marrow and gelatine from connective tissue and cartilage are broken down and dissolved into the liquid. These days, such a time-consuming process isn't for everyone, so luckily local business Restore is doing the work for you.
Designed with the demands of modern life in mind (and the compromises that ensue) Restore Bone Broth comes ready to heat, in convenient screw-top packaging. A natural product, made from free-range chicken and grass-fed beef, the Restore range is free from hormones, antibiotics and gluten. Ingredients like peppercorns, ginger, apple cider vinegar and coriander are used, but there are no preservatives or additives to worry about.
And why is it good for me?
The cooking process makes the bones release their nutrients. Bone marrow contains vitamins A and K2, omega fatty acids, and minerals like zinc and iron. Collagen (extracted from the bones) transforms into gelatine when cooked, and contains amino acids like proline, glycine and glutamine, which help build protein. Another amino acid, glucosamine, is thought to help support joint health.
Studies have also shown that it may help with gastrointestinal issues and inflammation, and it is also thought to help with sleep quality — we found a cup before bed was relaxing and calming. Bone broth is also a great way to add protein to your diet, especially if you're someone who doesn't eat a lot of traditional meat regularly.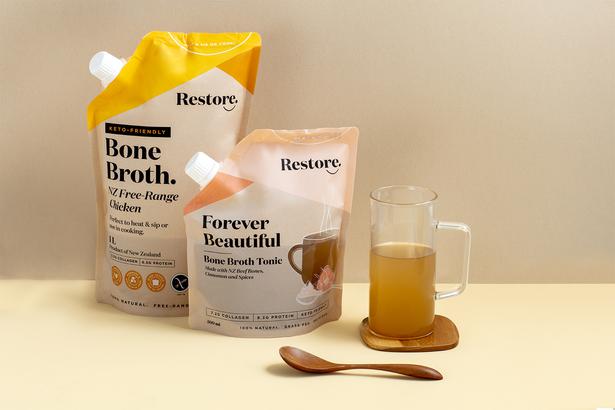 So, what does it taste like?
Restore Bone Broth Tonic is akin to miso soup in its umami flavour, and the texture has a similar viscosity to a full-cream coffee. Restore has three different varieties — Active Vitality, Forever Beautiful, and Super Defence — each with a slightly different flavour profile and beneficial ingredients. The tonics are comforting and earthy, but still feel fresh and light. There is no sediment or 'bits', and the animalistic origins are incredibly subtle to the palate.
We tried the range for two weeks, finding it to be a nourishing beverage to sip on a cold winter night, and a satiating between-meal option for an energy boost, rather than having (another) cup of coffee.
How do I eat it?
The Restore Bone Broth range features three tonics for drinking, and they're easy to prepare. We measured out a cup, heated it on the stove, and then decanted into a mug (but you could use a microwave if you have one). You can even add the milder tonic flavours to a smoothie if you're feeling adventurous.
The Restore range also includes two more traditional broths for cooking with — we added these to vegetable soup, used them risotto and some stew-y beans, and are planning a fragrant phở next.
Available from selected butcher stores, specialty food stores and some supermarkets nationwide. Find your local stockist, and more about Restore Bone Broth, on Restore.co.nz
Share this: