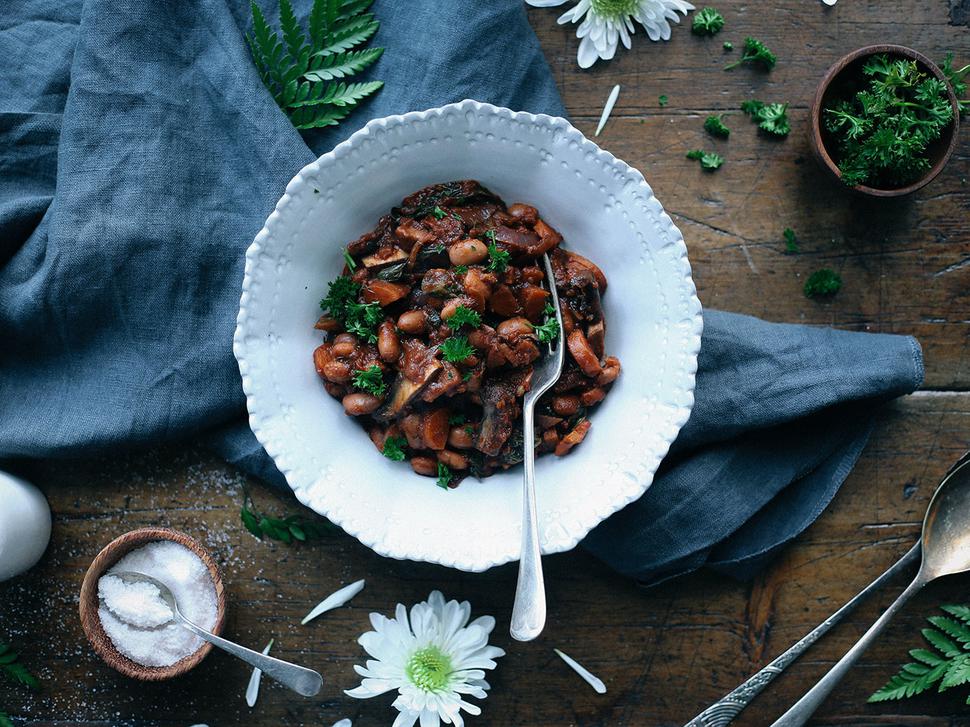 Borlotti Beans Recipe
This recipe from Petite Kitchen is ideal for a winter night
Thursday July 14, 2016
A rich and tantalising dish, perfect for a cold winter's night. Red wine, borlotti beans, crushed tomatoes and lush, leafy silverbeet is left to quietly bubble and blip on the stovetop. The beans collapse beautifully into the depth of the sauce, the stew becoming quite substantial and satisfying. I initially imagined serving this recipe with a bowl of steamed grains, instead we enjoyed it on it's own with a sprinkling of fresh parsley.

BORLOTTI BEANS RECIPE WITH RED WINE AND SILVERBEET
Serves 4 
3 Tbsp olive oil
2 brown onions, finely diced
2 carrots, finely diced
3 stalks of celery, finely sliced
A small handful of thyme, finely chopped
1 glass of red wine
1 can crushed tomatoes
1 can borlotti beans, drained
A small bunch of silverbeet, stalks removed and roughly chopped
2 large Portobello mushrooms, roughly chopped
A handful of Italian parsley, roughly chopped
1. Warm the olive oil in a large saucepan over medium heat. Saute the onions, carrots, celery and thyme until softened, about 15 minutes.
2. Add the wine, and then simmer until the liquid has evaporated.
3. Add the remaining ingredients. Continue to cook on low for bout half an hour, stirring every so often. You can add a little water or stock if necessary.
4. Season with sea salt and freshly ground pepper. Ladle in to bowls, and serve with a sprinkle of fresh parsley.

• For more from Eleanor Ozich see petite-kitchen.com 
Share this: