Bouillabaisse Recipe
Try this traditional French stew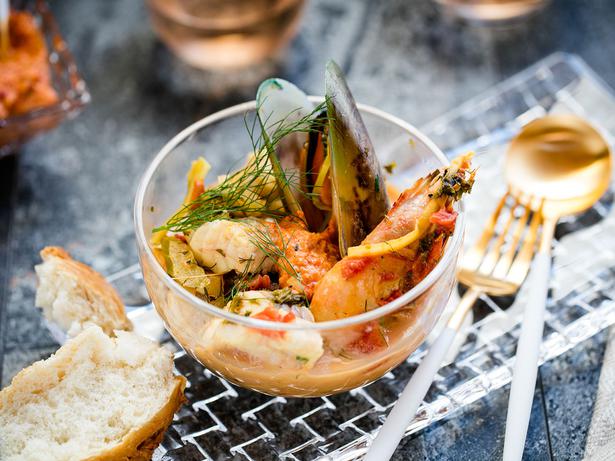 Wednesday July 6, 2016
A true bouillabaisse takes time to make, starting with a really good stock made from scratch. The best stock I ever made was with a bucket of scampi in Scotland (how decadent), crushing them down after boiling with all sorts of goodies then straining through a fine sieve. One litre of stock and then cream and brandy! If you can't be bothered making your own fish stock, seek out the best quality you can and then add a little brandy. Then add all your favourite seafood to the mix. Crusty bread is a must when serving this, to soak up every last bit of juice.

BOUILLABAISSE RECIPE
Serves 4-6
Rouille
1 red pepper, roasted, deseeded and peeled
2 cloves garlic, crushed
5cm piece of French bread — remainder of loaf for serving
Zest and juice of 1 lemon
2 tsp dijon mustard
1/3 cup olive oil
Salt and freshly ground pepper
Bouillabaisse
1 Tbsp olive oil
2 cloves garlic, chopped
1 leek, sliced
1 cup crushed tomatoes
2 cup fish stock
1 cup brandy
1 cup cream
2kg selection of fish, mussels, cockles, prawns
½ cup chopped parsley and dill
1. To make the rouille: place the pepper, garlic, bread, lemon and mustard into a kitchen processor and blitz until mushy. Slowly drizzle in the oil then season. Set aside.
2. To make the bouillabaisse: In a large pot heat the oil. Add the garlic and leek, sweating to soften. Add the tomatoes, stock, brandy and cream. Bring to a simmer. Add the seafood and cook through. Discard any shells that don't open.
3. Into serving bowls place the seafood. Bring the sauce to a boil then ladle on to the seafood. Garnish with herbs, and serve with a dollop of rouille and French bread on the side.
Share this:
More Food & Drink / Recipes