Petite Boysenberry Pies Recipe
Try making these tasty petite pies with sweet berry filling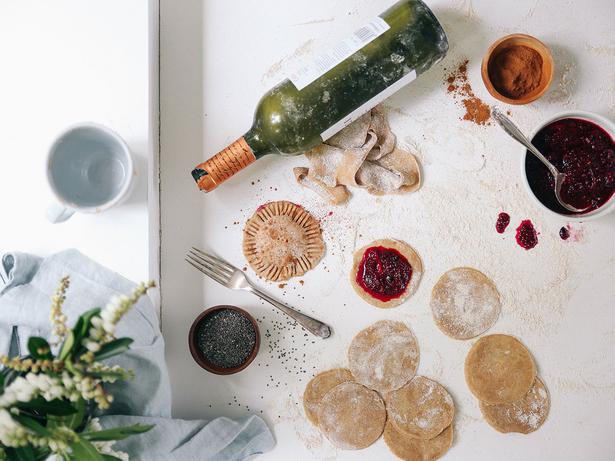 Thursday Oct. 20, 2016
A messy morning in the kitchen is spent creating this lovely recipe for petite and buttery hand pies. Yoghurt spelt flour pastry is filled with a quick vanilla bean boysenberry jam, the kind with chia seeds, honey and little lemon. A light dusting of cinnamon brings a soft warmness, amidst the sweet, berry filling.
PETITE BOYSENBERRY PIES WITH YOGHURT SPELT PASTRY
Makes 10-12 pies
For the jam:
2 cups fresh or frozen boysenberries*
3 tablespoons honey, or pure maple syrup
¼ cup chia seeds
For the pastry:
200g unsalted butter, chilled and diced
2 cups wholemeal spelt flour, plus extra for kneading
½ cup coconut, rapadura or light muscovado sugar
½ cup natural greek yoghurt
a pinch of sea salt
To finish:
¼ cup milk for brushing
Cinnamon for sprinkling
*You can use any variety of fresh or frozen berries. Store bought jam is another idea.

1. Place the berries in a bowl, and cover with 1/4 cup boiling water. Add the chia seeds and mix well, making sure they are well incorporated into the fruit.
2. Allow to set for at least half an hour.
3. To make the pastry, combine the butter, flour and sugar in a food processor and pulse until the mixture resembles breadcrumbs.
4. Add the yoghurt and salt, then continue to pulse until the dough begins to come together into a ball. Place the dough in the fridge to rest for 10-15 minutes.
5. Pre-heat the oven to 180 C.
6. Roll the dough out on a floured surface to about 5 mm (1/4 inch) thick. Using a round cookie cutter (or the rim of a wide-mouthed cup or glass), cut out as many circles as you can.
7. Transfer half the dough rounds to large baking trays lined with baking paper, leaving 2 cm (3/4 inch) between each. On each one, place about 1 tablespoon of the jam in the middle of the circle, leaving about a 1 cm (1/2 inch) border.
8. Working with one round at a time, brush the edges with a little milk and pop a second circle on top. Use a fork to gently seal the edges. Repeat with the remaining dough circles.
9. Pierce each pie with a fork, then brush the tops with milk, and sprinkle with cinnamon.
10. Bake for 20-25 minutes, or until golden.
11. Remove from the oven and allow the pies to cool. They can be stored in an airtight container for up to three days.
• For more from Eleanor Ozich see petite-kitchen.com
Share this:
More Food & Drink / Recipes