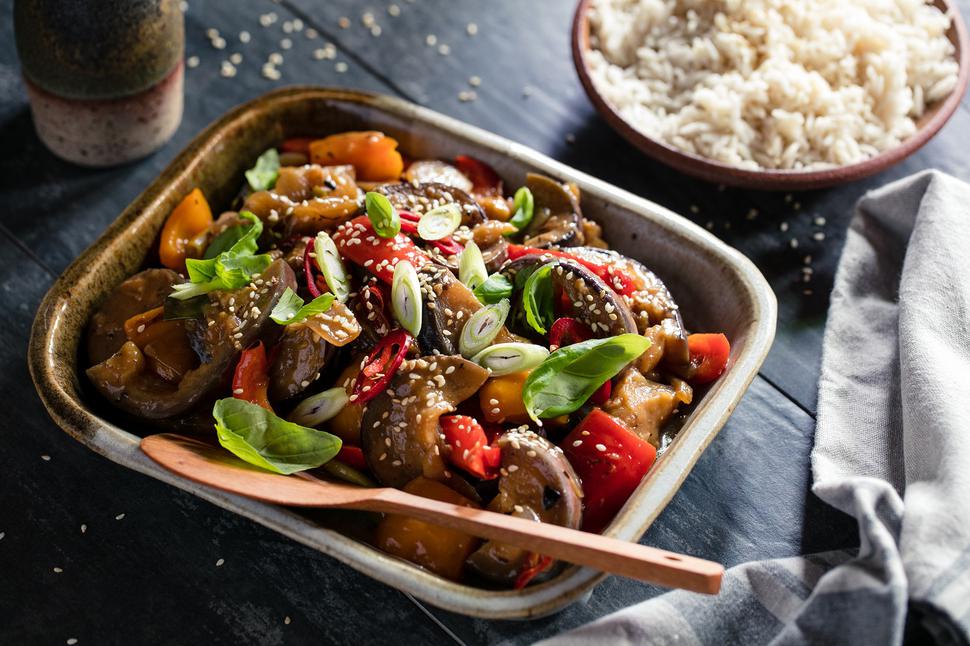 Braised Eggplant With Chilli, Peppers & Basil
This recipe makes easy work of creating a delicious vegetarian family meal
Friday March 15, 2019
To salt or not to salt eggplant? In this braised eggplant dish, it is not necessary as there is plenty of liquid for them to absorb. If you are frying or barbecuing eggplant for a salad I recommend salting for 30 minutes. Then rinse, pat dry and you will need half the amount of oil for cooking.
BRAISED EGGPLANT WITH CHILLI, PEPPERS & BASIL RECIPE
Serves 4
Ingredients
¼ cup olive oil
1 red onion, chopped
2 cloves garlic, sliced
1 Tbsp grated ginger
1 eggplant, halved lengthways then
cut into 1cm slices
2 peppers, seeds removed and cubed
1 cup chicken or vegetable stock
2 Tbsp soy sauce
1 Tbsp Worcester sauce
1 tsp brown sugar
½ tsp salt
Pinch chilli flakes
2 tsp cornflour mixed with 1 Tbsp water
1 cup basil leaves
Option to garnish with spring onion, chilli, sesame seeds
Brown rice to serve
Method
1. In a large pot warm the oil. Add the onion, garlic and ginger cooking slowly until softened.
2. Add the eggplant and peppers stirring well then cover for 10 minutes.
3. In a jug combine the stock, soy, Worcester, sugar, chilli and salt. Pour over and bring to a simmer cooking until the eggplant is completely cooked. Add the cornflour cooking for a few minutes to thicken. Stir through the basil, reserving a few leaves to garnish.
4. Serve hot with steamed brown rice.
Share this:
More Food & Drink / Recipes