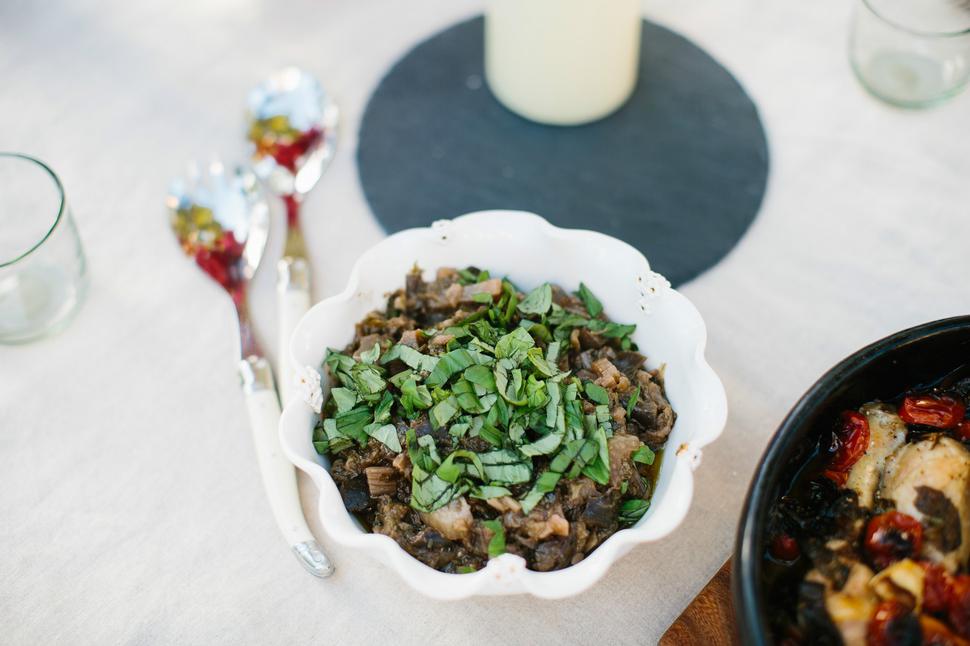 Braised Eggplant With Fragrant Herbs
Eleanor Ozich shares this simply wonderful summer side dish recipe
Thursday Nov. 8, 2018
A quite wonderful recipe, this — unfussy to make and to eat. Simply place the ingredients into a large pot and allow the heat to do the rest. This dish is lovely served with grilled fish or chicken, tossed through pasta or spooned over buttery mash. 
BRAISED EGGPLANT WITH FRAGRANT HERBS
Serves 4 as a side
Glug of extra virgin olive oil
2 eggplants, cubed
1 large fennel bulb, finely sliced*
2 cups vegetable or chicken stock
2 Tbsp white balsamic vinegar
1/4 cup capers, drained
Handful of mint, roughly chopped
Handful of basil, roughly chopped
Handful of Italian flat leaf parsley, roughly chopped
1. Place a heavy-bottomed cast-iron pot over a medium heat. Add enough olive oil to cover the bottom entirely.
2. Once oil is sizzling, add the eggplant and fennel and stir to coat in the oil. Add the stock, cover the pot, then reduce the heat down as low as you can.
3. Cook for 25–30 minutes or until tender. The eggplant should be meltingly soft. You might need to add a splash of water or two if it starts to stick on the bottom.
4. Remove from the heat, add the white balsamic vinegar, capers, herbs (reserving some for garnish) and a generous pinch of sea salt and freshly ground black pepper. Stir until combined.
5. Serve warm with a sprinkle of fresh herbs.
*If you can't find fennel, leek or shallots would also work well here.
Share this: