Bread, Baba Ganoush and Taramasalata Recipe
The perfect party plate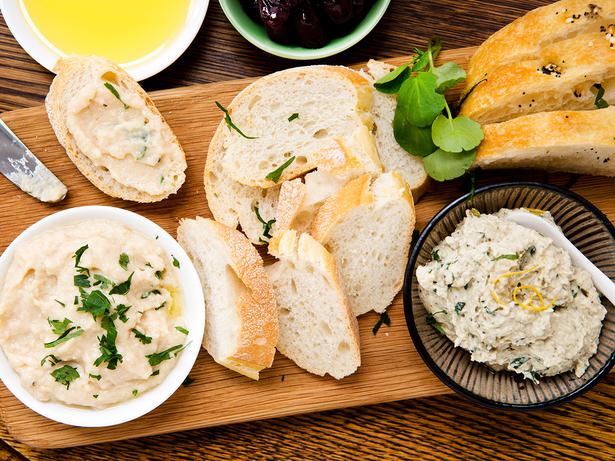 Friday June 29, 2012
BREAD, BABA GANOUSH AND TARAMASALATA
Serves 4
A selection of warmed breads, sliced
A dish of olives
A dish of best quality olive oil
Baba ganoush
2 eggplants
2 cloves garlic, crushed
½ cup parsley leaves
½ cup basil leaves
Juice of two lemons
150ml tahini
1 tsp ground cumin
Olive oil
Salt
Taramasalata
1 cup fresh white breadcrumbs
¼ cup milk
150g smoked fish roe
2 cloves garlic, crushed
1 small onion, grated - approximately 1 Tbsp
1 egg yolk
3 tsp lemon juice
3 Tbsp extra virgin olive oil
Salt and freshly ground black pepper

Baba ganoush
1. To make the baba ganoush - grill or barbecue the eggplants until the skin has blackened. Place in a sealed paper bag or a bowl covered with plastic wrap and let steam so the skin is easier to peel.
2. When cool, peel the skin and squeeze the juice out of each eggplant. Place the eggplant in a food processor.
3. Add the remaining ingredients and blend until smooth. Season to taste.
Taramasalata
1. To make the taramasalata - soak the breadcrumbs in the milk until soft.
2. Remove the skin from the roe and discard.
3. Place the soaked breadcrumbs into a food processor with the roe, garlic, onion, egg yolk, lemon juice, and olive oil.
4. Pulse until combined but not entirely smooth, for a bit of texture. Season to taste.
Share this:
More Food & Drink / Recipes