Breakfast Bagel Recipe with Rocket Mayo
This bagel recipe proves breakfast doesn't have to be fancy, just tasy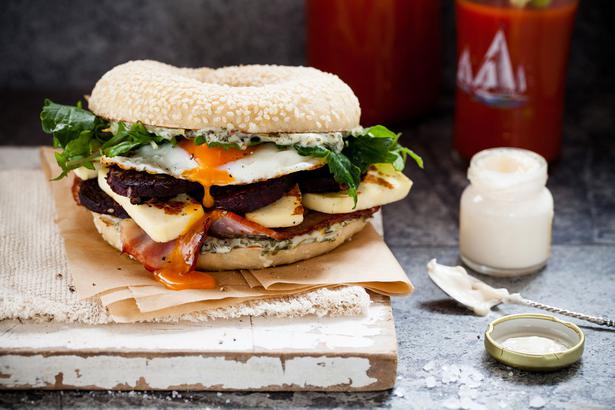 Friday Sept. 9, 2016
It doesn't have to be fancy, just tasty. And nothings beats a substantial start to the day than this breakfast bagel recipe. Black pudding fills the heart of this bagel alongside haloumi and a fried egg to make it a real protein hit. Spread the rocket mayonnaise liberally for an extra layer of flavour.
BREAKFAST BAGEL RECIPE WITH ROCKET MAYO
Makes 4
100g rocket
½ cup good quality mayonnaise
1 Tbsp lemon zest
2 Tbsp lemon juice
1 Tbsp oil
100g black pudding, ½ cm slices
4 slices bacon
100g haloumi, sliced
4 eggs
1 cup rocket leaves
4 bagels, split open
1. Place the rocket into a large bowl and pour over boiling water, let it sit for 1 minute then drain and run under cold water to cool. Squeeze out any excess water.
2. Place the rocket into a kitchen blender with the mayonnaise, zest and juice. Whizz until well combined. Set aside.
3. Heat the oil in a frying pan and fry the black pudding for 2 minutes each side, then fry the bacon, followed by the haloumi. Keep warm.
4. Toast bagels and fry eggs to your liking.
5. To build your bagel, spread with mayonnaise, top with bacon, haloumi, black pudding an egg, rocket leaves and more mayonnaise on the lid.
6. Enjoy while hot.
Share this:
More Food & Drink / Recipes