Breakfast Salad Recipe with Tahini Dressing
Start your day with this nutritious breakfast salad rich with protein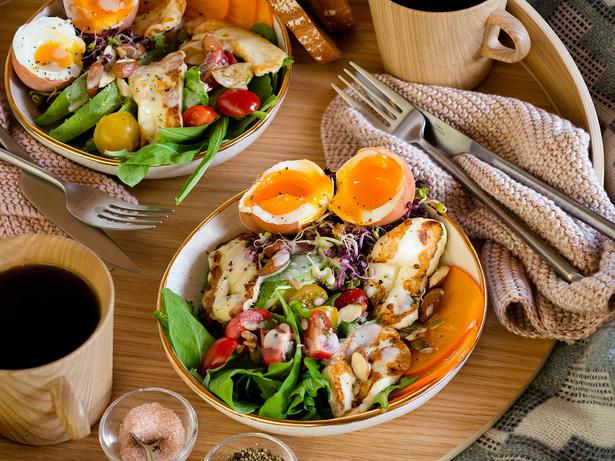 Friday June 30, 2017
Breakfast salads are a growing trend, and a healthy, fresh way to start the day. I can't leave out the soft egg, an integral part of my breakfast, while other ingredients such as halloumi, nuts or crispy prosciutto add texture. A fresh lemon and tahini dressing works to really bring this salad to life.
BREAKFAST SALAD RECIPE WITH TAHINI DRESSING
Serves 2
Dressing
2 Tbsp tahini
2 Tbsp water
2 Tbsp lemon juice
Salad
½ avocado, sliced
½ persimmon, sliced thinly
1 cup rocket leaves
½ cup chopped cherry tomatoes
2 Tbsp roughly chopped almonds
½ cup sprouts
2 eggs
50g halloumi, sliced
1. To make the dressing, into a jar place the tahini, water and lemon juice shaking until smooth. Add a little extra juice if needed.
2. To make the salad, slice and chop all your ingredients and place neatly onto two plates.
3. Place the eggs into a pot of boiling water for 4 minutes. Then remove and set aside to cool while you cook the halloumi.
4. Heat a frying pan to a high heat. Spray with a little oil then brown the halloumi on each side for 30 seconds. Place the halloumi on to the salad. Crack the eggs and add to the plate then drizzle over the dressing.
Share this:
More Food & Drink / Recipes