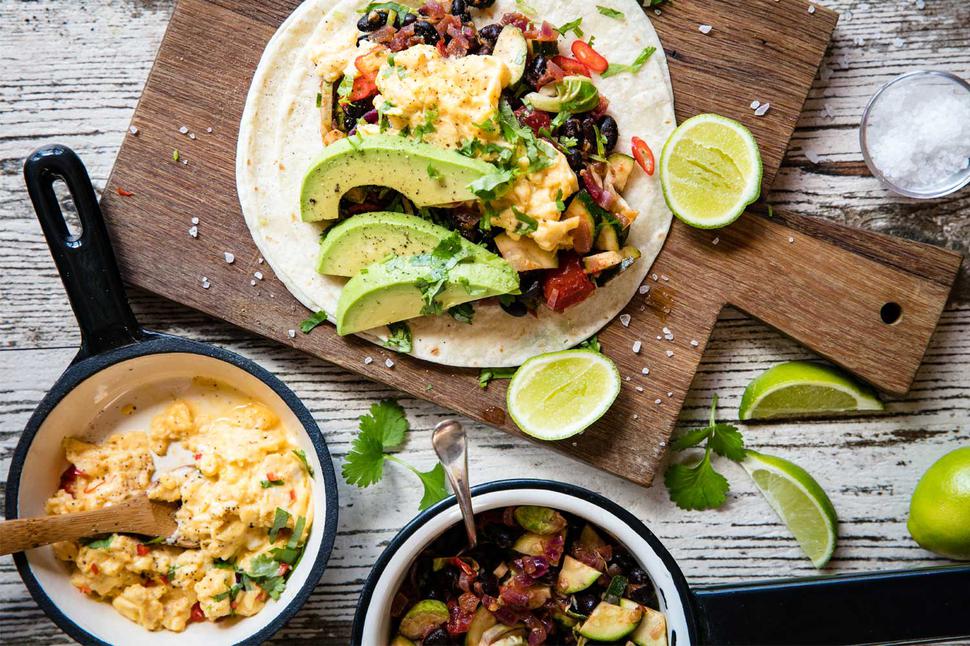 Breakfast Tacos With Scrambled Eggs & Avocado
Tacos for breakfast? This recipe is a dream for fans of Mexican cuisine
Friday May 18, 2018
Eggs, avocado and a soft taco — say no more, this recipe is the perfect start to the day. Every bite of this colourful breakfast is full of flavour. Spice them up a bit with extra chilli if you are game.
BREAKFAST TACO
Serves 4
1 Tbsp olive oil
½ red onion, chopped
1 courgette, chopped
½ red capsicum, chopped small
1 cup shredded Brussels sprouts
2 tsp taco seasoning
1 cup drained black beans
½ red chilli, chopped small
1 Tbsp butter
4 eggs mixed with ½ cup milk
Salt and freshly ground pepper
8 small tortillas
½ cup chopped coriander leaves
1 large avocado, sliced
Extra sliced chilli, optional
1. Heat the oil in a frying pan. Add the onion, courgette, capsicum and sprouts, cooking for 3 or 4 minutes to soften. Add the taco seasoning, stirring through to combine. Add the black beans and chilli heating through. Set aside and keep warm.
2. Season the eggs with salt and pepper. Heat the butter in a frying pan until melted. Pour in the eggs and cook until scrambled.
3. Heat the tortillas in a microwave for 1 minute.
4. Serve with the black bean mix, eggs, sliced avocado and coriander leaves and extra chopped chilli.
Share this: