Brioche French Toast Recipe with Grilled Peaches
Be weekend breakfast ready with this tasty brioche French toast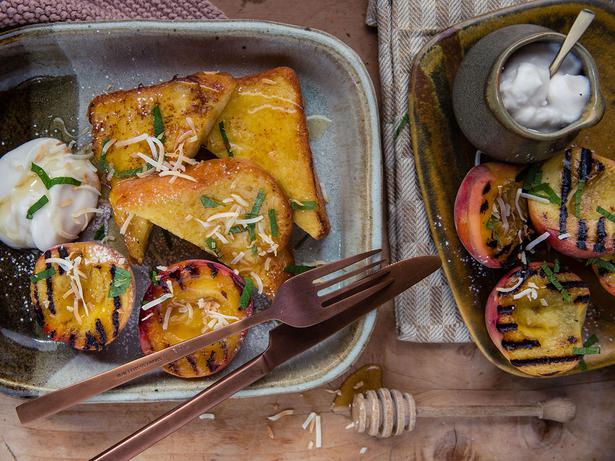 Friday Jan. 20, 2017
This brioche French toast is perfect for a weekend breakfast. Nothing beats sitting outdoors with a strong cup of coffee and slicing through the soft brioche alongside a scoop of coconut yoghurt and soft grilled peach. If you don't have brioche any other thick chunky bread will suffice.
BRIOCHE FRENCH TOAST RECIPE WITH GRILLED PEACHES
Serves 4
4 ripe peaches, halved, stones removed
10g melted butter
2 eggs
½ cup milk
¼ tsp cinnamon
1 tsp vanilla
20g butter
Coconut yoghurt, chopped mint, toasted coconut and honey to serve
6 thick slices brioche
1. Brush the peach halves with butter and cook on a barbecue or under the grill for 5 minutes, until softenedand golden. Set aside.
2. Combine the eggs, milk, cinnamon and vanilla in a shallow dish, whisking well.
3. Heat some of the butter in a frying pan. Dip the brioche slices into the egg mixture, let the excess drip off, then fry until golden on both sides. Continue until all the brioche is cooked.
4. Serve warm with coconut yoghurt, chopped mint, a sprinkle of coconut and a generous drizzle of honey.
Share this:
More Food & Drink / Recipes