Broad Bean and Ham Salad Recipe
Try Angela Casley's fresh and healthy broad bean and ham salad recipe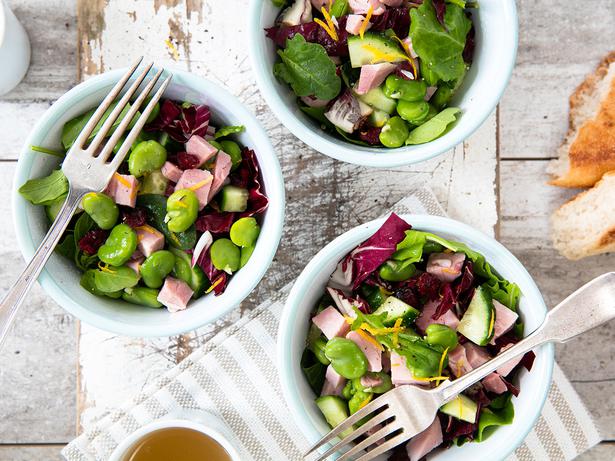 Friday Sept. 30, 2016
If you have a fridge full of leftovers, take a look at this simple broad bean and ham salad. Add some other fresh ingredients and a zesty dressing and voila!  — an empty vege drawer and a healthy meal.
BROAD BEAN AND HAM SALAD RECIPE
Serves 4
200g broad bean, blanched and husked
4 cups salad greens
250g chunky ham, chopped
½ telegraph cucumber, cut into chunks
½ cup cranberries
Dressing
¼ cup olive oil
2 Tbsp white wine vinegar
1 tsp Dijon mustard
1 Tbsp sugar
Zest of ½ lemon
1. Into a large bowl place the broad beans, salad leaves, ham, cucumber and cranberries.
2. In a small jar combine the oil, vinegar, mustard, sugar and lemon, shaking well.
3. Dress the salad, season with salt and pepper. Serve into bowls and enjoy with some crusty bread.
Share this:
More Food & Drink / Recipes