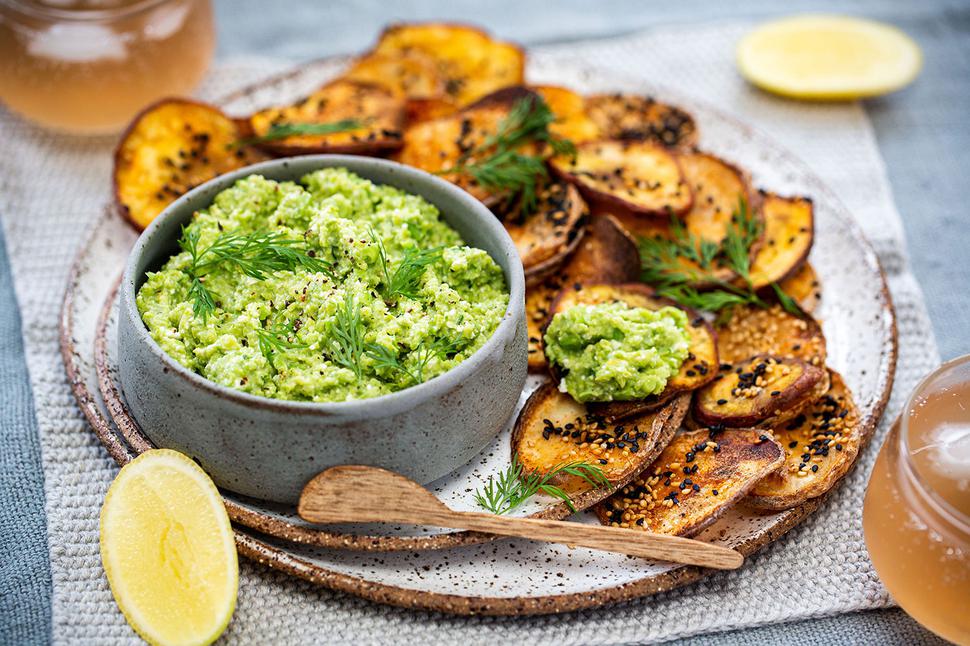 Broad Bean Dip Recipe With Sesame Vegetables
Cook your veges in a new way with these sesame coated vegetable chips - perfect for summer gatherings
Wednesday Nov. 18, 2020
It may be a little time consuming, but it is essential to remove the skins from the broadbeans to help create a smooth dip. Serve with these vegetable chips or crackers and crudites.
BROAD BEAN DIP WITH SESAME VEGETABLES
Serves 4-6
500g frozen broad beans
1 clove garlic
½ tsp Dijon mustard
½ cup cottage cheese
1 Tbsp lemon zest
¼ cup dill fronds
Salt and freshly ground pepper, to taste
Vegetables
1 large kumara, sliced thinly
1 large potato, sliced thinly
1 Tbsp coconut oil
1 tsp paprika
2 tsp mixed black and white sesame seeds
1. Plunge the frozen broad beans into boiling water for 4 minutes. Remove, drain under cold water, then remove the beans from the skins. Discard the skins.
2. Into a food processor place the beans, garlic, mustard, cottage cheese, lemon and dill, blitzing until smooth. Season to taste.
3. Heat an oven to 180C. Place the sliced vegetables on to a large baking tray. Toss over the paprika, oil and sesame seeds. Spread out in a single layer. Bake for 20-25 minutes until crisp.
4. Serve the dip with a few extra dill leaves and the chips on the side.
Share this: