Broad Bean Sliders Recipe
Try these delicious vegetarian sliders for ultimate tapas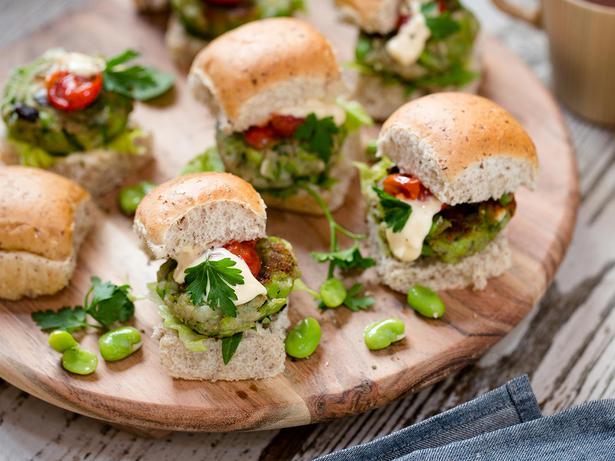 Friday July 28, 2017
I always try to keep a packet of broad beans stashed in the freezer, as they are so easy to whip into a dip, which I have served with these sliders (these are also a great way to use up leftover potatoes). You can add all sorts of fillings; here I have roasted some cherry tomatoes for colour and added a dollop of aioli.
BROAD BEAN SLIDERS RECIPE
Makes 10-12
300g potatoes, peeled and diced
500g frozen broad beans
1 clove garlic, crushed
¼ tsp celery seeds
¼ tsp each ground cumin and coriander
¼ cup chopped fresh coriander
1 Tbsp lemon zest
¼ cup dried breadcrumbs
½ tsp salt and freshly ground pepper
Flour to dust
Oil to cook
Slider buns, aioli and lettuce leaves to serve
1. Place the potatoes into a pot of salted water and bring to the boil. Cook for 10 minutes until softened, drain and mash with a fork. Cool.
2. Plunge the broad beans into a pot of boiling salted water for 5 minutes. Drain until cool enough to handle. Remove and discard the husks. Place the beans into a kitchen processor with the garlic, celery seeds, cumin, coriander, zest, breadcrumbs, salt and pepper. Blitz until chopped well. Add to the potatoes, mixing well.
3. Shape the mixture into little patties to fit the size of your slider buns and dust with flour.
4. Heat a little oil in a frying pan to a medium heat. Cook a few at a time for 3 or 4 minutes each side until crispy. Keep warm in the oven while you cook the remainder.
5. Warm the buns and build your sliders, adding your favourite fillings.
Share this:
More Food & Drink / Recipes