Broccoli and Coconut Fritters Recipe
These fritters are delicious served as a snack or as a main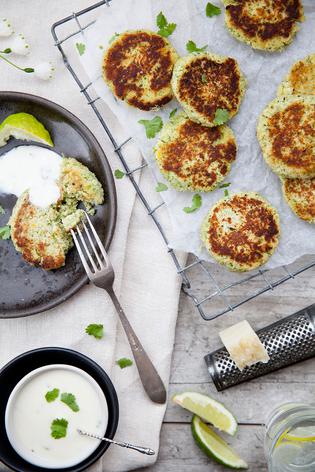 Who would guess the broccoli we have been steaming through the winter months can become a tasty fritter with just a few other ingredients? These are delicious served as a snack or as a main meal with grilled haloumi and a wholesome salad.

BROCCOLI AND COCONUT FRITTERS RECIPE
Makes 12
1 head broccoli, cooked and cooled
1 clove garlic, crushed
Salt and freshly ground pepper
3 eggs
¼ cup coconut flour
Zest of 1 lemon
½ cup parmesan
¼ cup chopped parsley
Oil to cook
To serve: ½ cup natural yoghurt
2 Tbsp lemon juice
Lemon wedges
1. Place broccoli, garlic, salt, pepper, eggs, flour, lemon, parmesan and parsley in a food processor and whizz until well combined. Shape the mixture into 3cm patties and refrigerate until ready to cook.
2. Shallow-fry fritters in oil, a few at a time, until lightly browned.
3. Combine the yoghurt and lemon juice in a small bowl.
4. Serve the fritters warm with the dressing and lemon wedges to squeeze over.
Share this:
More Food & Drink / Recipes