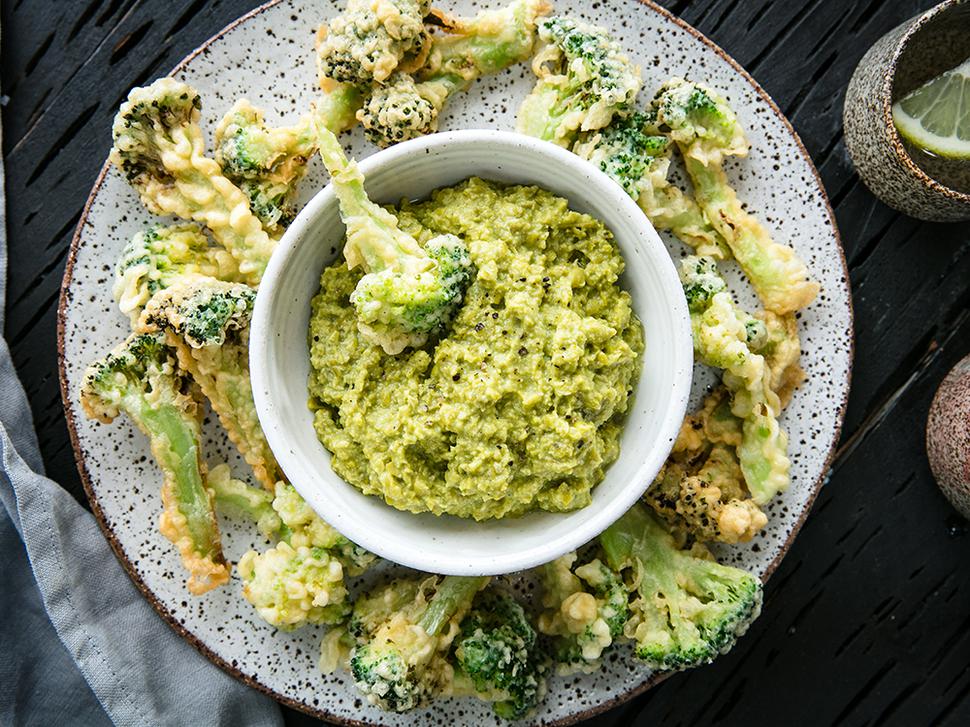 Broccoli Tempura & Pea Dip
Green vegetables have never looked—or tasted—so good
Friday April 6, 2018
For this simple tempura recipe, you can use an array of vegetables. I have opted for broccoli and served it with a quick-to-prepare pea dip. This makes a tasty nibble or can be served with lunch.
BROCCOLI TEMPURA WITH PEA DIP
Serves 4-6
Pea Dip
1 cup cooked peas
1 clove garlic
1 tsp lemon zest
1 Tbsp lemon juice
¼ cup Japanese mayonnaise

Tempura
80g plain flour
¼ tsp salt
1 Tbsp cornflour
200ml ice-cold water
1 head broccoli cut into strips
Oil for cooking
1. First make the pea dip. Blend together the peas, garlic, zest, juice and mayonnaise. Place into a small serving bowl.

2. Make the batter just before cooking the broccoli. In a bowl sift the flour, cornflour and salt. Whisk in the water until the batter is formed. A few lumps are fine.

3. Heat 4cm of oil in a medium pot. Dip the broccoli into the batter, let the excess drip off and place into the oil for 1 minute, turning for a further 30 seconds until cooked and golden.

4. Serve hot with the pea dip.
Share this:
More Food & Drink / Recipes