Bruschetta Recipe with Avocado and Feta
These make a perfect entree or afternoon snack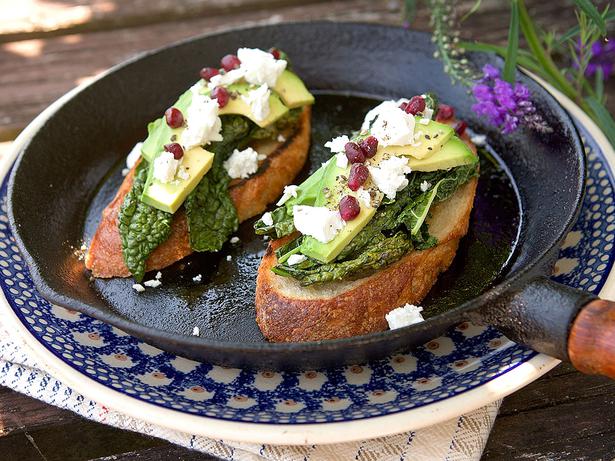 Wednesday Dec. 5, 2007
BRUSCHETTA WITH AVOCADO AND FETA
Serves 2
1 Tbsp olive oil
4 slices sourdough bread
1 clove garlic
1 bunch cavolo nero or silverbeet
1 lemon
1 avocado
150g feta
1 handful pomegranat seeds
salt and freshly gound pepper
1. Heat a frying pan. Toast the bread on both sides, and then remove from the pan. 
2. Cut the garlic clove in half and rub each slice all over on one side only.
3. Put the pan back on the heat, pour in 1 Tbsp of olive oil.
4. Then add the cavolo nero and stir until wilted, season and add a squeeze of lemon.
5. Top the toast with the wilted greens, and then add slices of avocado, crumbled feta and pomegranate seeds.
6. Sprinkle with a little salt and a grind of pepper.
Share this: