Bruschetta Recipe with Roasted Pepper and Chilli
Try this deliciously crunchy bruschetta recipe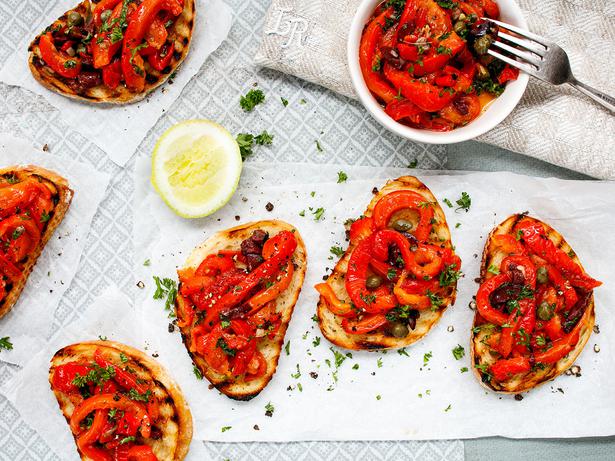 Thursday Feb. 18, 2016
Try this bruschetta, rubbed with garlic and drizzled with olive oil before being toasted or grilled until golden. Ideally, eat these straight away while they are still deliciously crunchy. The beautiful roasted red pepper and chilli salsa is a perfect topping for such a rustic snack or starter, and I always like to crumble a bit of goat's feta over the top to finish.

BRUSCHETTA RECIPE WITH ROASTED PEPPER AND CHILLI
Makes 12
• 3 red peppers
• 2 large red chillies
• 2 Tbsp capers
• 2 anchovies, chopped
• 2 cloves garlic, crushed
• ¼ cup chopped black olives
• 2 Tbsp olive oil
• juice of ½ lemon
• 2 Tbsp chopped parsley
• freshly ground pepper
• 12 grilled ciabatta bruschetta
• ½ lemon to squeeze over
1. Preheat an oven to 220C. Line a baking tray with paper.
2. Place the peppers on to the baking tray and into the oven for 20 minutes, turning once. The skin will have blistered. Place then into a plastic bag to cool.
3. Using tongs, hold the chillies over a gas flame to blacken, turning as they char. Then add to the bag of peppers. When both are cold, peel and discard the seeds.
4. Slice the peppers and chillies into thin slices and place into a bowl. Add the capers, anchovies, garlic, olives, oil, lemon and parsley. Season with black pepper. Stir well and leave for at least 1 hour for the flavours to develop.
5. Serve the roasted peppers on the grilled bruschetta with a squeeze of lemon.
Share this:
More Food & Drink / Recipes