Brussels Sprout and Black Bean Curry Recipe
Try Angela Casley's quick and delicious curry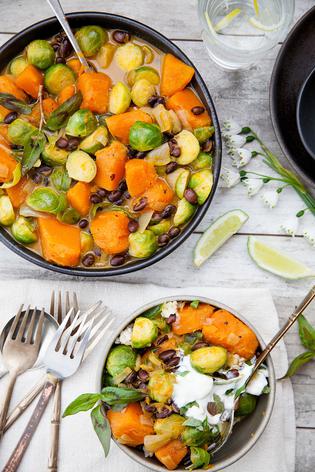 The humble brussels sprout has been having a renaissance in cafes and restaurants recently, and they have also been appearing on the menu at home. They've been going down a treat, sauteed with bacon or added to a tray of roasted vegetables. If you're not so keen on them, try this red curry with pumpkin and black beans. It really is delicious and quick. Serve with rice or naan bread.

BRUSSELS SPROUT AND BLACK BEAN CURRY 
Serves 4
1 Tbsp olive oil
1 onion, chopped
2 Tbsp red curry paste
3 cups cubed pumpkin
400ml coconut milk
400g tin black beans, drained
200g brussels sprouts, halved
1 Tbsp rice syrup (or other sweetener)
To serve: Brown rice
Coriander
Lime wedges
1. Heat the oil in a heavy pan. Fry the onion for 2 minutes. Add the curry paste and stir through for a further 2 minutes.
2. Add the pumpkin, coconut milk and black beans, cover and cook for 5 minutes. Toss in the sprouts and rice syrup and stir through. Simmer for 5 minutes until the sprouts are soft.
3. Serve hot on brown rice, garnished with coriander and lime wedges.
Share this:
More Food & Drink / Recipes