Buckwheat Crepes with Rhubarb, Ginger and Honey Compote Recipe
A sweet and tangy compote spread generously over buckwheat crepes are a blissful start to the day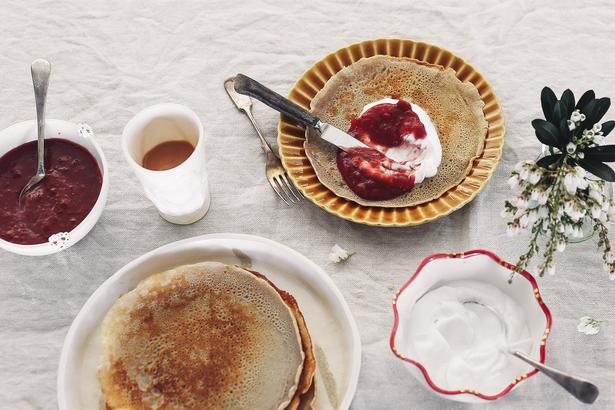 Thursday Sept. 21, 2017
The loveliness of rhubarb eludes some people, but if sweetened with honey and cooked until tender, the result is meltingly soft and perfectly tangy. In this recipe, I combine the tart fruit with a touch of ginger and lemon, and simmer on the stovetop until silky and thick. Spread generously over these simple, buckwheat and almond milk crepes, with a dollop or two of coconut yoghurt. My idea of a blissful breakfast.
BUCKWHEAT CREPES WITH RHUBARB, GINGER AND HONEY COMPOTE
Makes 12-14 crepes
Rhubarb compote
6 stalks rhubarb, chopped into 2cm pieces
1 cup raspberries, fresh or frozen
¼ cup water
¼ cup honey
2 tsp ground ginger
2 tsp pure vanilla extract
Juice of ½ lemon
1. Combine all compote ingredients in a saucepan over medium heat. Bring to a soft boil, and simmer on low until thick and glossy, about 20 minutes.
2. Stir in the lemon juice, and allow to cool before transferring to a medium-sized glass jar.
Crepes
2 cups buckwheat flour
2 cups almond milk
2 free range eggs
2 Tbsp coconut, rapadura or muscovado sugar
A pinch of sea salt
1. Add the crepe ingredients to a food processor or blender, and blend until smooth. Allow to sit for at least an hour. The mixture could also be made the night before, and stored in the fridge until you are ready to cook them.
2. Grease a large skillet and place over high heat. Once hot, reduce the heat to low, then add 1/3 cup of the crepe batter to the pan, swirling the pan to coat the base. Cook for 1–2 minutes on each side, or until golden.
3. Repeat with the remaining batter, keeping the stack of cooked crepes warm in the oven if you like.
4. To serve, fill the crepes with coconut yoghurt or whipped cream, and a few dollops of the rhubarb compote. Enjoy warm.
Share this: