Buon Appetito: The Ultimate Italian Long Lunch
Know your antipasto from your primo? Or your secondi from your formaggi e frutta? Allow Viva recipe editor Angela Casley to walk you through the ultimate Italian long lunch
SPONSORED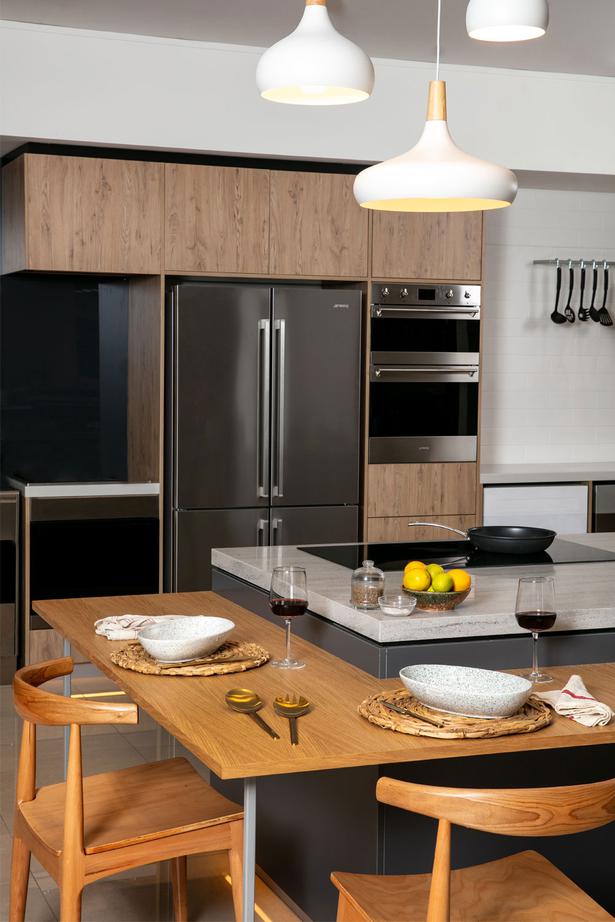 Wednesday July 3, 2019
Fusing the sophistication of Italian design with the functionality of commercial kitchen appliances, SMEG's range of innovative cookware, available from Noel Leeming, was Angela's secret weapon when creating this Italian-inspired feast.
Catering to the masses is no easy feat, but the SMEG oven's clever features allowed our recipe extraordinaire to whip up each dish in record time. Discover how Angela pulled together the ultimate Italian long lunch with Noel Leeming and SMEG below.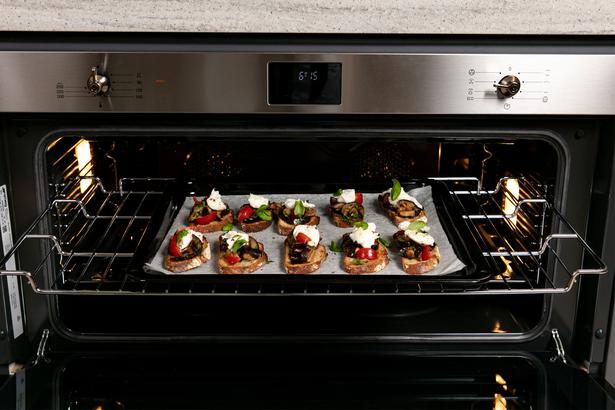 ANTIPASTO
EGGPLANT & MOZZARELLA BRUSCHETTA 
Makes 10
Ingredients
Olive oil for brushing
1 loaf rustic bread, sliced thick
1 eggplant, sliced and cooked
½ cup chopped cherry tomatoes
2 Tbsp chopped basil
Salt and freshly ground pepper
200g fresh mozzarella
Basil leaves to garnish
1. Preheat a SMEG oven to 180C.
2. Brush the bread slices generously with olive oil and place onto a baking tray.
3. Bake for 10 minutes until golden.
4. Chop the cooked eggplant into pieces and place into a bowl. Add the tomatoes, basil salt and pepper and mix to combine. Pile eggplant and tomatoes onto the toasted bread.
5. Top with torn pieces of mozzarella. Place back into the oven to warm through.
COOKING TIP: Every SMEG oven is fitted with Thermoseal technology, which sees the oven cavity shrouded in 20mm thick ceramic insulation and reflective foil sheeting. This means the heat is kept inside the oven, and away from surrounding cabinetry or wandering fingers, which makes for more efficient cooking – overall cooking times are slightly reduced. The result is roasts that retain their nutrients, natural juices and flavours; and crisp pastries and cakes that rise evenly and are light and airy in texture. Every Thermoseal oven features the new Venturi technology, which allows excess moisture to escape into the cooling system, therefore reducing condensation. The Venturi valve contains a converter which deodorises steam before it's released, meaning no cooking smells can escape into the kitchen.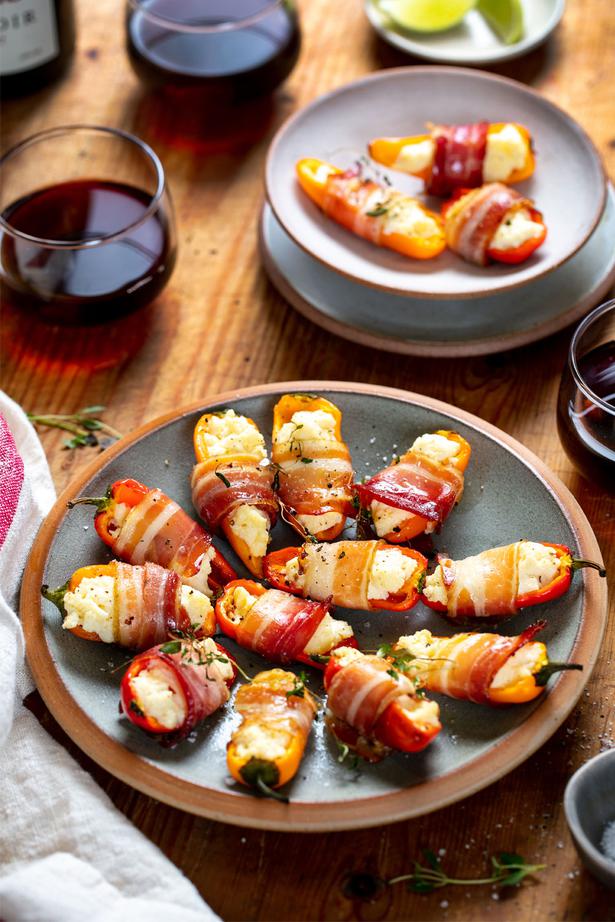 PRIMO
RICOTTA STUFFED MINI PEPPERS
Makes 20
Ingredients
200g ricotta
2 tsp finely grated lemon zest
¼ tsp salt
7 mini peppers, halved
10 sliced pancetta, halved
2 sprig thyme
Olive oil to drizzle
1. Preheat a SMEG oven to 180C.
2. In a small bowl combine the ricotta, lemon zest and salt.
3. Slice the peppers in half and remove the seeds. Fill each half with the ricotta mix. Wrap with a piece of pancetta and place onto a baking tray. Sprinkle with thyme and drizzle with olive oil.
4. Cook in the oven for 15 minutes until golden. Serve hot.
COOKING TIP: SMEG has its roots in enamel – after all, SMEG is an anagram for Smalterie Metallurgiche Emiliane Guastalla — an enamelling factory in the town of Guastalla in Northern Italy. Every SMEG oven is fitted with Ever Clean Enamel, which has been scientifically formulated and electrostatically applied corner to corner and edge to edge to prevent cracking over time. Ever Clean enamel offers a flawless finish on SMEG ovens' interiors and baking trays, making it easier to maintain their condition.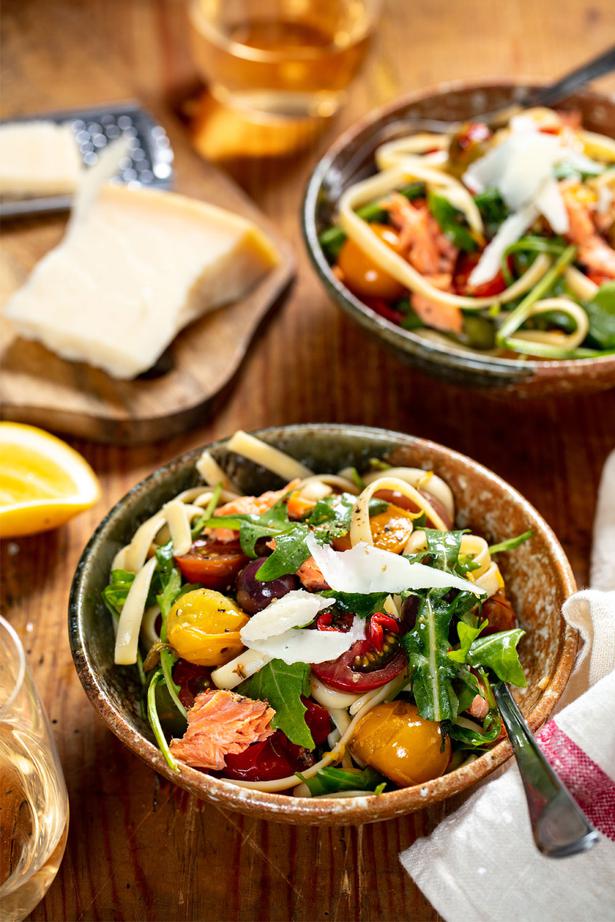 SECONDI
TOMATO LINGUINE
Serves 2
Ingredients
2 Tbsp olive oil
2 cloves garlic, chopped
½ red chilli, sliced thinly
200g mixed tomatoes
1 Tbsp capers
1 tsp lemon zest
1 cup basil leaves
2 cups rocket
2 cups cooked linguine
150g hot smoked salmon (optional)
Salt and freshly ground pepper to taste
Lemon to serve
1. Heat the oil in a large frying pan on a SMEG induction cooktop. Add the garlic, chilli, tomatoes, capers and lemon zest cooking for 8-10 minutes until softened and squishy.
2. Toss through basil, rocket, pasta and salmon. Season with salt and pepper.
3. Serve with lemon to squeeze.
COOKING TIP: Induction cooktops use induction heating to directly heat a cooking vessel, instead of using a heat transfer method from coils or gas on a traditional stove. This method of cooking requires cooking vessels that are crafted from ferromagnetic metal, or to be placed on an interface disk which enables non-induction cookware to be used on these surfaces. Most modern pots are induction capable; you can test this by checking if a magnet sticks to the base of the pot. If it does, then it should work on an induction cooktop. A coil of copper wire is placed under the cooking pot, which produces an oscillating magnetic field and generates alternating electric currents which flows through the coil, thereby heating up the food in the pot.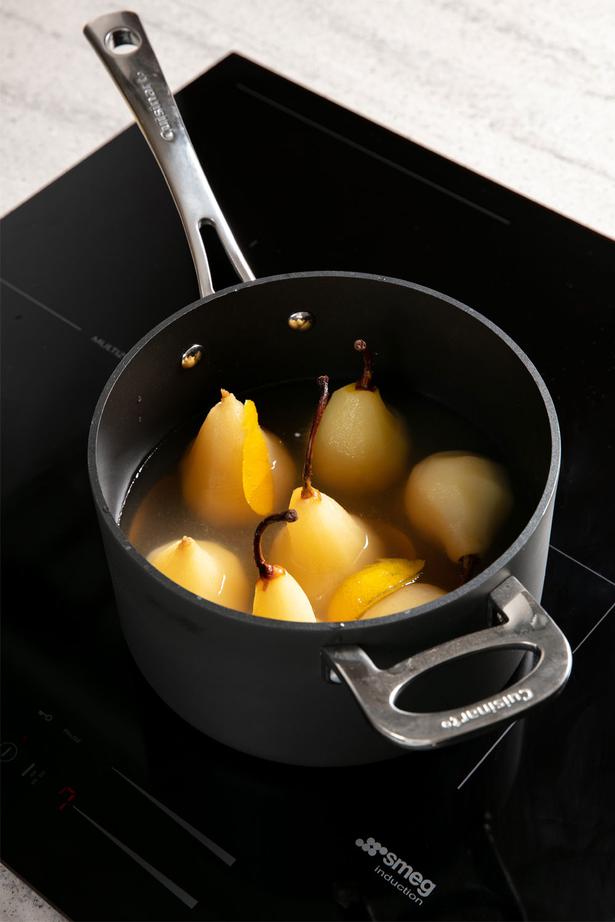 FORMAGGI E FRUTA
POACHED PEARS WITH BLUE CHEESE
Serves 4
Ingredients
3 cups white wine
½ cup sugar
Peel and juice of 1 lemon
1 cinnamon stick
4 pears, peeled
150g blue cheese
½ cup peanut brittle (store bought)
Mint leaves to serve
1. Into a large pot on a SMEG induction cooktop place the wine, sugar, lemon and cinnamon stick bringing to a simmer. Add the pears and cook for 20 minutes until a skewer will insert easily. Remove from the heat and cool completely in the syrup.
2. When ready to serve, cut the pears in half and remove the cores.
3. Place a pear on each serving plate. Distribute the cheese between the plates and top with crunchy peanut brittle.
4. Garnish with mint leaves and serve.
COOKING TIP: Induction cooking is faster and more energy efficient than traditional cooking methods, and enables better control of cooking energy. While other cooking methods use red-hot heating elements, induction cooking only heats the pot, which means a reduced risk of burn injuries. SMEG's induction cooktops allow better control at lower temperatures, rendering them perfect for whipping up a roux or melting chocolate without a bain-marie.
MAKING EASY WORK OF MESS
All that cooking is thirsty work, and the last thing Angela felt like doing after our Italian long lunch was slaving away cleaning the oven. Thankfully, all non-pyrolytic SMEG ovens include a function called Vapour Clean, which makes cleaning out the oven a breeze. Simply add a little water to the cavity on the oven floor, wipe a mixture of water and detergent over the oven cavity walls, and then select the Vapour Clean setting. This setting uses vapour to soften any residue leftover from cooking. Other SMEG ovens are pyrolytic self-cleaning ovens.
For smaller items, Angela popped her dishes in the SMEG dishwasher. Its Orbital Wash system — with three aerodynamic wash arms which projects water in six directions plus a multi-directional ceiling rose — means water is used more efficiently to produce a clean wash result. The 'orbital' idea comes into play with the base arm and top arm, which operate alternatively.

• Visit your local Noel Leeming to experience the SMEG cooking magic, or see Noelleeming.co.nz.
Share this: