Where to Stay: Chateau de Chamirey, Burgundy
Vineyard owner Pauline Devillard is doing her bit to develop upmarket tourism in Burgundy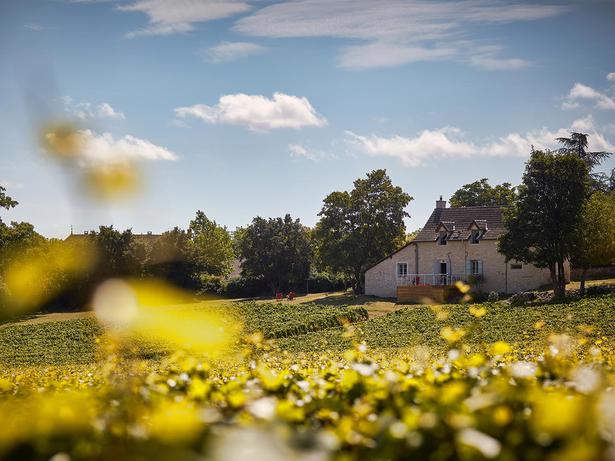 Sunday Aug. 6, 2017
Think cottage industry, and the phrase modern luxury doesn't necessarily spring to mind, but a savvy Frenchwoman has the combination sorted.
Pauline Devillard is developing a tourist venture on the family vineyard in Burgundy. Just a short walk from the chateau where she lives with husband Amaury and their three children, she is bringing new life to centuries-old farm houses by turning them into stylish visitor accommodation. The first is already open and others are under restoration.
The cottages overlook the vines of Chateau de Chamirey, a top-notch exporting estate just outside the town of Mercurey. They offer an unusually intimate experience for the wine region.
With international demand for Burgundy wines so high, persuading wine tourists to linger is not so central to an individual vineyard's business plan as it often is in New Zealand, Australia or California. Instead, regional authorities promote the wider destination, meaning many visitors bed down in towns and visit off-site cellar doors. Staying among the vines is relatively rare.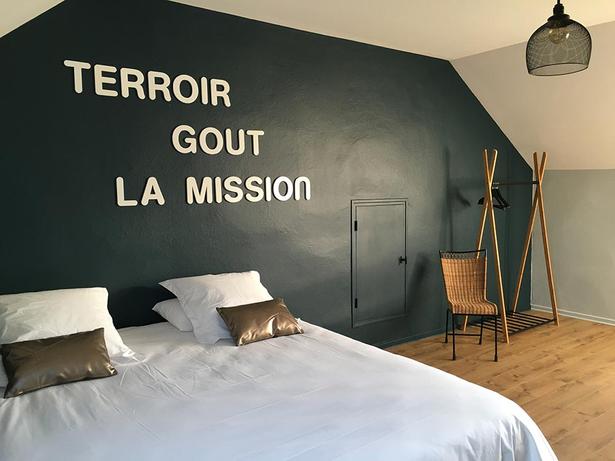 The Devillards have adopted a more new-world approach, intent on extending the visitor experience, with stay-overs, tours and long lunches. All the better, they say, to appreciate the grand old world of French wine.
To facilitate this, Chateau de Chamirey has a purpose-built cellar door and restaurant, near the gates of the couple's early 18th-century chateau.
READ: Plan a French Escape at the Hilton
This is kept as their private residence, but from the visitor centre's balcony, you can spy its formal kitchen gardens and the old brick stable building, topped by a dovecote, where Amaury's car collection is housed. The outlook also takes in a hamlet of houses, some unoccupied for decades, which Pauline sees as ripe for renewal.
Her vision for the interiors is contemporary chic.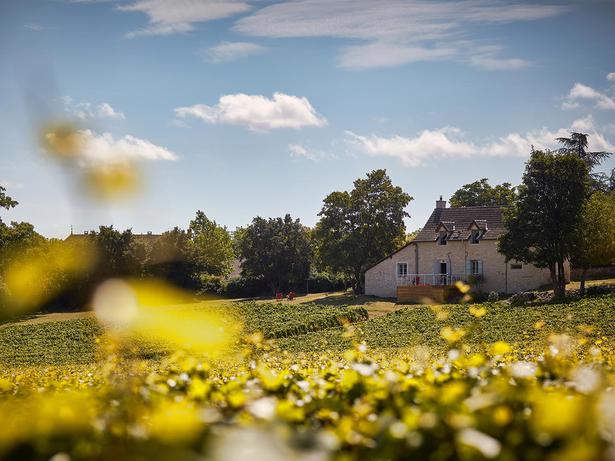 As cottage number one shows, she has the decorating flair to realise this. Combining period charm with modern comforts is a winning formula. Who doesn't want a decent shower and heating, a coffee machine and, of course, a wine fridge?
Add in cosy loft bedrooms with extra windows to take in the views and your very own cellar. This striking original feature is under a rough-hewn lean-to with a sloping roof of local limestone and has been repurposed to double as a cool dining retreat when summer temperatures soar.
Pauline, a former staffer at Louis Vuitton during the Marc Jacobs days, both managed and laboured on the transformation. Proudly showing off her project, she wears a jaunty plaid shirt dress, short enough to display her enviably toned and tanned legs.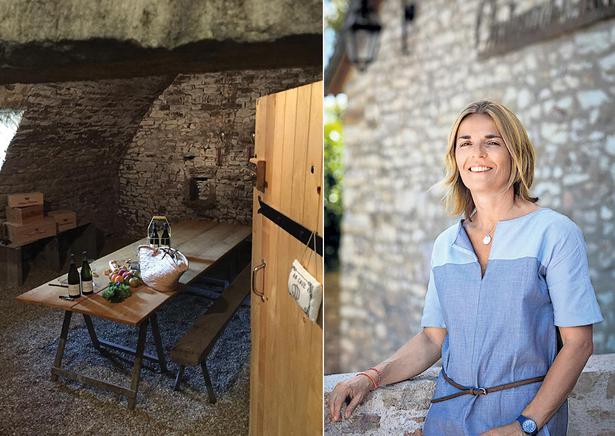 The affable Amaury joins us for a drink on the new deck, stretching out his tall frame in the pink pants he wears with panache. Their two young daughters pass around nibbles; the girls' elder brother is off at boarding school.
Amaury shares a French verb, elever, and explains this is what he does, he "raises up wine and children". Two years ago the family took two months out to travel together in Southeast Asia. It sounds an idyllic existence.
Past health scares have made Amaury especially appreciative of family and his good fortune in being able to return to his slice of paradise between frequent business trips. He is active in promoting his own and the wider wine business.
GALLERY: Get the French Riviera Look
He runs the vineyard alongside co-owner and sister Aurore, with father Bertrand offering guidance. It was Bertrand who did much to build up the estates, after his marriage to the daughter of the Marquis de Jouennes d'Escrigny d'Herville.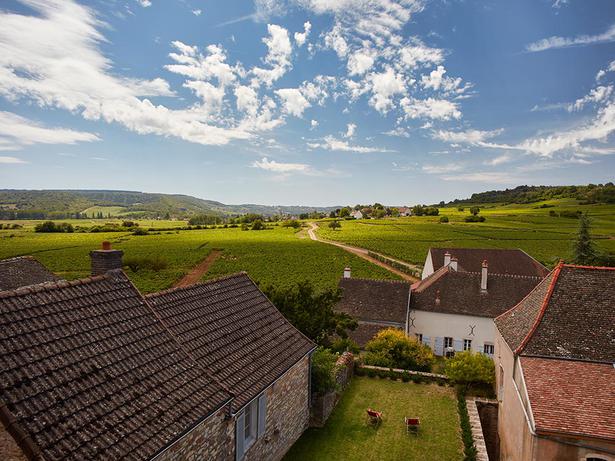 The home estate consists of 37ha, 15 of which carry 6 premiers cru. There are another four family estates elsewhere in Burgundy, including the highly regarded Domain des Perdrix. Further south, Domaine de La Garenne is in the hands of Pauline's family.
Determined to expand on his family's heritage, Amaury is more interested than many Burgundian growers in blending modern ways with old traditions. Pauline, with her own independent vision, is his ideal match.
READ: Cloudy Bay's Central Otago Experiment
The sun is low in the sky, dappling the green of the vine leaves, and the picnics she talks of providing her guests sound perfection. Amaury points across to a slope where a giant stone slab is a readymade table. His love for this land's natural features and its rich history is palpable.
The Mercurey area is ripe for exploration by foot or bike, with pilgrims' crosses and old churches to discover across the rolling countryside. Wine has been grown here since at least the 12th century.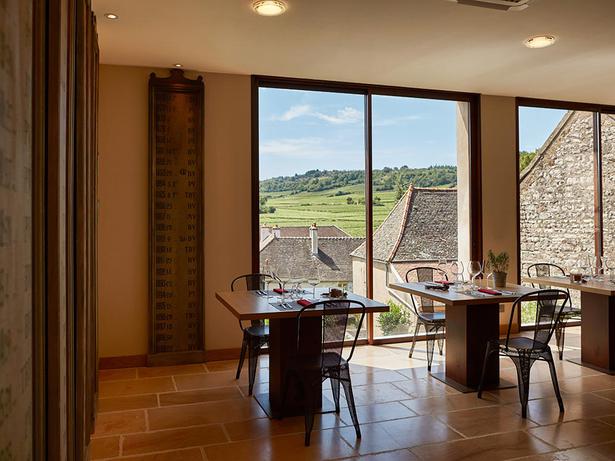 Situated in the growing area known as the Cote Chalonnaise, Mercurey is not far south from Beaune, the wine capital of Burgundy. (The region's actual capital is the larger northern university city of Dijon, known for its mustard.)
Beaune has a pretty centre, ringed by a medieval wall, and is less than three hours by train from Paris and closer still to Lyon, which also has an international airport. It makes an ideal visitor base, but getting out into the countryside cannot be beaten.
There you will find the authentic heart of old Burgundy.
• For more, visit Lesmaisonsdechamirey.com
Janetta Mackay travelled to France with Emirates, which flies into Lyon and Paris from Dubai, connecting to Auckland. The airline includes wines from Chateau de Chamirey in its premium passenger service. Visit Emirates.com/NZ
Share this: