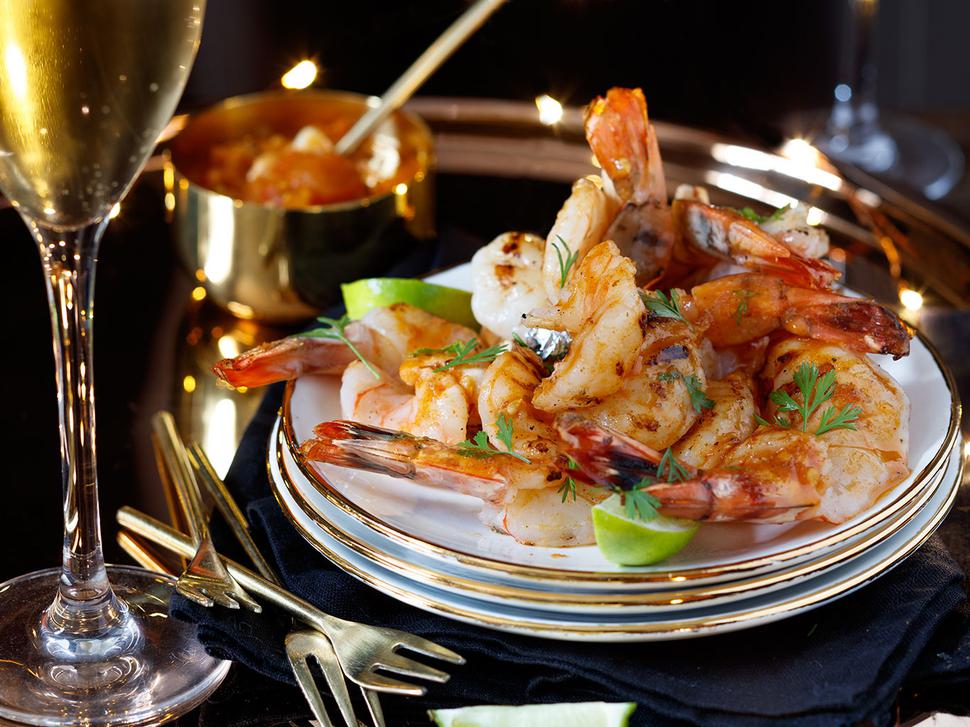 Butterflied Prawns Recipe
Butterflied prawns are always a hit and a decadent starter
Friday Dec. 4, 2015
Butterflied prawns are always a hit. Find the biggest, juiciest looking prawns you can for this dish — a fish market is probably your best bet. The very simple sauce is cooked for 10 minutes to intensify the flavours before brushing and dipping the prawns. Be careful not to overcook them. Get a high heat on the barbecue plate and as the colour changes turn your prawns over. And don't forget to add a good squeeze of lemon or lime juice.

BUTTERFLIED PRAWNS RECIPE
• 1kg uncooked large prawns
• 4 tomatoes, peeled
• Juice and zest of ½ lemon
• ¼ cup brown sugar
• 1 tsp grated ginger
• 2 cloves garlic
• 1 tsp cumin
• 1 tsp coriander
• 1 tsp paprika
• Pinch chilli flakes
• Olive oil for cooking
• Chopped chives or parsley to garnish
1. To butterfly the prawns split down the centre, but keep intact. Set aside.
2. Chop the tomatoes very roughly. Place in a medium pot with the lemon, sugar, ginger, garlic, cumin, coriander, paprika and chilli. Simmer for 5 to 6 minutes to reduce some of the liquid. Set aside.
3. Preheat a barbecue grill to medium. Brush the prawns with a little olive oil. Cook the prawns for 2 or 3 minutes each side, depending on their size. Serve on a platter with the sauce.

Tom Dixon tray and tumblers from Simon James, bowls, plates and forks from Collected, fairy lights and tray from Father Rabbit, decanter and glassware from The Studio of Tableware, star decorations and servers from Milly's Kitchen, napkins from Taylor Road Homeware and platter from Nest.
Photographer / Babiche Martens. Food Stylist / Angela Casley. Props Stylist / Anna Lee.
STOCKISTS: Collected (09) 630 9721, Father Rabbit (09) 360 2573, Milly's Kitchen (09) 376 1550, Nest (09) 302 5704. Simon James (09) 376 6955, Taylor Road Homeware (09) 378 1948, The Studio of Tableware (09) 638 8082.
Share this: