Buttermilk and Honey Cornbread Recipe
Eleanor Ozich shares an old fashioned recipe for southern style cornbread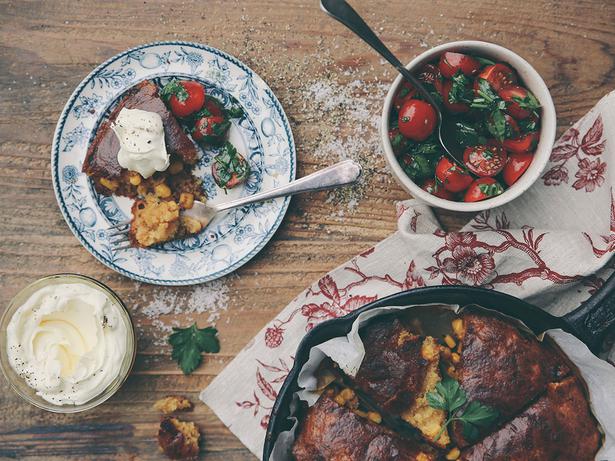 Thursday June 25, 2015
Moist and delicious, this savoury bread has a sweet touch of honey and a rich buttery texture. You can bake your cornbread in a baking tin if you like, although a cast-iron skillet is the traditional choice and in my mind, the best. It helps to create that crisp brown crust which is the true mark of good southern cornbread. Brilliant with soup, stews or simply slathered in butter. Enjoy!

BUTTERMILK AND HONEY CORNBREAD
1/3 cup unsalted butter, softened
1/3 cup honey
4 free-range eggs
1 cup cornmeal
1 cup gluten free flour of your choice
¾ cup whole milk
¾ cup buttermilk or natural yoghurt
¾ cup olive oil
1½ cups fresh corn kernels
1 cup grated cheddar
1 tsp baking soda
1 tsp sea salt
A small handful of parsley, roughly torn
1. Preheat oven to 170C and grease a skillet.
2. Combine butter and honey in a mixing bowl. Cream butter using an electric mixer until light and fluffy, about 2 minutes. Incorporate eggs, one at a time, beating well after each addition.
3. Add cornmeal, flour of choice, baking soda and sea salt.
4. With mixer on low speed, slowly pour in milk, buttermilk and olive oil.
5. Fold in corn, parsley and grated cheddar.
6. Pour batter into skillet, and then bake for 35 minutes, or until cooked through. Be careful to not over bake, the top can brown very easily due to the honey content.
7. I find this is best served on the day it is made, although can be enjoyed toasted the day after.
• For more from Eleanor Ozich see petite-kitchen.com
Share this:
More Food & Drink / Morning & Afternoon Tea