Buttermilk Pancakes Recipe with Rhubarb Compote
A big bowl of pancake batter is perfect to serve a crowd for brunch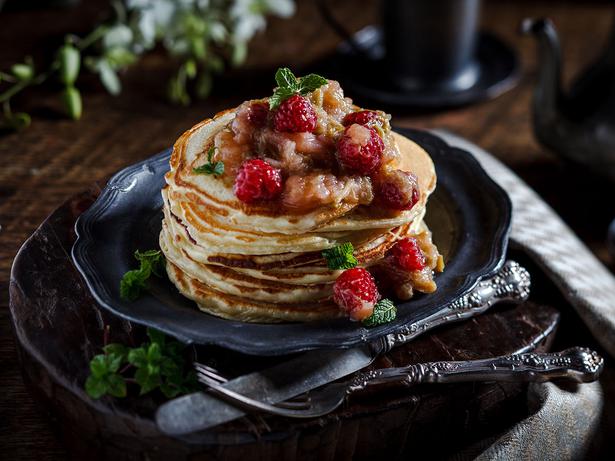 Thursday March 24, 2016
When you have a crowd, nothing beats having a big bowl of batter ready for cooking a pile of pancakes. Serve with a heavenly fruit compote and a blob of creme fraiche, yoghurt or even ice cream. Another favourite topping is a sprinkle of sugar and squeeze of lemon juice.

BUTTERMILK PANCAKES RECIPE WITH RHUBARB COMPOTE
Makes 12-14
• 2 cups plain flour
• ½ cup sugar
• 2 tsp baking powder
• 1 tsp baking soda
• 1 egg
• 2 cups buttermilk
• Oil or butter for cooking
Compote
• 4 sticks rhubarb, cut into 3cm pieces
• 1 green apple
• ½ cup sugar
• ¼ tsp cinnamon
• 1 cup raspberries, fresh or frozen
• Creme fraiche to serve
1. In a large bowl place the flour, sugar, baking powder, baking soda and egg. Add the buttermilk slowly, whisking until the batter is smooth. A few small lumps are fine. Leave to sit while to make the compote.
2. Into a medium sized pot place the rhubarb, apple, sugar, cinnamon and ½ cup water. Bring to a simmer for 8 minutes stirring occasionally until the apple and rhubarb are soft. If using frozen raspberries stir through now. Remove and cool slighty. Stir through the raspberries if using fresh gently.
3. To cook the pancakes, heat a small frying pan to a medium heat. Pour in some batter, rolling the pan so is spreads evenly. Wait for it to bubble before turning. Adjust the heat after the first pancake if need be. Stack the pancakes when cooked.
4. Serve with compote and creme fraiche.
Share this:
More Food & Drink / Recipes