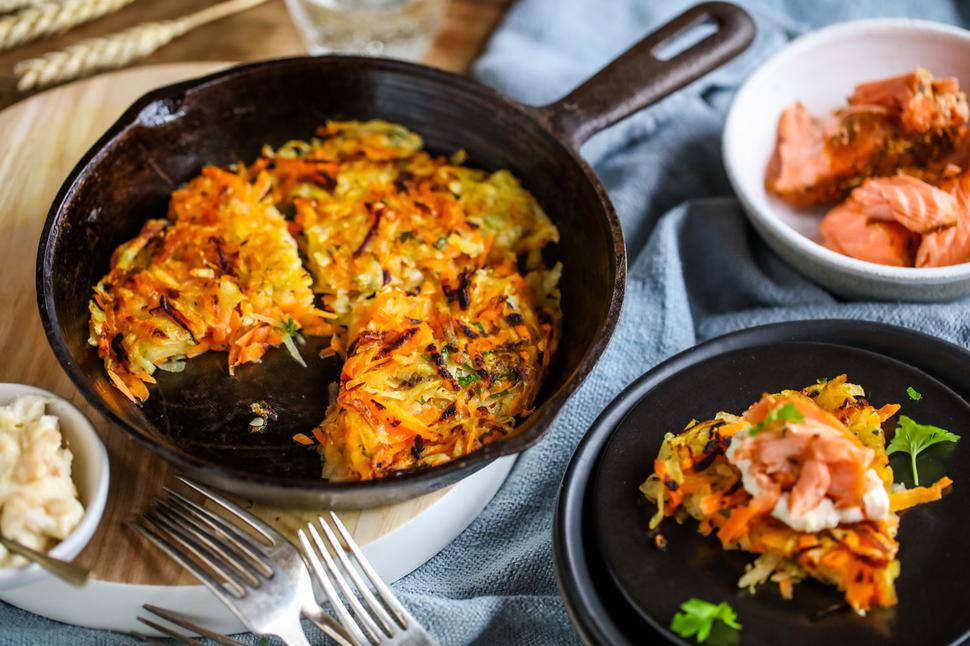 Easy Carrot & Potato Rosti With Horseradish Sour Cream
Golden and crunchy, this rosti is the perfect fuss-free recipe to have up your sleeve
Friday July 20, 2018
In this delicious recipe, carrot comes into its own when grated and added to potato rosti. Serve these as a starter or nibble with a piece of fresh smoked fish on top or as a side vegetable alongside grilled chicken or a steak.
CARROT & POTATO ROSTI RECIPE 
Serves 2
1 medium potato, grated
2 cups grated carrot
1 tsp fennel seeds
½ tsp salt and freshly ground pepper
2 Tbsp butter
½ cup sour cream
1 Tbsp horseradish cream
100g smoked fish
To serve
1 lime
1. Place the potato into a clean tea towel and squeeze out any excess liquid. Place into a large bowl. Add the carrot, fennel seeds, salt and pepper, combining well.
2. Heat the butter in a medium skillet pan. Add carrot mixture to create a large rosti that fits the whole the frying pan, flattening with a spatula. Cook for 5-8 minutes until the underside is golden and crunchy. Flip carefully and continue to cook for 3 or 4 minutes, or until crisp.
3. In a small bowl mix the sour cream and horseradish. Cut the rosti into wedges and top with a dollop of sour cream and a piece of fish.
4. Serve with a squeeze of lime.


Share this: