Carrot Soup Recipe
Try this delicious carrot soup recipe with cumin and turmeric from Eleanor Ozich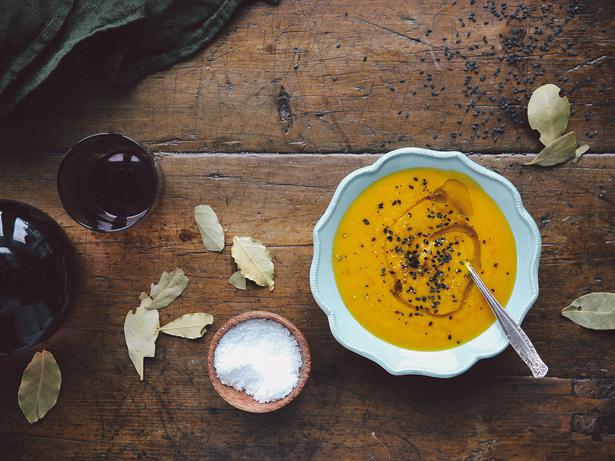 Thursday Aug. 18, 2016
Balanced and soothing, this gentle carrot and butternut soup is everything I need on a cold, winter night. The necessary saltiness comes from good quality homemade stock, a harmonious dish with delicate earthy notes and gentle spices. Generously buttered sourdough is most definitely necessary for dipping.
VIBRANT CARROT SOUP RECIPE WITH, CUMIN AND TURMERIC
Serves 6
3 Tbsp butter or olive oil
1 brown onion, finely sliced
4 cloves of garlic, finely sliced
2 tsp ground cumin
2 tsp ground turmeric
1 butternut pumpkin, cut in to cubes
4 large carrots, sliced in to chunks
4 cups good quality chicken or vegetable stock

1. Warm the butter or olive oil in a large pot over medium heat. Add the onion, garlic, cumin and turmeric, and sauté for a few minutes until softened. Add the pumpkin, carrot and stock, then cover with water. Bring to a soft boil, then simmer uncovered, until the the vegetables are tender.
2. Leave to cool for 5 minutes, then blend with a stick blender until smooth and velvety. 
3. Season to taste with sea salt and freshly ground black pepper.
4. Serve with a sprinkle of sesame seeds, and a drizzle of extra virgin olive oil.
Share this: