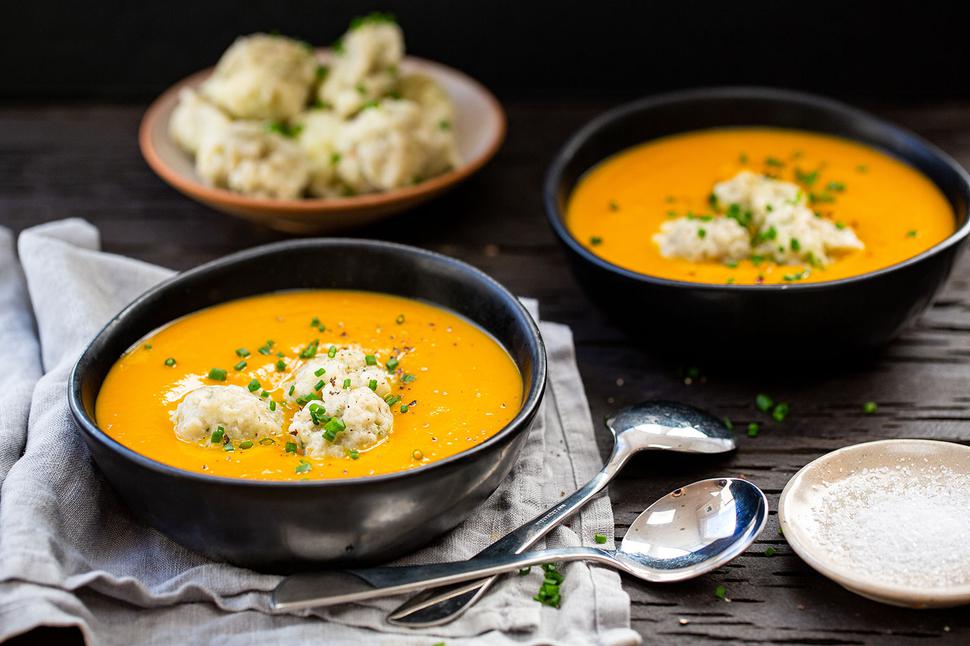 Carrot Soup & Cheese Dumplings Recipe
Dumplings tranform this soup into a hearty winter warmer
Tuesday July 14, 2020
There's no need for a side of bread with this tasty soup; the addition of dumplings turns it into a hearty winter warmer. For the dough, a little blitz to combine will suffice, or make the dumplings by hand — try not to overmix. If you make them ahead of time, reheat them on a covered plate in the microwave and dip back into simmering water.
CARROT SOUP WITH CHEESE DUMPLINGS
Serves 4
20g butter or 2 Tbsp olive oil
1 large onion, diced
2 cloves garlic, chopped
2 tsp finely grated ginger
800g chopped carrots, skin on
4 cups vegetable stock
Salt and freshly ground pepper to taste
1 Tbsp chopped chives to garnish

Dumplings
1 cup self-raising flour
¼ tsp salt
40g butter
1 Tbsp chopped chives
½ cup grated tasty cheese
¼ cup milk
1. Melt the butter in a large pot. Add the onion and garlic and cook for 4 minutes. Stir through the ginger and carrots. Put the lid on and allow to sweat for 5 minutes. Pour in the stock and bring to a simmer for 20 minutes or until the carrots are completely soft. Cool for 10 minutes before blending until smooth. Season with salt and pepper.
2. To make the dumplings, place the flour, salt and butter in a food processor, blitzing until it resembles breadcrumbs. Add the chives, cheese and milk, mixing again to combine into a dough.
3. To cook the dumplings, bring a pot of salted water to a simmer. Drop dessert spoons of dough into the water a few at a time, cooking for 4 or 5 minutes until puffed and cooked through.
4. Heat the soup before serving, pile on some hot dumplings and a sprinkle of chives.
Share this:
More Food & Drink / Recipes