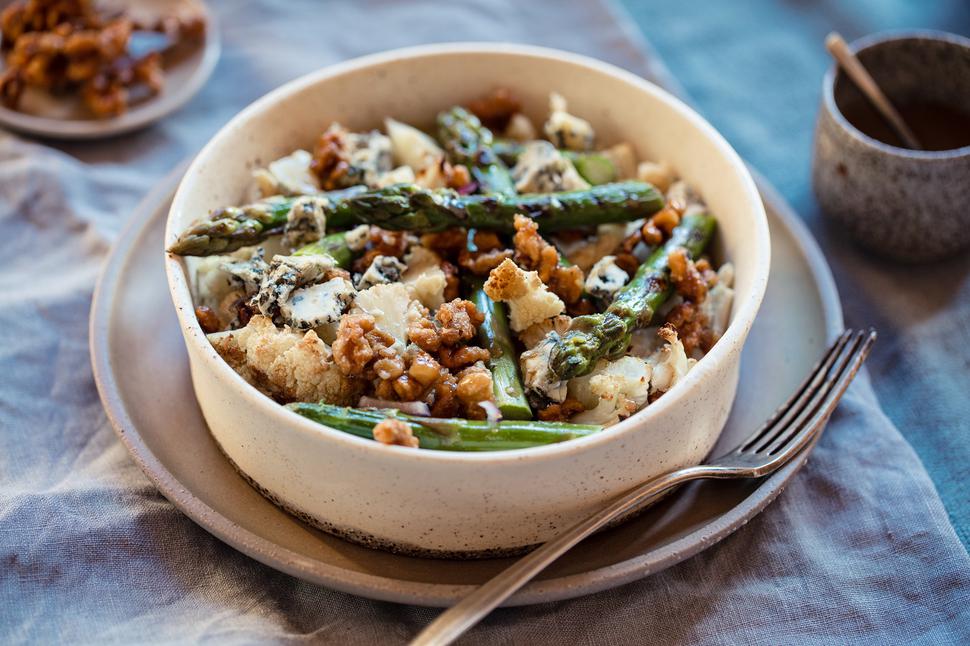 Cauliflower, Asparagus & Blue Cheese Salad With Caramel Walnuts
Asparagus fans will have plenty to celebrate with this delicious salad
Friday Oct. 5, 2018
Add a little sweetness to this cauliflower and asparagus salad with tasty caramel walnuts. The crunchiness matches perfectly with the creamy blue cheese that's crumbled through. These walnuts are also delicious eaten on their own or used to decorate a dessert.
CAULIFLOWER, ASPARAGUS & BLUE CHEESE SALAD WITH CARAMEL WALNUTS RECIPE 
Serves 4
Caramel Walnuts
1 Tbsp butter
¼ cup caster sugar
1 cup roughly chopped walnuts
Dressing
¼ cup flavourless oil (such as grapeseed)
2 Tbsp white wine vinegar
1 tsp Dijon mustard
1 tsp runny honey
Salad
½ cauliflower, cut into florets
¼ cup olive oil
1 bunch asparagus, ends trimmed
1 Tbsp lemon zest
2 Tbsp lemon juice
100g blue cheese
1. Preheat an oven to 200C.
2. Firstly, caramelise the nuts. Place a piece of baking paper on a tray. In a heavy based pan melt the butter and sugar over a low heat. Once the sugar has dissolved add the nuts and stir until the mixture becomes a caramel colour, about 5 minutes. Keep an eye on them so they don't burn. Tip straight on to the baking paper and spread quickly with a fork. They will harden within a few minutes. Set aside.
3. For the dressing, combine the oil, vinegar, mustard and honey in a jar and shake well.
4. Place the cauliflower and asparagus on a lined oven tray. Season with salt. Pour over the oil and toss. Place into the oven for 15 minutes until cooked and golden. Remove from the oven, mix in the lemon zest and juice then cool.
5. Place the cauliflower and asparagus on to a serving platter, crumble over the cheese, drizzle the dressing and sprinkle with nuts.
Share this: