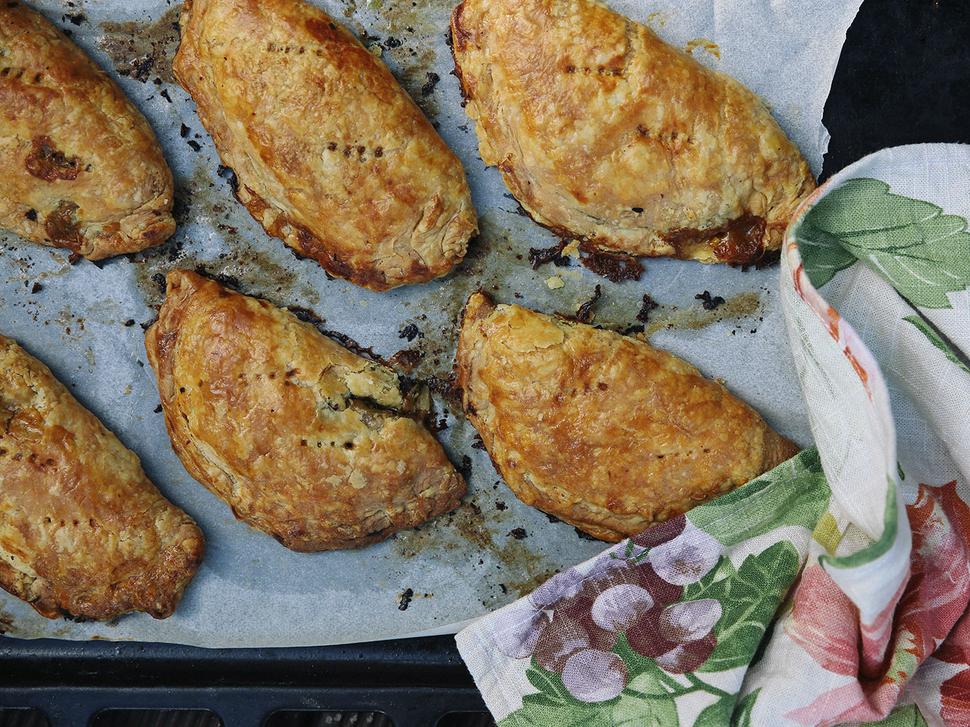 Cauliflower Pies Recipe with Sour Cream Pastry
Try this mouth-watering recipe by Eleanor Ozich, with tender cauliflower and creamy cheese
Thursday March 10, 2016
There is a sudden burning desire for pie. The kind with homemade buttery sour cream pastry, tender cauliflower, fragrant herbs and creamy Havarti cheese.

CAULIFLOWER PIES WITH SOUR CREAM PASTRY
Makes 8 pies 
For the pastry:
• 200g unsalted butter, chilled and diced
• 2 cups spelt flour, plus extra for kneading
• ½ cup sour cream
• a pinch of sea salt

For the filling:
• 2 Tbsp butter or olive oil
• 1 onion, finely diced
• A handful of thyme, sage and parsley, finely sliced
• 2 Tbsp tapioca or spelt flour
• 1 head of cauliflower, cut in to florets
• 2 cups of good-quality stock
• 1 cup Havarti cheese, grated
• 1 egg, lightly beaten 
1. To make the pastry, combine the butter and flour in a food processor and pulse until the mixture resembles breadcrumbs.
2. Add the sour cream and salt, then continue to pulse until the dough begins to come together into a ball. 
3. Place the dough in the fridge while you prepare the filling.
4. Pre-heat the oven to 180 C. 
5. Heat the butter or olive oil in a large saucepan over medium heat. Saute the onion and herbs until softened, then sprinkle over the flour. Continue to cook while stirring, for a minute or so.
6. Add the cauliflower and stock, then bring to a soft boil. Simmer for about 20 minutes or until almost all of the liquid has cooked off. Season with sea salt and pepper, then allow to cool.
7. Divide the pastry in to 8 equal sized pieces. Shape in to balls, and then roll out on a floured surface in to circles, about ½ cm thick.
8. Fill one side of each circle of pastry with 2-3 tablespoons of the cauliflower filling, then top with the grated Havarti cheese. Gently fold the other side of the circle on top of the filling, and crimp the edges to seal. Prick each pie 2-3 times with a fork, then coat in a little egg wash.
9. Transfer the pies to a roasting tray, lined in baking paper.
10. Bake for 30-35 minutes, or until the pastry is golden.

• For more from Eleanor Ozich see petite-kitchen.com 
Share this: