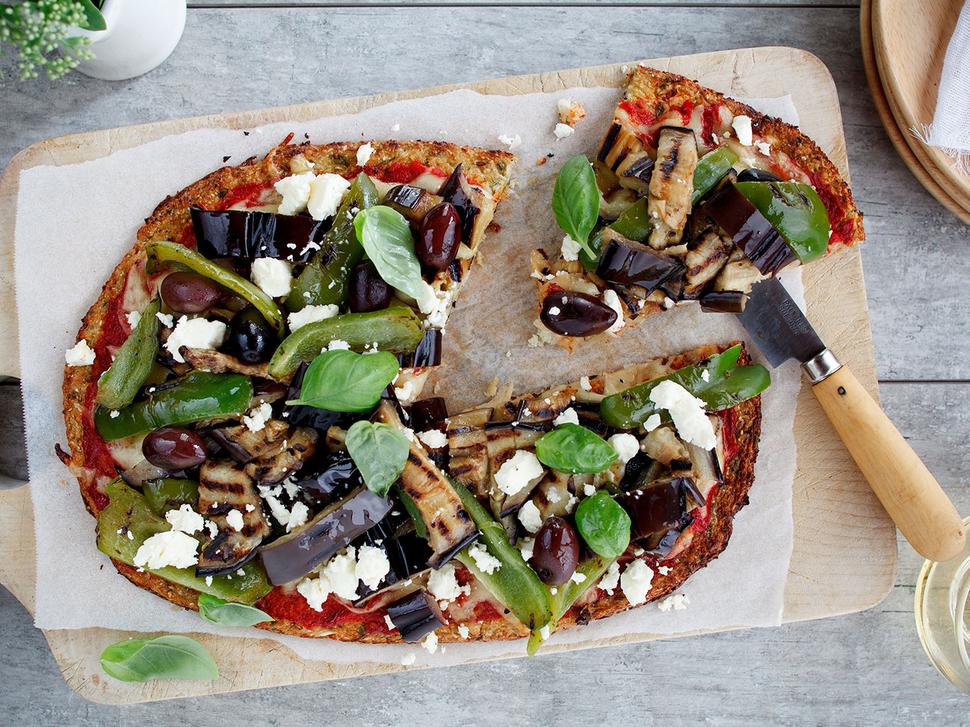 Cauliflower Pizza with Aubergine Topping Recipe
A low-carb pizza option with a quick and tasty aubergine topping
Friday March 4, 2016
Cauliflower-based pizzas are popular these days, especially for those wanting low-carb options, and aubergine makes a quick and tasty topping. Simply roast and slice on the pizza base with a mix of other ingredients, including feta for a good, salty flavour. Add plenty of freshly ground pepper and don't forget a good squeeze of lemon to bring out the flavour.

CAULIFLOWER PIZZA WITH AUBERGINE TOPPING
Serves 4
• 1 aubergine, sliced lengthways
• 1 green pepper, sliced
• Oil for cooking
• 300g cauliflower, florets
• 1 egg
• 2 tsp toasted cumin seeds
• ½ cup grated parmesan
• Salt and freshly ground pepper
• 1 clove garlic
• 150g feta cheese
• ¼ cup tomato paste
• ½ cup grated mozzarella
• 12 black olives
• 1 lemon to squeeze
1. Preheat an oven to 180C.
2. Rub the aubergine and green pepper with oil and season. Place on a baking tray and into the oven for 20 minutes until golden and cooked through. If the pepper was cooked earlier, remove it first.
3. Place the cauliflower into a kitchen processor and blitz until it resembles fine breadcrumbs. Tip into a clean tea towel and squeeze out any excess liquid. Place in a large bowl. Add the egg, cumin, parmesan, season with salt and pepper.
4. Place a sheet of baking paper on a tray and tip on to it the cauliflower mixture. Pat it out to get your desired shape for your pizza to a 1cm thickness. Bake for 15 minutes until crispy and lightly browned.
5. Cut the aubergine into 1cm slices and place into a bowl with the green pepper, garlic and feta cheese combining gently. Spread the tomato paste on the base and sprinkle over the mozzarella. Place back in the oven to melt the cheese. Spoon over the aubergine mixture sprinkle with olives and place back into the oven for 10 minutes to warm through.
6. Enjoy hot or cold with a squeeze of lemon.
Share this: