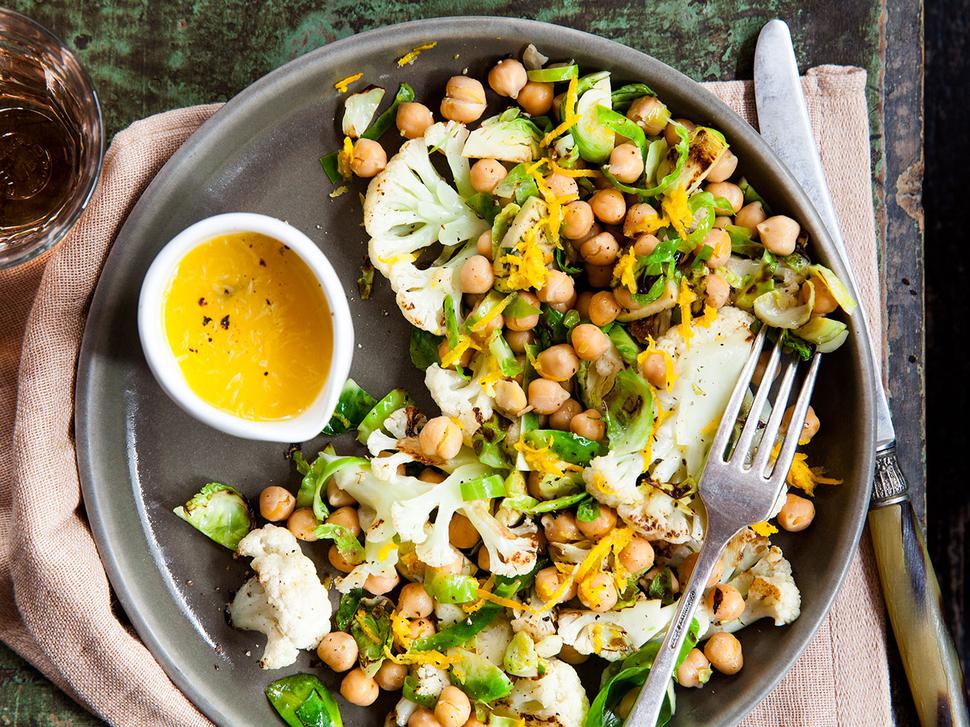 Cauliflower Recipes We Can't Get Enough Of
All hail this humble and most versatile vegetable with this utterly delicious line-up
Monday April 30, 2018
Citrus Salad with Cauliflower & Brussels Sprouts
Combine pan-seared cauliflower with citrus and brussels sprouts for a quick and impressive salad which uses a zesty citrus and olive oil dressing.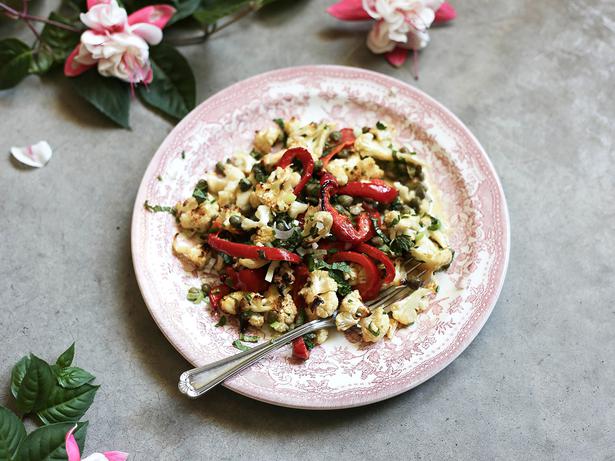 Roasted Cauliflower Salad with Caper Herb Dressing
This dish is a magical transformation of boring old cauliflower, into something quite irresistible. Roasting the vegetable brings out its natural sweetness, while the caper, mustard and herb dressing creates a complex balance of harmonious flavours.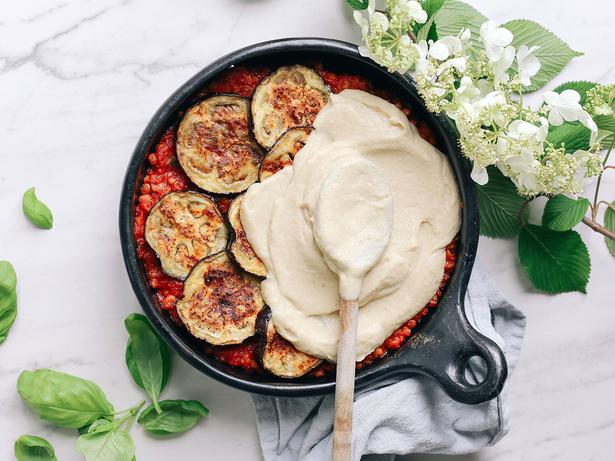 Turn a Greek classic into a veggie delight with Eleanor Ozich's luscious eggplant and cauliflower moussaka. Picture / Eleanor Ozich

Vegan Moussaka with Creamy Cauliflower Sauce
If you are in possession of a few eggplants, this plant-filled moussaka is possibly one of the nicest ways to make a meal of them. This dish is luscious, melting and complex in flavour, and you'll be surprised to know that the creamy white sauce is made from cauliflower and cashews. 


Cauliflower & Potato Salad
For this salad, a cauliflower is tossed in aromatic spices along with scrubbed potatoes, boiled and cut small. Sultanas add a little sweetness. Serve as part of a bigger meal, or simply with a piece of grilled fish placed on top, with a squeeze of lemon and a dollop of yoghurt.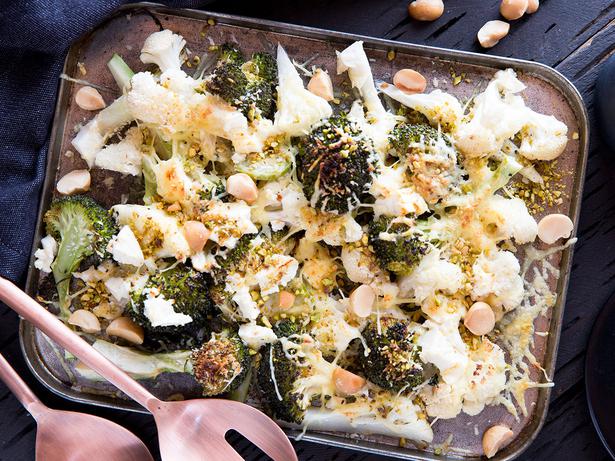 Roast Florets Recipe with Two Cheeses
Roasting cauliflower and broccoli is a treat, especially when topped with a deliciously cheesy and nutty combination.
Cream of Cauliflower Soup with Crispy Bacon & Prawns
This soup is made rich and creamy with its base of cauliflower. Make it even more delicious with the addition of crispy bacon and prawns.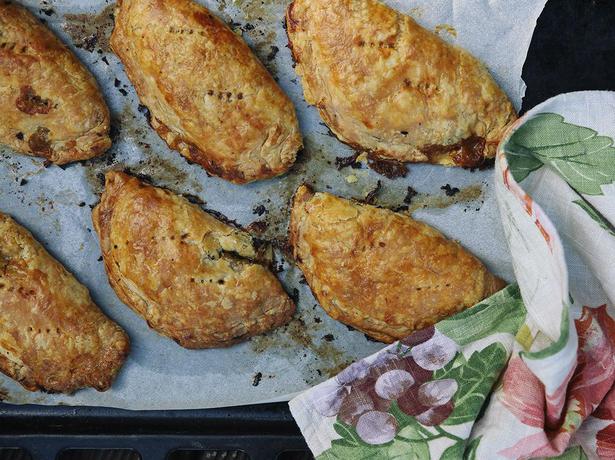 Cauliflower Pies Recipe with Sour Cream Pastry
If you have a sudden burning desire for pie, give this interesting one a go. It's made with homemade buttery sour cream pastry, tender cauliflower, fragrant herbs and creamy Havarti cheese.
Whole roasted cauliflower
This whole roasted cauliflower is gorgeously crusted on the outside and tender and juicy on the inside. Think of it as an edible centrepiece to hack away at, cutting chunks off throughout your meal.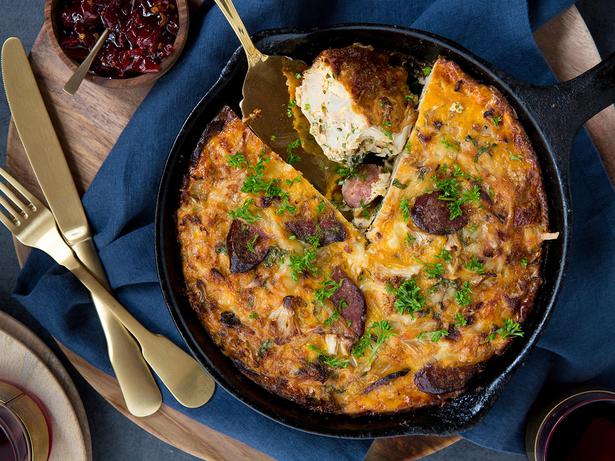 Cooking doesn't have to be complicated with this easy cauliflower frittata. Picture / Babiche Martens

Cauliflower Frittata Recipe with Gruyere & Chorizo
What's not to love about a frittata? They're hearty and nutritious, and you can be creative by using any array of combinations. Roasting the cauliflower adds a delicious nutty flavour and who can go past gruyere — one of the best cheeses for cooking. 

Garlic & Thyme Chicken with Cauliflower Couscous
The chicken is rich and tender, served upon a light, herby cauliflower couscous that's perfect for mopping up the sumptuous sauce. A beautiful dish, bound to give you a joyful eating experience.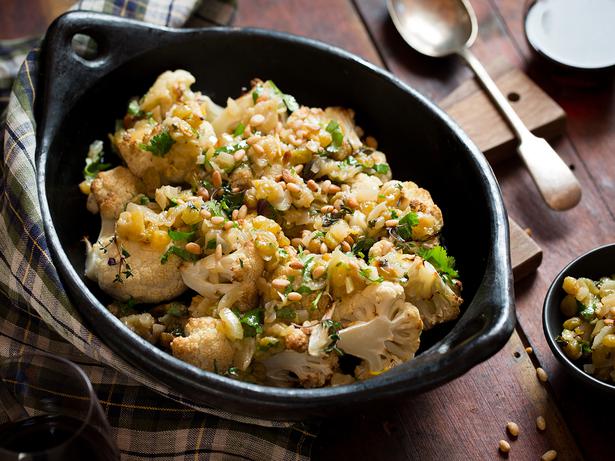 Add a subtle sweetness to roasted cauliflower with a delightful dressing mixture of golden raisins, apple and pine nuts. Picture / Babiche Martens

Roasted Cauliflower Recipe with Golden Raisin Dressing
Add a subtle sweetness to roasted cauliflower with a delightful dressing mixture of golden raisins, apple and pine nuts.

Butterbean & Cauliflower Salad
The vibrant flavours and textures in this salad is something you'll fall in love with. Raw, crunchy cauliflower florets are cut into the perfect little bite-size pieces; and the soft and rich butter beans are tossed with a brilliantly fragrant pesto sauce.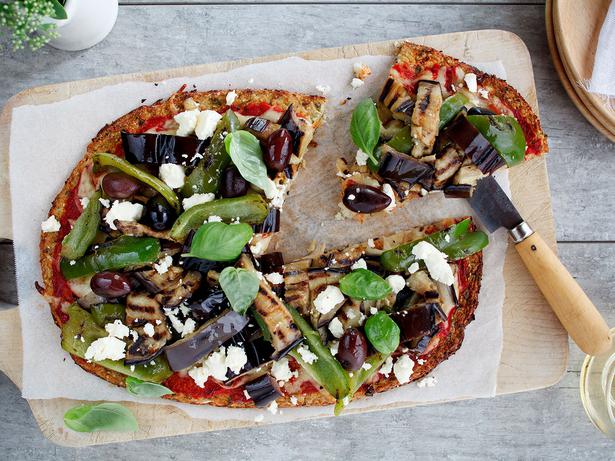 Cauliflower Pizza with Aubergine Topping
Cauliflower-based pizzas are popular these days, especially for those wanting low-carb options. The aubergine makes a quick and tasty topping - simply roast them and slice on the pizza base with a mix of other ingredients, including feta for a salty hit of flavour.
Share this:
More Food & Drink / Recipes