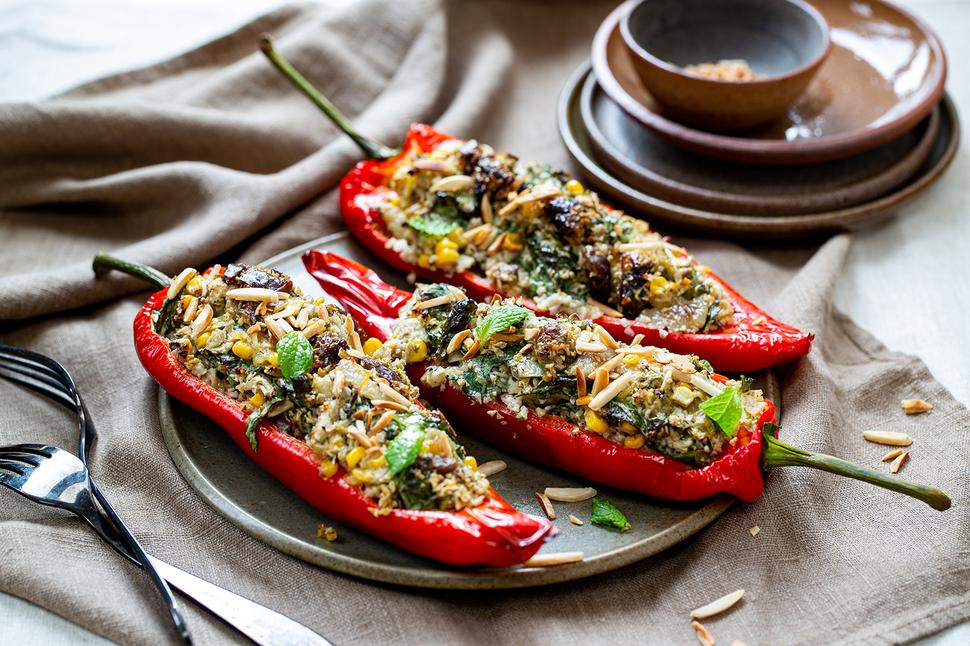 Cauliflower Rice-Stuffed Bell Peppers
Dates, corn, feta and slivered nuts complete this delicious recipe
Sunday Feb. 20, 2022
Cauliflower rice is as simple as whizzing fresh cauliflower in a kitchen processor. If you can't do that, buy from the freezer department at your local supermarket. These are perfect for a flavourful lunch and transport well.
CAULIFLOWER RICE-STUFFED BELL PEPPERS RECIPE
Makes 4
2 Tbsp olive oil
1 onion, finely chopped
3 cloves garlic
4 cups cauliflower rice
1 tsp mixed herbs
1 Tbsp lemon zest
2 Tbsp lemon juice
½ cup chopped dates
1 cup corn kernels
1 cup chopped mint
100g crumbled feta
½ cup toasted slivered nuts
Salt and pepper, to taste
2 long red peppers, halved lengthways, seeds removed
1. Heat the oil in a large frying pan. Add the onion and garlic, cooking for 2 or 3 minutes. Add the cauliflower rice, cooking for a few minutes until lightly brown and cooked through. Stir through the herbs, zest, juice, dates, corn and mint, cooking for 3 or 4 minutes. Remove from the heat, then stir through the feta and half the nuts. Season with salt and pepper.
2. Preheat an oven to 180C.
3. Fill the pepper halves with the cauliflower mixture and sprinkle over the remaining nuts. Place into a large ovenproof dish. Drizzle with a little olive oil, cover and bake for 15 minutes. Remove the cover and continue to cook for 25 minutes or until the peppers are softened.
4. Serve warm with a side salad.
Share this: