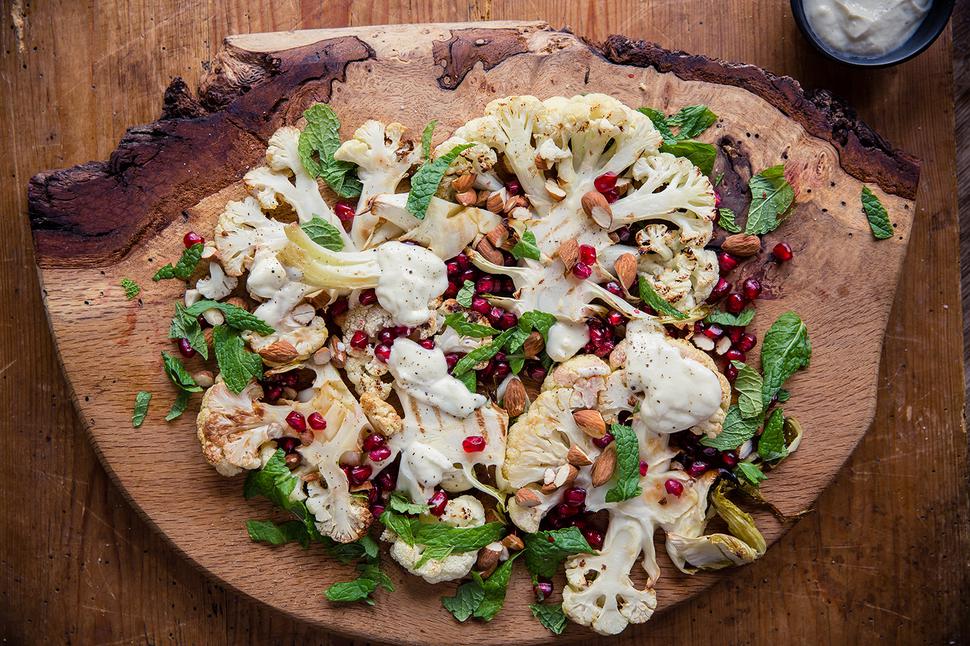 Cauliflower Steak Salad With Goats Cheese & Sumac Dressing
Celebrate the humble cauliflower with this delicious vegetarian dish
Saturday Dec. 14, 2019
This recipe uses all the cauliflower leaving no waste. Use a sharp knife to cut right through the florets and stalk. If you have the barbecue cranking add the cauliflower to the grill.
CAULIFLOWER STEAK SALAD RECIPE
Serves 4-6
150g soft goats cheese
2 Tbsp lemon juice
½ tsp sumac
1 Tbsp oil
½ cauliflower, sliced into 1cm pieces
Salt and freshly ground pepper
1/4 cup toasted almonds, roughly chopped
1 cup pomegranate seeds
1 cup mint leaves
1. Preheat an oven to 200C.
2. Mash the goats cheese, lemon juice and sumac in a small bowl to create the dressing. Add a tablespoon extra of lemon juice if needed.
3. Place the cauliflower slices on to an oven tray. Sprinkle with a little oil, season with salt and pepper. Bake for 20 minutes to soften. Remove and keep at room temperature.
4. To serve, place the cauliflower onto a serving platter. Sprinkle with almonds, pomegranate seeds and mint. Dollop with some dressing and serve the remainder on the side.
Share this:
More Food & Drink / Recipes