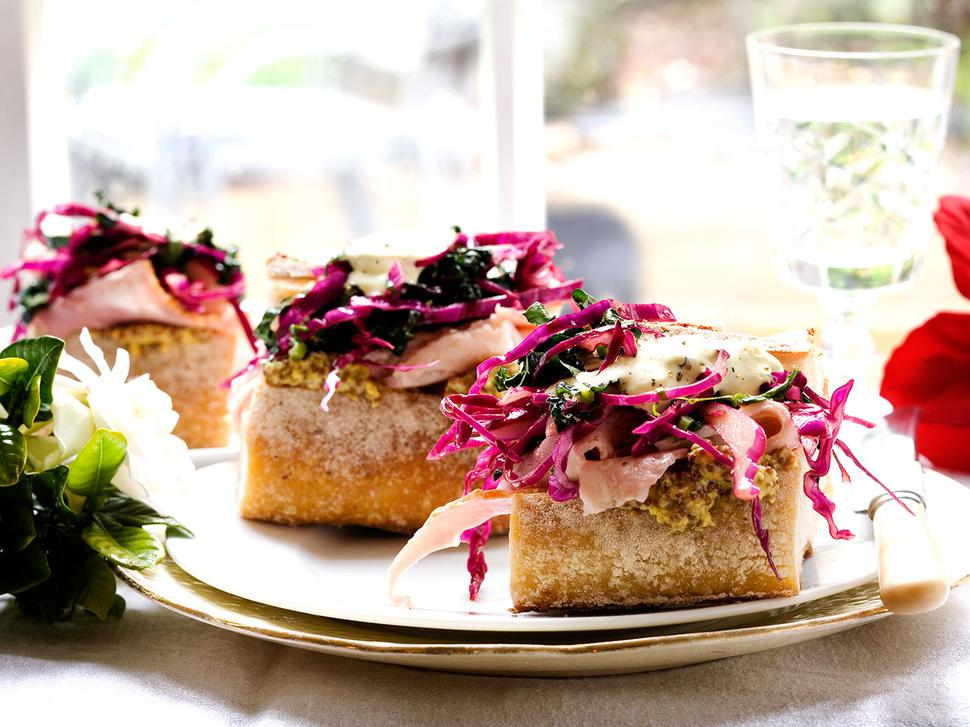 Cavolo Nero Slaw Baguettes with Ham Recipe
Try Amanda Laird's scrumptious lunch recipe
Monday July 11, 2011
CAVOLO NERO SLAW BAGUETTES WITH HAM
Serves 4 
• 1 Tbsp black mustard seeds
• 1 Tbsp yellow mustard seeds
• 200g dried apricots, soaked in boiling water then finely sliced
• ½ cup white wine vinegar
• 1 Tbsp whisky
• 1 tsp salt
• ¼ cup brown sugar
Aioli
• ½ tsp salt
• 3 garlice cloves, peeled
• ¼ tsp sugar
• 3 egg yols
• 2 Tbsp lemon juice
• 2 Tbsp dijon mustard
• 500 ml olive oil
Cavolo nero sauce
• 1 red onion, halved and finely sliced
• 3/4 cup red cabbage
• 1 Tbsp wine vinegar
• 1 Tbsp fresh parsley, finely chopped
• 1 tsp brown sugar
• 1 cup cavolo nero, finely sliced
• ¼ cup celery, finely sliced
• 1 tsp salt
• freshly ground black pepper
• 3 pieces thick slices of champagne ham
• 1 crusty baguette
• softened butter
1. To make the mustard, combine the seeds with the apricots, vinegar, whisky, sugar and salt. Leave to sit for at least 24 hours, and longer if possible.
2. To make the aioli, pulse the garlic cloves in a food processor with the salt, sugar, egg yolks and lemon. Process for 1 minute, then add the mustard. 
3. Slowly drizzle in the olive oil until the aioli is creamy and rich.
4. Combine the slaw ingredients, leave for 5 minutes for the flavours to develop.
5. Slice the baguette, spread with butter, then add the ham, mustard, cavalo nero slaw and aioli.
Share this:
More Food & Drink / Recipes